Butternut Squash Soup
This soup is so great that even the kids will gobble it down.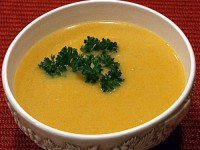 Ingredients:
3 Tablespoons butter
2 medium onions, chopped
2 cups diced butternut squash
1 large Granny Smith apple, peeled & chopped
2 cloves garlic, minced
3 Tablespoons all-purpose flour
1 to 2 teaspoons curry powder (as desired)
pinch of nutmeg
3 cups chicken or vegetable broth
1 1/2 cups milk
grated rind & juice of 1 orange
salt & pepper to taste
chopped parsley
Directions:
1. In a large frying pan melt butter and sauté onions over medium heat until soft. Add squash, apple and garlic. Sauté for 3 to 5 minutes, stirring occasionally.
2. Add flour, curry powder and nutmeg, stirring constantly to blend. Slowly add broth, milk and orange rind/juice, stirring constantly to combine. Simmer 20-30 minutes until vegetables are very soft.
3. Purée in batches in blender or food processor. Season with salt and pepper.
4. Serve hot and garnish with parsley, if desired.
Nutritional Information per serving:
Serving size: recipe divided into 6 equal portions
Calories per serving: 171
Fat per serving: 8g
Saturated Fat per serving: 4.5g
Sugar per serving: 9g
Fiber per serving: 2g
Protein per serving: 6g
Cholesterol per serving: 20mg
Carbohydrates per serving: 20g
WW POINTS per serving:
Points Plus Program: 5 Old Points Program: 4.5