Candy Bars Make Everything Taste Better: Twix Bar Brownies
There has been a Twix (candy) Bar sitting on a chair in my husband's office since December. Every time I go in there, I spy it… just lying there. I'm not sure how my husband can share his office daily with cookie-caramelly-chocolate and fend off the craving that surely has to be there. When I asked him about the Twix, he merely said that he had picked it up on a business trip and never got around to eating it. Great.
I'm quite fond of baking with candy bars. I've put Kit Kat's in Lemon Bars, Heath Bars in Cheesecakes, Snicker's Bars in Tarts, Butterfingers in Blondies & Pie & Cookies, Reeses Peanut Butter Cups in Brownies, and Milky Ways in Brownies too. It was time to experiment with Twix. I took my all-time-favorite brownie recipe, and added Twix Bars to make, you've got it… Twix Bar Brownies.
I froze the Twix Bars to make them easier to slice thinly and neatly. I mixed some into the brownie batter and placed the rest on top for decorative purposes 🙂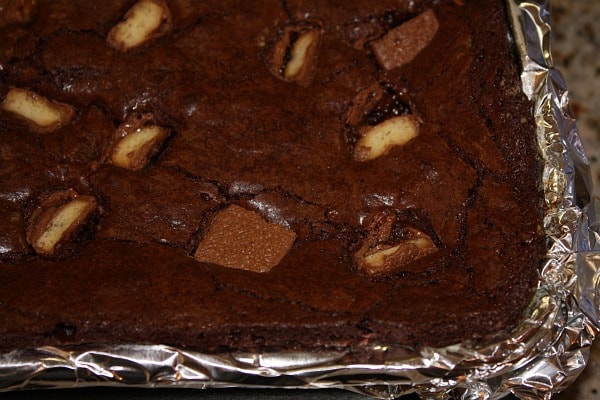 I always line my pan with foil that has been sprayed with nonstick spray. Then you can easily take the whole slab of brownies out of the pan, peel off the foil, and cut into neat slices.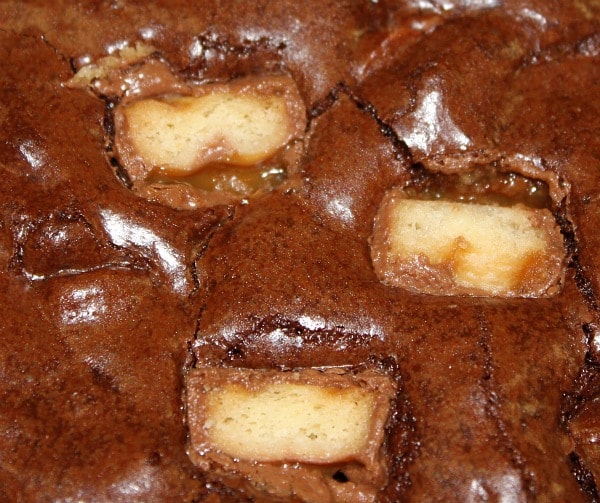 Mmmmm… can you spot the caramel & the cookie, surrounded by a layer of milk chocolate?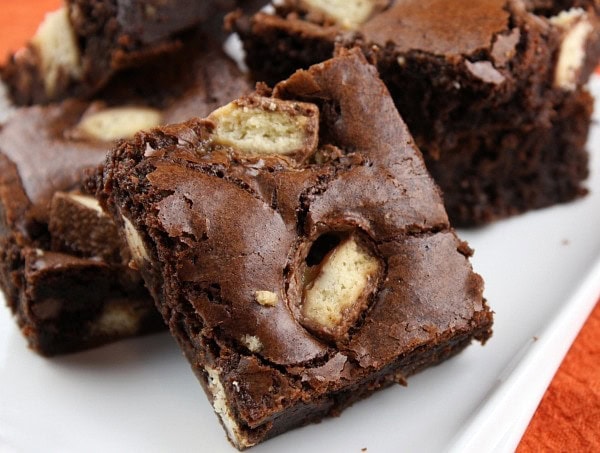 This recipe makes a ton- depending on how large you cut them they serve 24 to 36 people. I served them at a very large gathering of both kids and adults, and they were the first dessert at the gathering to disappear. The crunch of the cookies stays intact in the baked brownie, and the chocolate that surrounds the cookie-caramel layers protects the caramel from melting into the fudgy brownie. I thought they were pretty addicting, and was happy to have people around who were willing to gobble them up quickly.
There is no longer a Twix bar sitting in my husband's office. I finally gave it to my son out of fear that I was going to eat it myself.
This recipe can be found here: Twix Bar Brownies.
Note: If you are in a part of the world that does not sell Twix Bars, try using a similar sort of candy bar. This is a very versatile brownie recipe that welcomes add-ins.
29 Responses to "Candy Bars Make Everything Taste Better: Twix Bar Brownies"
Leave a Comment