Caprese Salad with Burrata Cheese
There are some great things to love about summer. I love that the weather is so nice that we can comfortably eat our dinners outside. I love that every day seems like vacation. I love iced tea and popsicles. I love that the biggest decision of the day is which pair of flip flops I'm going to wear. And I love that summer brings us the best tasting tomatoes… the kind that you'd like to eat just as you'd eat an apple. One of the best ways to enjoy tomatoes is in a Caprese Salad.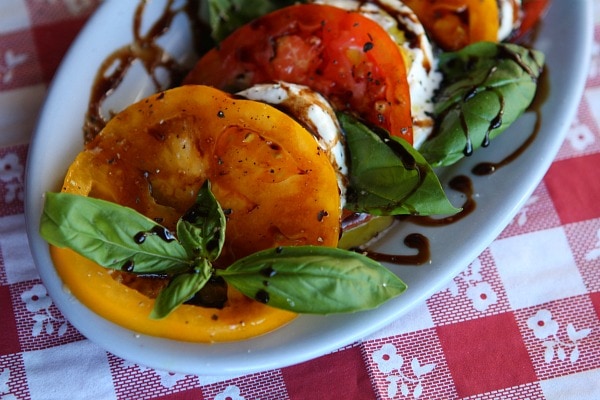 I put a little twist on my Caprese Salad and used Burrata Cheese in place of the classic fresh mozzarella.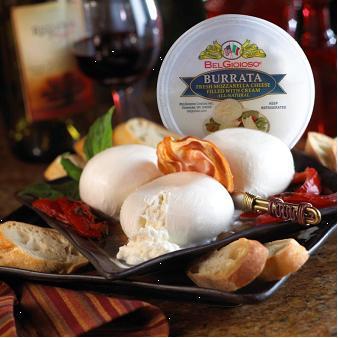 If you've ever had burrata cheese, you know the appeal of the stuff. They're sold as fresh mozzarella balls that are filled with mozzarella shreds that have been soaked in cream. Italian deli's and markets with a good cheese section will carry burrata. The BelGioioso brand is easiest to find.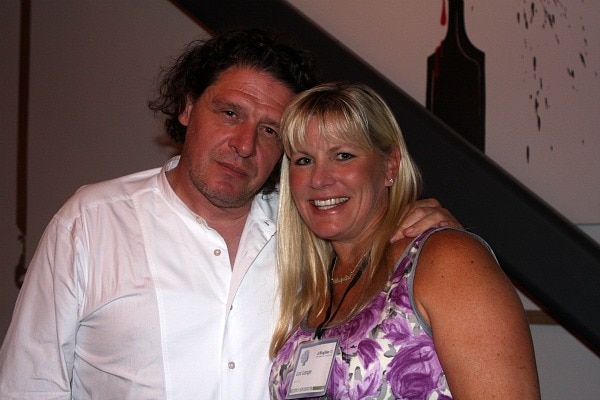 I was lucky enough to attend a luncheon a few days ago as a guest of Knorr USA. They invited a few bloggers to join them and world renowned Chef Marco Pierre White (London's 3 Michelin star celebrity chef… who trained Gordon Ramsay and Mario Batali among others) at Seersucker Restaurant in San Diego. I sat right next to Chef Marco, and we chatted about kids and family and food and life. He looks a little scary, but he was intriguing and interesting and extremely nice. I could go on and on about everything he told me, but here's what I'll share: He said, "The more you do to food, the more you take away. Keep it simple and it will be best."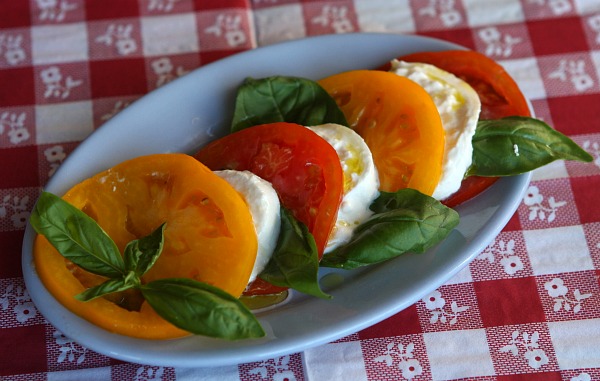 So I kept it simple with this salad… layering two colors of tomatoes, fresh basil, and slices of that wonderful, tender and creamy burrata cheese.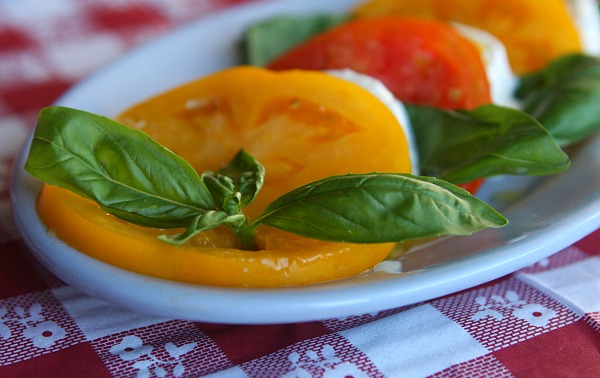 Pretty, isn't it?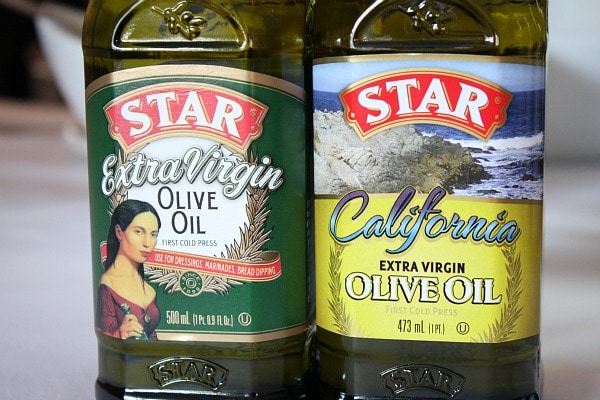 I co-hosted a dinner last week with Star Olive Oil. We invited local bloggers as well as bloggers who were in town for the BlogHer conference to join us at BiCE Restaurant in San Diego to sample dishes that were all prepared with Star Olive Oils. I really enjoyed their California Extra Virgin Olive Oil. And that's what I drizzled on my tomatoes.
I topped it all off with a generous drizzle of reduced balsamic vinegar, sea salt, and a few turns of freshly ground pepper. And I called it dinner… with a glass of extra chilled Pinot Grigio. It's simple, as Chef Marco suggested. And it's definitely something to love about summer.
Caprese Salad with Burrata Cheese
A colorful, delicious and simple summer salad...
Yield:
2 servings
Prep Time: 15 min
Cook Time: 5 min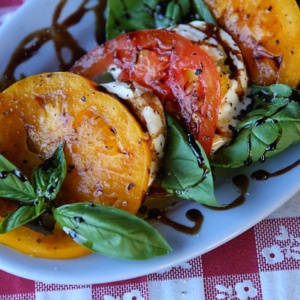 Ingredients:

1/3 cup balsamic vinegar
1 large red tomato
1 large yellow tomato
2 balls of burrata cheese
fresh basil leaves
2 Tablespoons extra-virgin olive oil
salt and freshly ground black pepper

Instructions:

1. Reduce the balsamic: Bring balsamic vinegar to a boil in a small saucepan over medium heat. Reduce heat to low and simmer until reduced by at least half. It becomes a little bit thicker as it reduces. Remove from heat and chill until ready to drizzle on your salad (can be made ahead).

2. Assemble the two salads: On two plates, layer tomato, slice of burrata, and fresh basil- repeat. You should have enough to layer four tomato slices, three slices of burrata and several leaves of basil on each plate. Drizzle 1 Tablespoon of olive oil on each salad. Drizzle 1 Tablespoon of the reduced balsamic on each salad. Top with salt and freshly ground black pepper.