A caramel apple is a sweet treat I've always admired from afar.  It's the sort of thing that "looks" appealing to eat… all of that gooey caramel wrapped around a crunchy, juicy apple- sometimes even rolled in toasted nuts or, better yet, M&M's.  But it's also the very treat that I'm unwilling to tackle eating.  The idea of trying to navigate through a thick layer of caramel and manage a bite that leaves your face a mess of sticky goo and dribbles down your chin is entirely unappealing to me.
Instead, I caramelize apple slices, which is a much neater, safer way to eat fall's favorite fruit.  Here's my latest very simple dessert creation, utilizing Puff Pastry:  Caramelized Apple Waffle Pastries with Cinnamon Whipped Cream. 
First step:  Caramelizing the apples
Peeling the apples is the most time consuming part of this recipe.  I like to use Granny Smith's.  Peel them, core them, and cut them into wedges.  They're sauteed in butter, sugar and spices, with a touch of cornstarch to thicken the syrup and a splash of vanilla for flavor.  They simmer in that buttery, sugary mixture for about 15 minutes, until the apples are tender, caramelized and swimming in thick, cinnamony juices.   Set the mixture aside to cool down.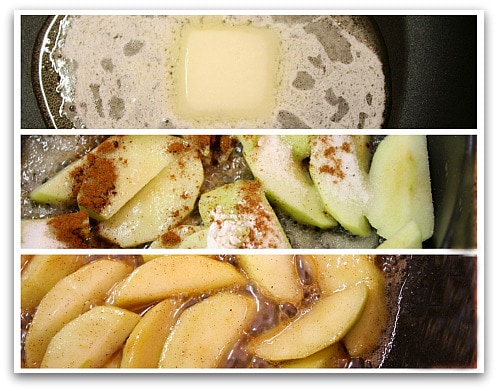 Second Step:  Preparing the waffle pastries
Frozen Puff Pastry (thawed) is used for this dessert.  Simply cut down the two seams to make three large rectangles, then cut each rectangle into three equal pieces.  You'll end up with nine rectangles.  Heat a waffle iron and spray with nonstick spray.  Sprinkle each piece of Puff Pastry with cinnamon-sugar and set into your waffle iron.  Close and cook for 2 to 3 minutes, or until the pastry is puffed and golden.  Repeat with the rest of the Puff Pastry and set the waffles aside.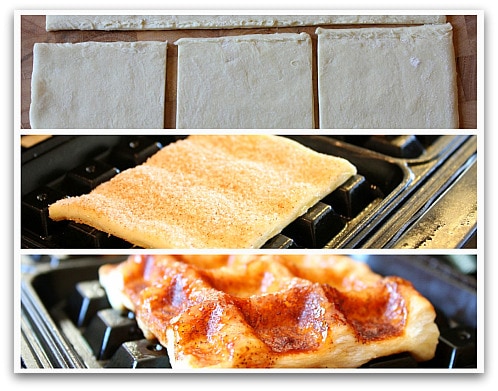 Third Step:  Prepare the whipped cream
Whip heavy whipping cream until thick and stiff peaks form.  Stir in a half teaspoon of vanilla and a sprinkle of cinnamon.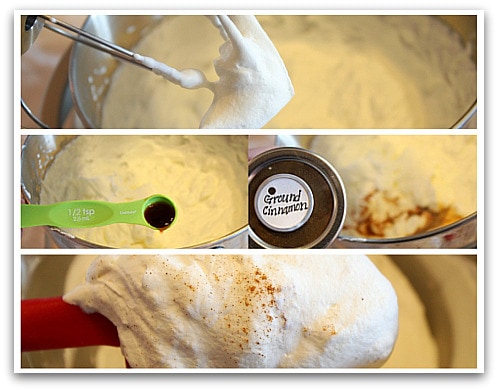 Ready to assemble:
Place waffle pastries on platter and top with caramelized apples.  Drizzle pan juices on top.  Pipe whipped cream on top of apples and serve.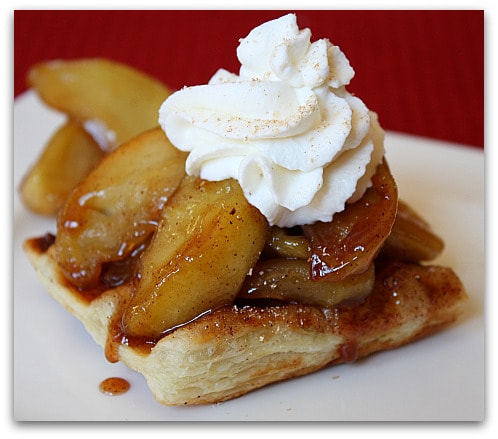 The best part about this recipe is that it can be prepared ahead.  Everything can be served cold.  If you'd rather serve it warm, top the steamy apples with a scoop of vanilla ice cream and a drizzle of hot, caramel syrup.
The complete, printable recipe can be found here: Caramelized Apple Waffle Pastries
This post was sponsored by Pepperidge Farm Puff Pastry. Do you have a Puff Pastry creation to share? Enter the 1, 2, 3 Puff! Recipe Contest and you could receive an all-expense paid trip to New York City for a taste of the sweet life! Find more great recipes and enter to win at 123puffpastry.com.