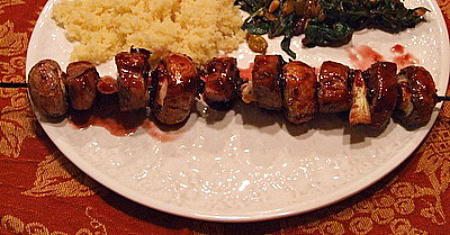 Cherry- Glazed Pork with Couscous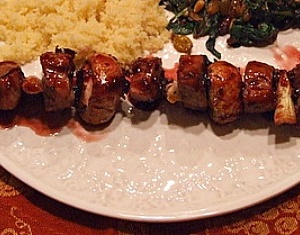 Yield:
4 servings
Prep Time: 30 min
Cook Time: 25 min
Ingredients:
1 cup cherry jam
1 cup Merlot or other dry red wine
3 tablespoons raspberry or red wine vinegar
2 tablespoons minced fresh rosemary
8 whole green onions, ends trimmed
12 whole mushrooms, ends trimmed
1 pound pork tenderloin, cut into 20 equal pieces
2 cups reduced-sodium chicken broth
1 1/2 cups couscous
Directions:
1. In a 10 to 12-inch frying pan, mix together jam, Merlot, vinegar, and rosemary until thoroughly combined. Bring to a boil over high heat. Boil until reduced to 1 cup, about 11 minutes.
2. While cherry mixture boils, cut onions in half crosswise. Thread pork, mushrooms and green onion pieces alternately onto metal skewers (at least 8 inches long), dividing equally between skewers. Lay skewers on a broiler pan; brush tops evenly with about 1/3 of the cherry mixture.
3. Broil pork about 4-inches from heat until well-browned on top, 5 to 6 minutes. Turn skewers over, brush with half of the remaining cherry mixture, and broil until the other side is browned, 2 to 4 minutes.
4. While pork cooks, bring broth to a boil in a 2 to 3 quart pan over high heat. Add couscous, cover tightly, remove from heat, and let stand until liquid is absorbed and couscous is tender to bite, about 5 minutes.
5. Spoon couscous onto platter or individual plates and top with skewers. Spoon remaining cherry mixture over skewers.
Tips:
*Accompany this dish with steamed green beans or sauteed spinach and a glass of Merlot!
Source: RecipeGirl.com (via Sunset)