This simple sandwich recipe reminds me of lunch on a warm day in France:  Chicken and Arugula Sandwiches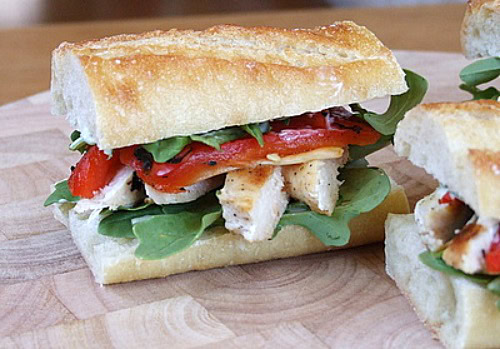 This is a great sandwich for a weekday meal. It's a terrific one for entertaining too. I love the easy, fresh flavors. Make extra spread for more flavor.
Chicken and Arugula Sandwiches
Yield:
6 sandwiches
Prep Time: 25 minutes + chilling time
Cook Time: 10 minutes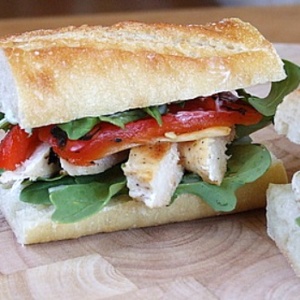 Ingredients:

6 tablespoons plain nonfat yogurt or lowfat mayonnaise
4 teaspoons Dijon mustard
1/2 cup chopped arugula
freshly ground black pepper to taste
2 roasted red peppers, cut into strips
4 (4-ounce) boneless skinless chicken breasts
salt to taste
1 teaspoon olive oil
6 (5-inch) baguettes, French bread or rolls, cut lengthwise into halves
2 large bunches of arugula

Instructions:

Combine yogurt and mustard in a bowl and mix well. Stir in chopped arugula and season with pepper. Store, covered, in the refrigerator for up to 1 day.
Sprinkle the chicken with salt and pepper. Brush a nonstick skillet with the olive oil and sauté the chicken in the oil for 4 minutes per side or until cooked through. Cool slightly and slice diagonally into strips.
Spread 2 teaspoons of the yogurt mixture on the cut sides of each bread half. Layer 1 bunch of arugula and the chicken over bottom halves. Top with roasted bell pepper strips, remaining arugula and remaining bread halves. Wrap tightly in plastic wrap and chill for up to 4 hours.

Tips:

To ensure even cooking of the chicken, pound it down to uniform size before cooking.