Chicken Fajitas
Coming from a family who loves their Mexican food, these Chicken Fajitas are terrific.  An easy, homemade spice mix coats the chicken.  Add in whatever goodies you'd like in the tortillas- sour cream, guacamole, cheese, lettuce, tomato, etc. to make it your own.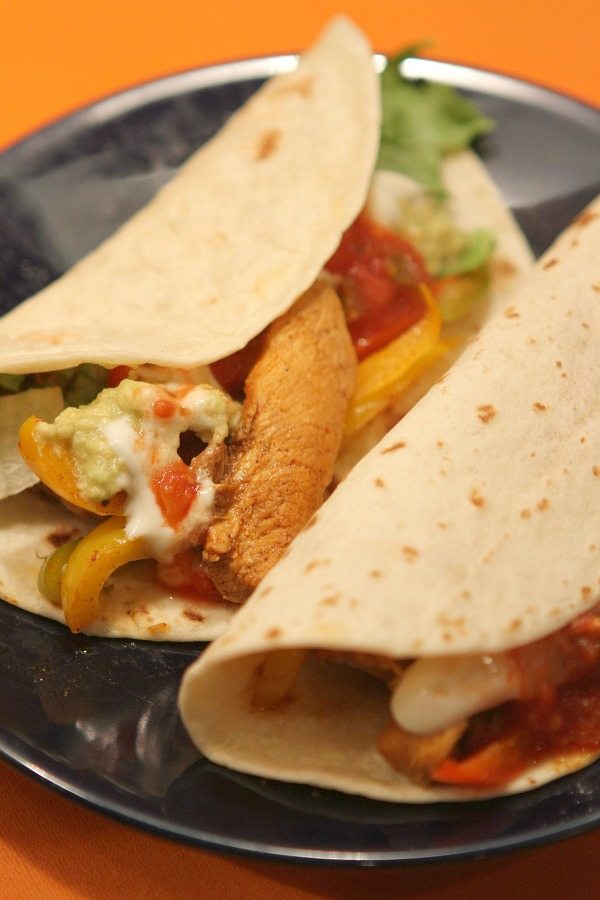 Chicken Fajitas
Yield:
4 servings
Prep Time: 30 min
Cook Time: 15 min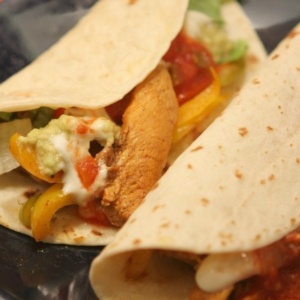 Ingredients:
MARINADE: 2 tablespoons tabasco sauce 2 tablespoons ground cumin 1 teaspoon ground allspice 2 tablespoons chili powder 1 tablespoon freshly chopped oregano 1 tablespoon freshly chopped thyme 1/2 bottle beer extra-virgin olive oil MAIN: 1 1/2 pounds boneless skinless chicken breasts, pounded out so that they are even and not-so-thick extra-virgin olive oil 1 large sweet onion, cut into 1/2-inch strips 1 large red or yellow bell pepper, seeded and cut into 1/2-inch strips 1 large green bell pepper, seeded and cut into 1/2-inch strips 2 whole poblano chiles, seeded and cut into strips salt and pepper to taste salsa, sour cream, guacamole, cheese (whatever you'd like for filling) 8 taco-sized 6-inch flour tortillas
Instructions:

1. In a small bowl, mix all marinade ingredients together; set aside. 2. Place chicken in a large zip bag and add marinade to the bag. Set aside (this can be done up to 2 hours ahead of cooking time). Keep refrigerated. 3 Heat two pans: a nonstick griddle to high (or skillet), and a nonstick frying pan to medium-high. Drizzle the frying pan with oil. Add the onions, peppers and chiles, stirring occasionally, until they darken around the edges, about 5 minutes. Sprinkle with salt and pepper and turn off the heat. 4. Place the chicken onto the very hot griddle pan. Sear for 2 minutes on each side. Remove from heat to a cutting board. Slice very thin, on the bias, and return strips to griddle to brown and cook through. 5. Heat tortillas according to package directions. Fill with sizzling meat or chicken, vegetable mixture and desired fillings.