Chocolate Banana Bread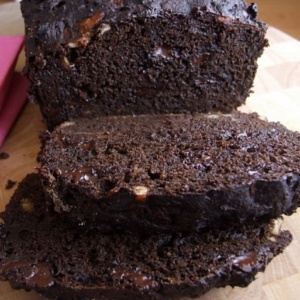 If you're looking for a typical banana bread recipe, this isn't it. This is a healthy, spa-version of chocolate-flavored banana bread... really different, I thought. I liken it to an energy treat you might try before a big hike. My family thought it was great!
Yield:
16 servings (16 slices)
Prep Time: 25 minutes
Cook Time: 60 to 70 minutes
Ingredients:
10 ounces pitted dried prunes
3/4 cup mashed ripe bananas (about 2 medium)
2 large eggs
1 cup whole-wheat pastry flour
1/2 cup unsweetened cocoa powder
2 teaspoons baking powder
2 teaspoons ground cinnamon
1 1/2 teaspoons baking soda
1/2 cup banana chips, chopped coarsely
1 cup semi-sweet chocolate chips
Directions:
1. In a small saucepan, bring prunes and 2 cups of water to a boil over high heat. Reduce heat and simmer, uncovered, until prunes are very soft, about 20 minutes. Drain.
2. Meanwhile, preheat oven to 350°F. Lightly butter a 5x9-inch loaf pan and line bottom with a piece of parchment paper, cut to fit.
3. In a food processor, whirl prunes and bananas until very smooth. Add eggs and whirl to combine.
4. In a large bowl, sift together flour, cocoa, baking powder, cinnamon, and baking soda. Stir in banana mixture until evenly moistened. Stir in banana chips and chocolate chips. Scrape the thick batter into pan and spread level.
5. Bake bread until a toothpick inserted in the center comes out a little chocolatey but not gooey, 40 to 50 minutes. Loosen bread from pan with a knife and invert onto a rack. Remove parchment. Turn bread right-side-up and let cool at least 1 hour before slicing.
Tips:
*Shortcut: Sub 10 oz. (1 1/4 cups) unsweetened prune baby food for the pitted prunes, and omit water and cooking in step 1.
Nutrition:
Nutrition Facts- Amount Per Serving (1/16th of the loaf):
Calories 162, Calories From Fat (28%) 45, Total Fat 5.5g, Sat Fat 3.35g, Cholesterol 26.44mg, Sodium 190.53mg, Potassium 267.71mg, Carbohydrates 30g, Dietary Fiber 4.5g, Sugar 9.43g, Net Carbs 25.5g, Protein 3.5g
WW POINTS per serving:
Points Plus Program: 5 Old Points Program: 4.5