Chocolate- Nutella Spider Cupcakes
This recipe has been featured in a post on The Recipe Girl blog: Halloween Recipes for Fans of Cocoa Puffs Cereal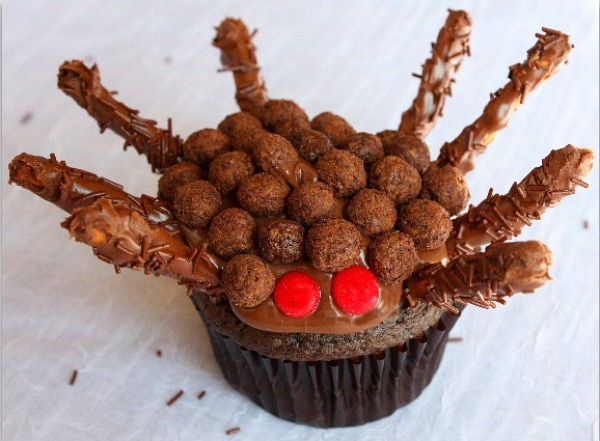 Yield: 24 cupcakes
Prep Time: 45 min
Chocolate- Nutella Spider Cupcakes
Inspired by Cocoa Puff's cereal, I used those little puffs to act as the body of a spider for Halloween. Quick & easy tips included below!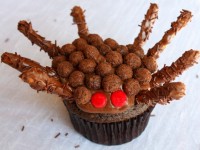 Ingredients:
1 box chocolate cake mix, prepared as cupcakes
One (12-ounce) bag chocolate chips
1 teaspoon shortening
1 bag stick pretzels
1 jar chocolate-hazelnut spread (such as Nutella)
chocolate sprinkles
red hot cinnamon candies
2 cups Cocoa Puffs cereal
Directions:
1. Prepare spider legs: Place a cookie-cooling rack over paper towels. Pour chocolate chips into a medium bowl with shortening. Melt in the microwave in 30 second bursts (stirring after each burst) until chips are melted and mixture is smooth. Drop pretzels into the chocolate, roll them around gently with tongs to cover all sides; scrape off excess chocolate as you remove them from the bowl. Place them on a cookie-cooling rack, leaving space between pretzels. Sprinkle with chocolate sprinkles. You'll need 8 spider legs for each spider cupcake you make. Place the rack in the refrigerator or freezer to set the chocolate quickly.
2. Assemble cupcakes: Gently insert spider legs (4 on each side) into the top-sides of the cupcakes. Spoon about a 1/2 Tablespoon of the chocolate hazelnut spread onto the top of the cupcake (to act as a frosting). On top of the spread, add 2 red hots for the eyes of the spider; dot Cocoa Puffs onto the body of the spider. Eat!
Tips:
Quick & easy tip: You can also buy the Magic Shell quick-drying chocolate (in the ice cream sundae sauce section) and just drizzle it over the pretzel sticks on the drying rack.
Money-saving tip: Use canned chocolate frosting in place of the chocolate hazelnut spread.
Make ahead tip: You can make these spider cupcakes one day ahead & they will be perfectly fine to eat the next day.
5 Responses to "Chocolate- Nutella Spider Cupcakes"
Leave a Comment