Chocolate Toffee S'More Cookies
These Chocolate Toffee S'More Cookies have all of the S'Mores goodies in them: graham cracker, melty marshmallow and chocolate!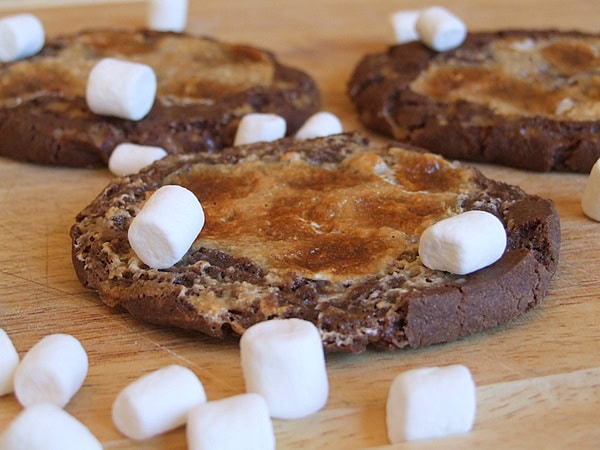 This recipe was published by Gourmet magazine many years ago in the section where readers ask for the recipes from places they've been. Seattle-Tacoma airport has a little place called Dish D'Lish, and they sell these giant cookies to travelers who are looking for a treat.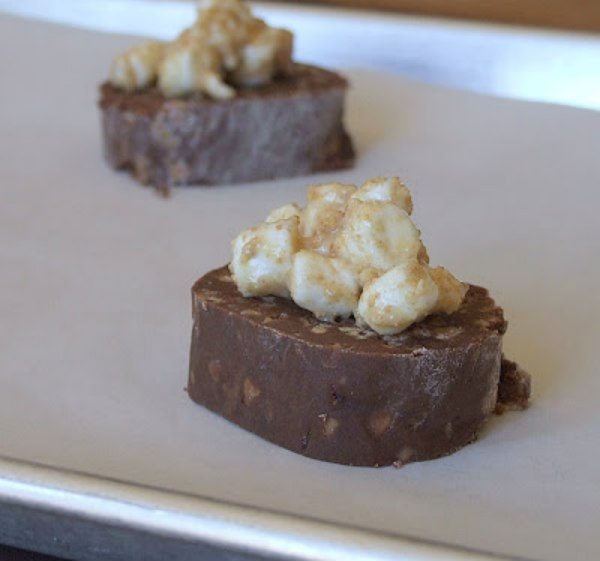 Dough for these cookies is rolled into a thick log and refrigerated until very firm. It's cut into ten thick slices and baked up with a gooey marshmallowy topping. When I baked my test cookies, the marshmallow topping browned up waaaaaayyyy too much, so I modified D'Lish's recipe to include baking the cookie until it spreads a bit, and then adding the marshmallow topping. That works much better.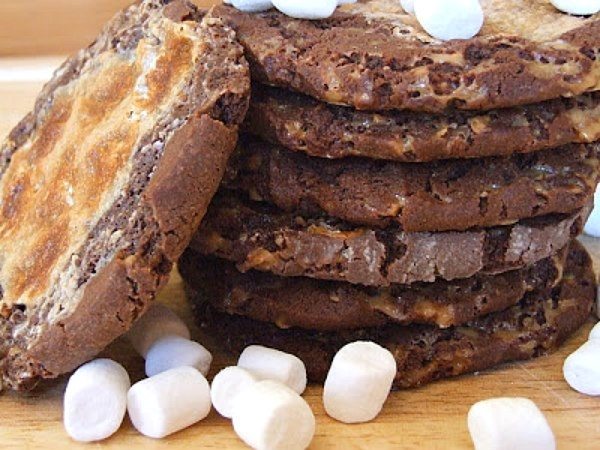 Toffee bits are melted within the giant chocolate goodness, and then you get gooey marshmallow in every bite too. The recipe makes 10 giant cookies, exactly.
If you're looking for more S'Mores treats, try these S'Mores Brownies or these Peanut Butter S'Mores Turnovers.
Yield: 10 Jumbo cookies
Prep Time: 45 minutes + chill time
Cook Time: 18 minutes
Chocolate Toffee S'More Cookies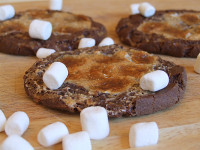 Ingredients:
DOUGH:
1 1/2 cups all-purpose flour
1/2 cup unsweetened cocoa powder
3/4 teaspoon baking soda
1/2 teaspoon salt
1/2 cup (1 stick) unsalted butter, at room temperature
1/4 cup shortening
1/2 cup granulated white sugar
1/2 cup packed light brown sugar
1 large egg, lightly beaten
1 teaspoon pure vanilla extract
One (8-ounce) package toffee baking bits
TOPPING:
1 1/2 (5 x 2½-inch) graham crackers
1 cup mini marshmallows
1/4 cup sweetened condensed milk
Directions:
To Make Dough: Whisk together flour, cocoa powder, baking soda, and salt in a bowl. In another bowl, beat butter, shortening, and sugars with an electric mixer until fluffy. Then beat in egg and vanilla. At low speed, mix in flour until dough just comes together, then mix in toffee.
Shape dough into an 8-inch log (3 inches in diameter) on a floured surface with floured hands, then flatten ends and chill, wrapped in plastic wrap, at least 6 hours.
Make Topping and Bake Cookies: Preheat oven to 350°F. with rack in center of oven. Line 2 large baking sheets with parchment paper.
Finely grind graham crackers (I just stick them in a plastic baggies and crush them with a mallet.) You should have about 1/4 cup. Then stir together crumbs, marshmallows and condensed milk (the mixture will be very sticky.)
Cut dough crosswise into 10 (3/4-inch-thick) slices. Place 3 to 4 slices on each baking sheet (cookies will spread about 5 inches during baking.)
Bake cookies for about 5-6 minutes (until they begin to spread). Open oven and carefully spoon on a heaping Tablespoon of topping in the center of each cookie. Close the oven door and continue baking for another 12 to 15 minutes, until topping is golden and cookies are baked through.
Slide cookies with parchment onto racks to cool completely. Bake remaining cookies in the same manner on freshly lined baking sheets.
SOURCE: RecipeGirl.com (Adapted from Gourmet's recipe by Dish D'Lish)