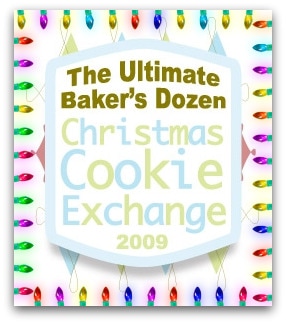 Welcome to the Baker's Dozen Ultimate Christmas Cookie Exchange!  Today I've united with twelve incredible food bloggers to bring you a holiday cookie celebration.
I've spouted off before about how I think that Christmas cookies should LOOK like Christmas cookies. Red Velvet is one of my favorite flavors, and I always seem to turn to Red Velvet when I'm looking for something super festive-looking for the holidays. I had never made a red velvet cookie before though, so I did a little investigating and decided to bake Red Velvet Shortbread Cookies.
I used red gel paste for my coloring (I may have overdone it a little, but I wanted them to be red!) Gel paste is more concentrated than liquid food coloring and it doesn't impart flavor to your baked product the way that liquid coloring sometimes does.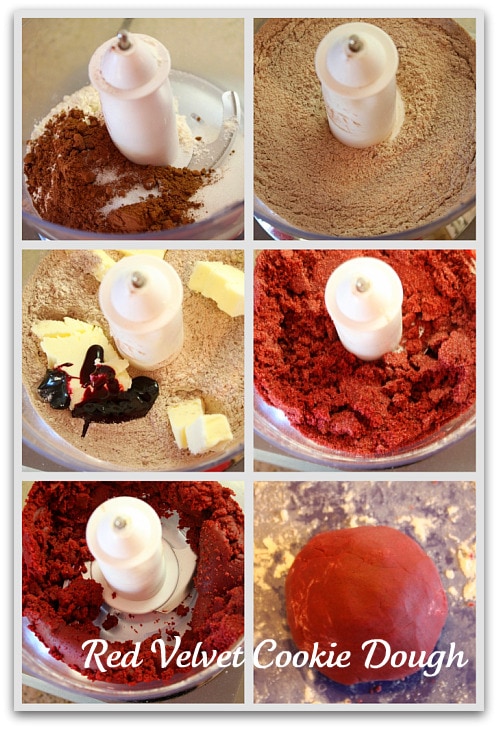 They're not really a fussy cookie, but I think you'll have the best results if you prepare the dough in a food processor. Let the blades do the work with mixing, and your dough will come together nicely and be ready for rolling.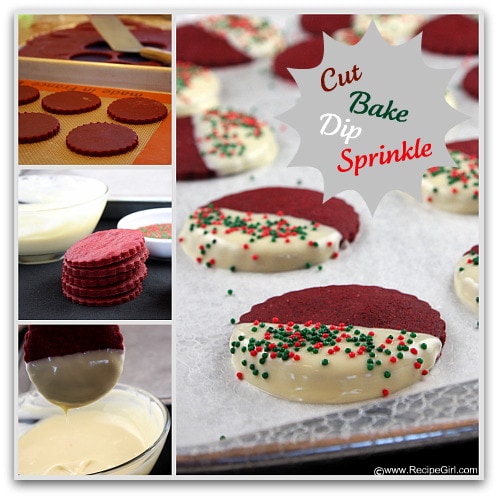 These are a shortbread cookie… thin and crisp. They're half dipped into white chocolate and then edged with a festive sprinkle. You could also edge them with chopped pistachios if you wished to have the red/green look.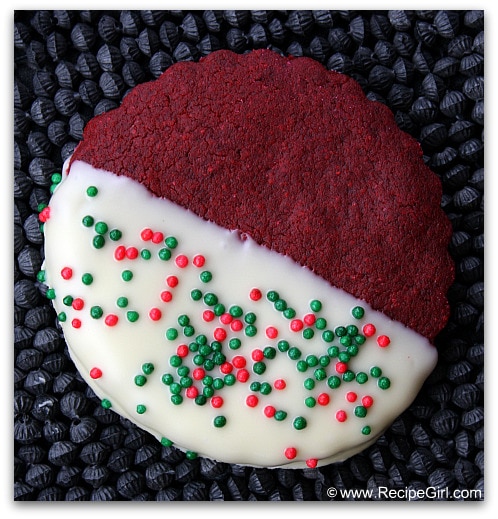 I was shooting to create a cookie that would be pretty and perfect for Christmas. How'd I do?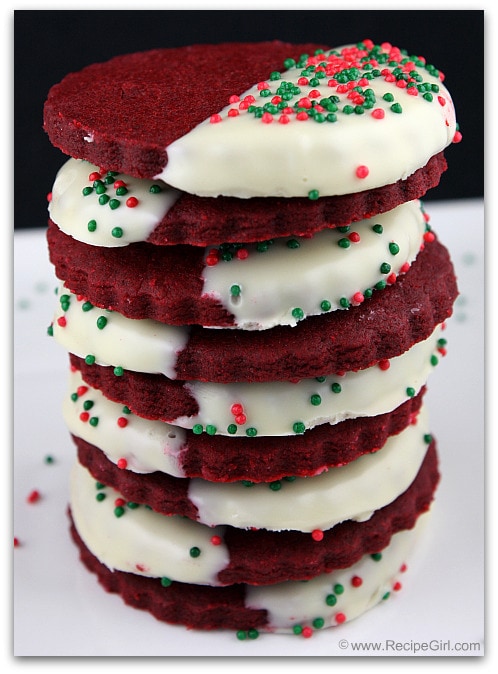 The chocolate sets up after cooling, and then they're fine to store. Mine have been in the freezer now for a couple of weeks and they're still perfectly fine. Just place waxed paper between layers and store in a covered container until you're ready to break them out for the holidays.  In my opinion, these are a wonderfully festive cookie with an okay flavor.  The red velvet flavor doesn't come through as much as in a cake, and the white chocolate dip is a must both for flavor and for holiday pizzazz 🙂  I'll be happy to add them to my gift boxes as they're a bit of a WOW cookie in terms of decor, don'tcha think?
This recipe can be found HERE.
I'm also contributing this cookie recipe to the Virtual Cookie Jar for the 12 Days of Sharing,  hosted by In Jennie's Kitchen!   Share Our Strength is an organization that is fighting to end childhood hunger.  By sharing a favorite cookie recipe, you can all help raise awareness about childhood hunger and help to end childhood hunger by 2015.  A small donation can go far.  $25 can feed a child three healthy meals a day for a month (via Share Our Strength site).
How you can help:
1. Make a donation to Share Our Strength by clicking on the banner above! Not only will you be helping to end childhood hunger in America, you'll also be entered in a giveaway for some really great prizes (including a Cuisinart stand mixer)!
2.  Join in the fun by posting your favorite cookie recipe and adding it to the virtual cookie jar.  Be sure to encourage your readers to join in and consider making a donation! (Click here for posting details…)
3.  Keep visiting In Jennie's Kitchen for featured recipes and participating blogs as well as all of the tasty additions to the virtual cookie jar!
4.  Spread the word! Be sure to tell all of your friends and family about the 12 Days of Sharing and encourage them to participate.  Consider donating a few of your tweets and status updates to the 12 Days of Sharing to spread the word on Facebook and Twitter!