There is a rather disturbing trend taking place in the world of Christmas cookies.  It's that folks are doing so-called "Christmas Cookie Baking," that isn't really holiday baking at all.  What I mean by this is that some people bake chocolate chip cookies or snickerdoodles and such, add them to their cookie platters and call them Christmas cookies.  Those are just cookies people!   And there is nothing holiday or festive about them unless you give them a good dose of holiday sprinkles.  It's my Mom's fault, really, that I feel this way.  She always baked holiday cookies that were garnished heavily with red and green.  Isn't that the way it's supposed to be?  Holiday cookies should look like holiday cookies! Here's a festive treat similar to the Mexican Wedding Cookie, but with some peanut-buttery chocolate hidden inside:  Chocolate-Peanut Butter Snowballs.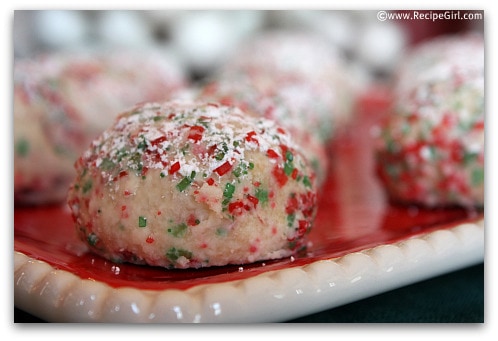 Here's the how-to: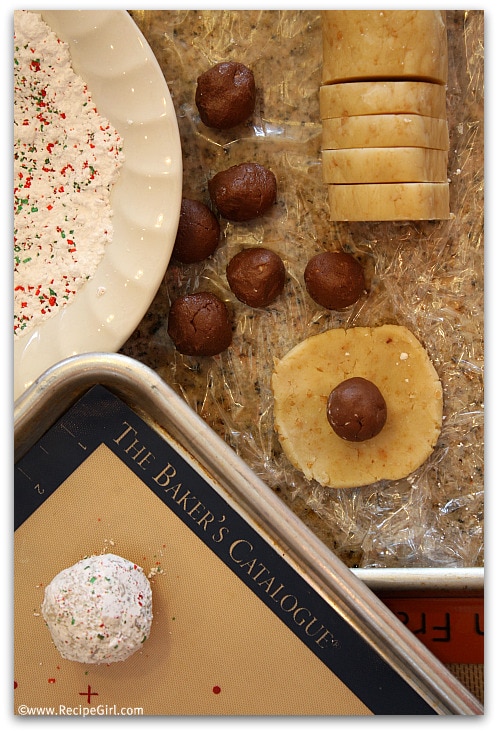 The interior of the cookie: Melt peanut butter and chocolate chips and mix with a small amount of powdered sugar and chopped peanuts.  Set that aside for a while to let it get slightly firm, and then roll out teaspoonfuls into little balls.
The exterior of the cookie: It's made up simply of flour, butter and vanilla- that's it!  Knead those ingredients together and form into a log.  Cut slices, flatten out the slices with your fingers, place a chocolate ball in the middle, and wrap exterior dough around it.  Roll the ball in green & red sprinkle-tainted powdered sugar and then bake.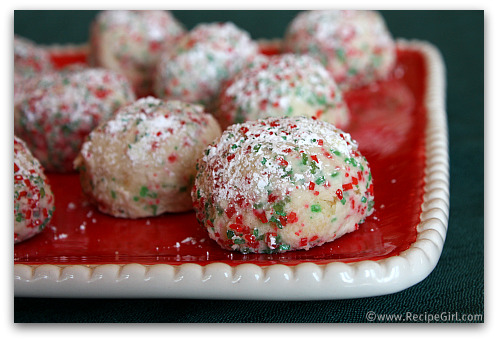 To make them even more festive looking… I roll them in the powdered sugar mixture again while they're warm and fresh out of the oven.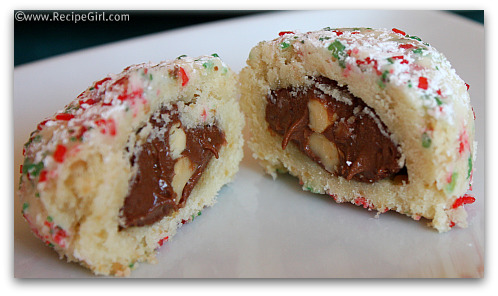 Straight out of the oven, these are a crumbly delight, and you'll get a mouthful of gooey peanut buttery- chocolate too.  Once cooled and set, they become a more solid cookie, still rather delicious.  Now tell me… is there any question whether or not these belong on a holiday platter?  I think they fit the bill just perfectly.
P.S.  I will concede that anything eggnog, ginger, molasses or mint-themed is also worthy of being called a holiday cookie 🙂
This recipe can be found here:  Snowballs
————————————————————–
More festive-looking holiday cookies on the blogs:
Chocolate- Mint Thumprints from RecipeGirl
Red and Green Christmas Cookies from Cakespy
Wreath Cookies from Talk of Tomatoes
Candy Cane Cookies from Cakespy
Slice a Fancy Cookies from The Way the Cookie Crumbles