There's a gem of a place to visit close to downtown San Diego called Specialty Produce. I had the pleasure of touring their produce warehouse last week. The place is amazing… I was in foodie heaven discovering all of the fresh fruits and vegetables that they carry. Unless you go directly to the farmers themselves, you're not going to find anything fresher in San Diego County. San Diego's best restaurants and catering companies order weekly from Specialty Produce to help them create seasonally appropriate & fresh menus. If you're looking for something special, check out their website to see what they currently have in stock… it changes weekly based on what's in season. It's definitely a warehouse, not a store, but you're welcome to stop in and purchase any specialty items that you might be looking for.  Here are a few goodies I came away with on my first visit…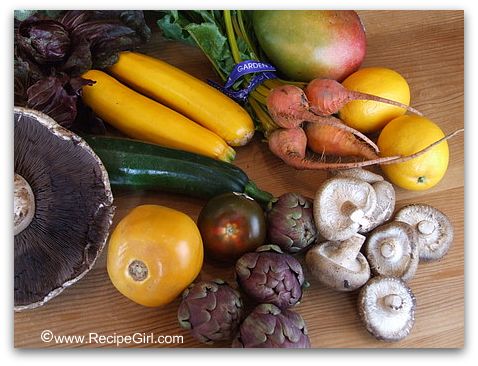 Mizuna, radicchio, golden beets, zucchini, yellow squash, portobello mushroom, yellow tomato, some other kind of tomato, baby purple artichokes, shiitakes, Meyer lemons & a mango. I was a little overwhelmed when I got home with this stash of goodies. What on earth was I going to use first??  Definitely the mizuna.  I wasn't sure exactly what to do with it, but it was the item in my shopping bag that I was most enthralled with.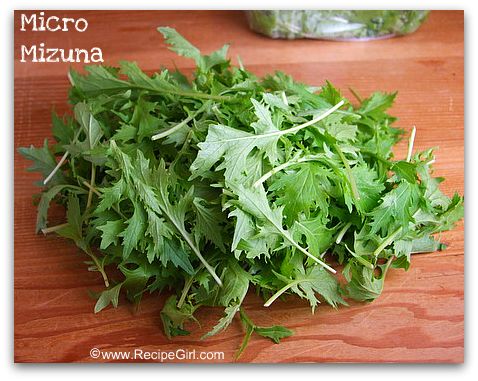 If you're not familiar with Mizuna, it's an Asian green that can be eaten raw (in salads) or cooked. It's flavor is sort of nutty or peppery- similar to arugula. Specialty Produce carries a really cool, unique assortment of micro/petite greens & herbs. I tried the micro-mizuna. I've had mizuna in salads before, but I was interested in how it would taste cooked.
I decided to begin with a stir fry: Wok Sauteed Mizuna & Portobello Mushrooms with Minced Chicken.
Here's what I used: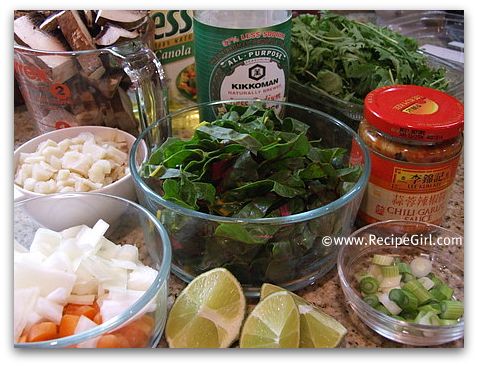 Since we're eating healthy around here, I utilized a boatload of vegetables in this stir fry- mizuna, portobello mushrooms, swiss chard, carrots & onion, and I decided to keep the sauce light. The sauce was basically a mixture of soy sauce, garlic, chili garlic sauce and lime juice. I was a little afraid that it wouldn't be enough flavor, but it ended up being just perfect.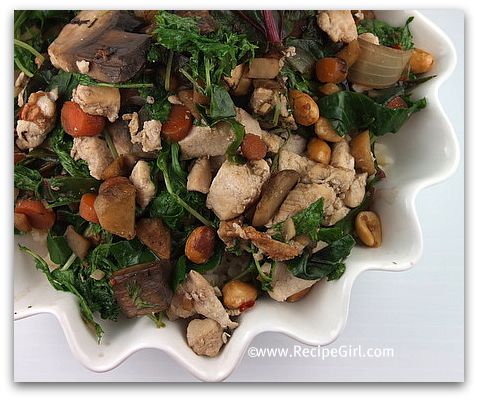 I served the stir fry over brown rice and sprinkled a few peanuts on there too.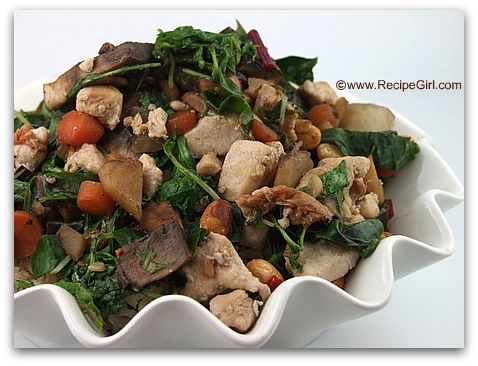 All of us enjoyed this vegetable-packed meal… even my vegetable-phobic 7 year old (though he pushed all of the green things aside). I'm excited to re-visit Specialty Produce– I have my eye on baby cilantro, black kale, freckles lettuce and a large array of mushrooms that I've never even heard of before!
This recipe can be found here:  Wok Sauteed Mizuna