Here's another hotel review for New York City– this is an affordable option to bookmark for your next visit to NYC:  The Court Hotel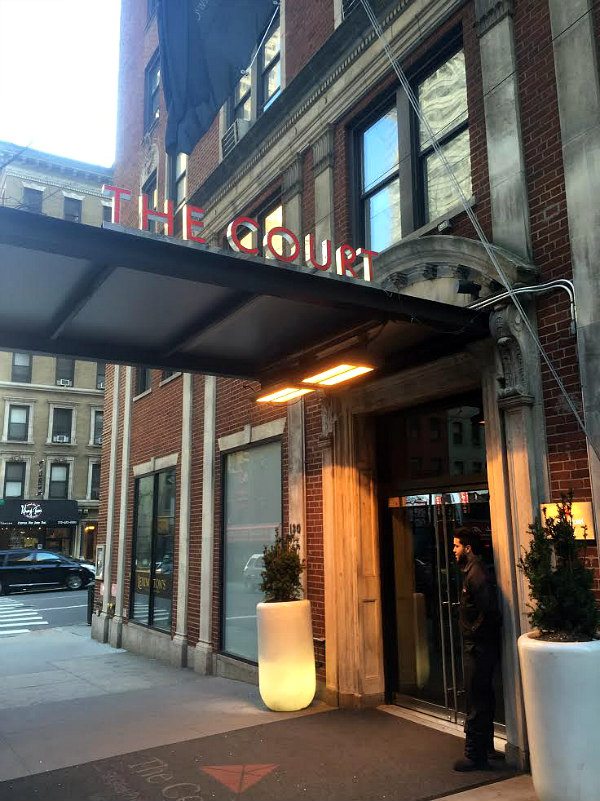 The Court: a St. Giles Premiere Hotel is the boutique sister hotel to The Tuscany (just two doors down).  I stayed at The Tuscany a couple years ago and I loved both the hotel and the area so much that I decided to give The Court a shot on this next visit.  The Court isn't quite as fancy as The Tuscany.  The decor is perhaps a little tired in spots, but I really loved it.  It has an older charm about it.  You can get a room here for as little as (what I spotted) $119/night… which is pretty unheard of in New York City!!  Even the larger suites seem reasonably priced compared to the usual NYC hotel rooms.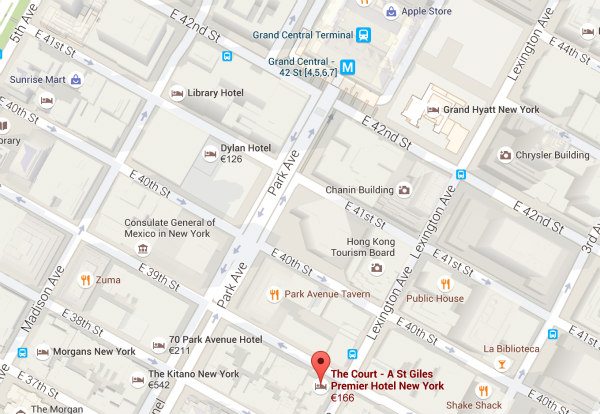 The Court is located on the corner of Lexington and 39th- about 4 blocks from Grand Central Station in Midtown Manhattan. I've found this to be a good location because grabbing the subway or an Uber car or taxi to anywhere you want to go in New York City from here is easy.  It's a good central location.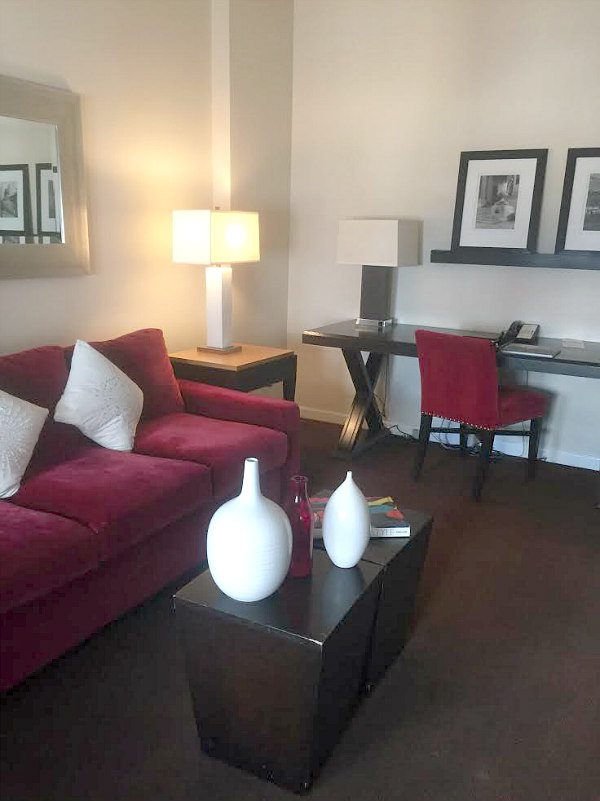 I stayed in a Terrace Suite, which boasts an impressive 750 square feet of space.  It would be the perfect spot for me to stay with my husband since there is a separate living room with a sofa and chairs.  He tends to stay up late while I want to go to sleep!  The sofa turns out into a bed, so this is a good one if you have extra people (like kids) too.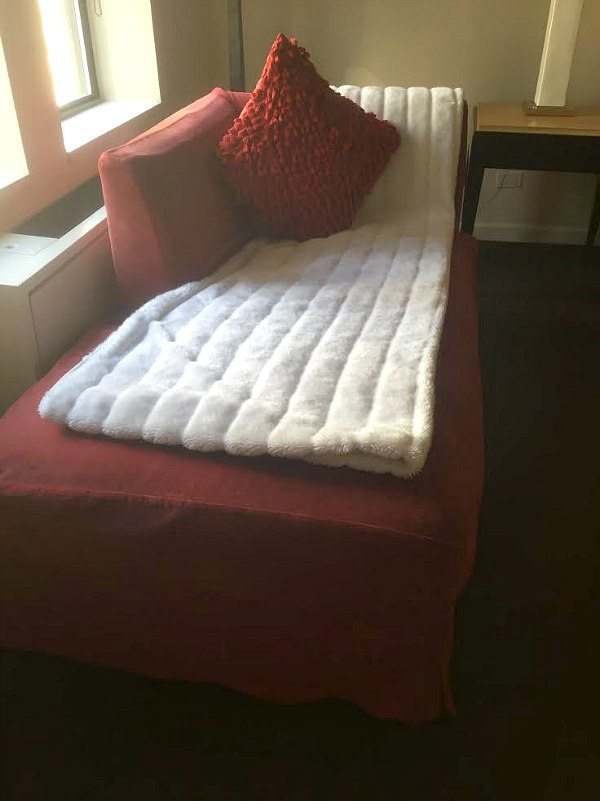 I found myself lounging here to work on my computer (the wifi was good!)  There is an in-room safe to store your valuables too.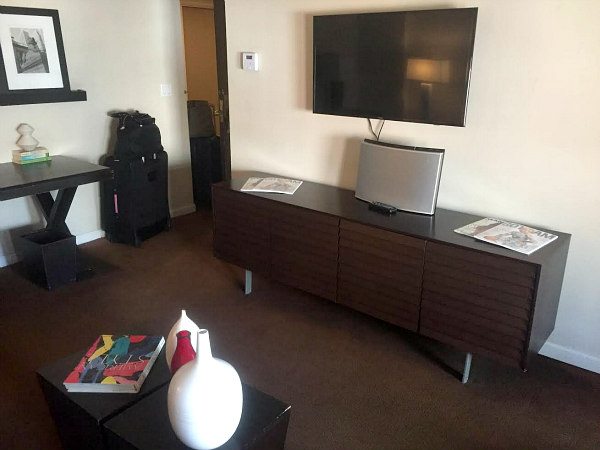 There is a small TV.  You don't really need a TV at all in NYC, so I found this to be perfectly fine.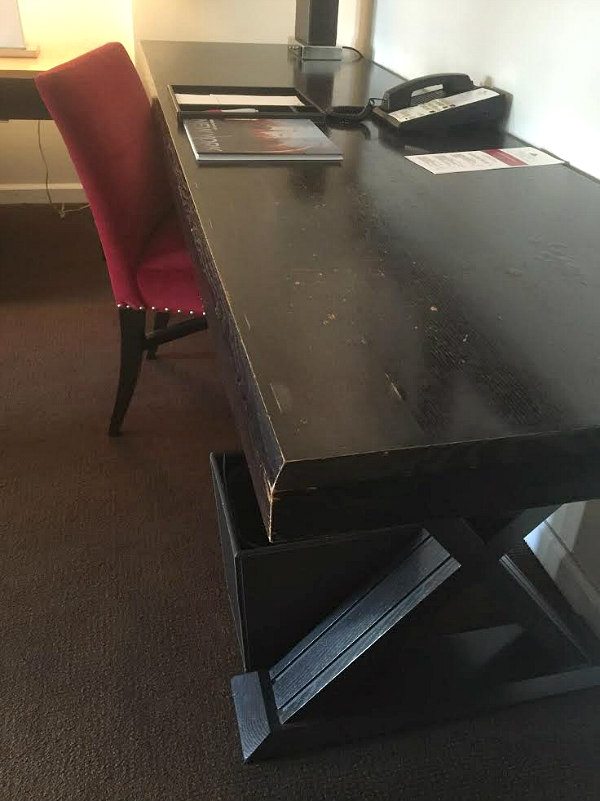 One of the really great features of the room is this LONG work desk.  It was perfect for spreading out all of my stuff and making a big mess… while still having room to work.  If needed, there is a business center located on the 2nd floor where you have access to computers and a laser printer.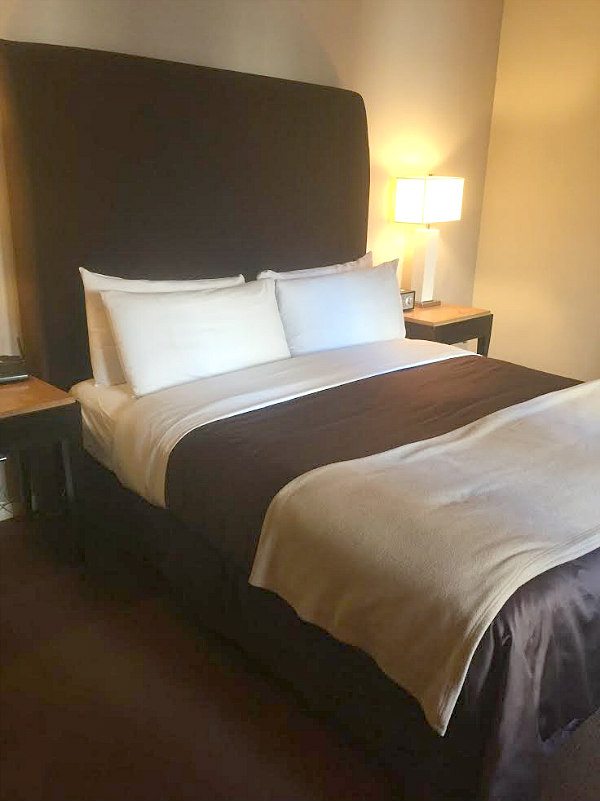 The bedroom is spacious- a comfortable KING in this suite.  I've stayed in so many NYC hotel rooms that were so noisy that you could barely sleep at night.  This one is super quiet.  There is a second TV in the bedroom too.  I didn't photograph the bathroom, but it's a shower-in-tub with a sink and a window.  There are nice bath amenities, bathrobes and a hair dryer included.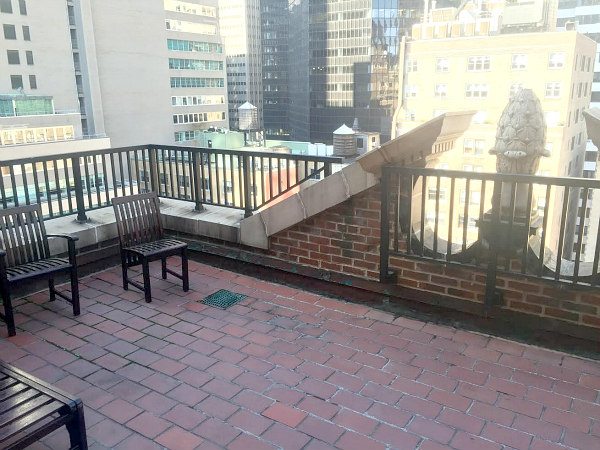 Another exciting feature of the Terrace Suite is the terrace!  It's huge, and it has fantastic views of the city.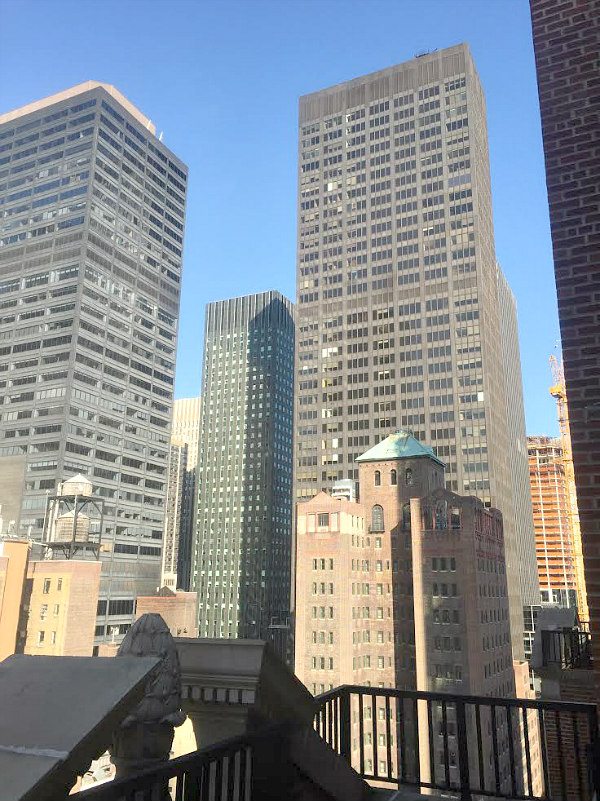 Since it was beautiful weather while I was there, it was nice to enjoy a glass of wine sitting on a lounge chair and gazing at the Chrysler Building.  Having breakfast on the terrace would also be lovely.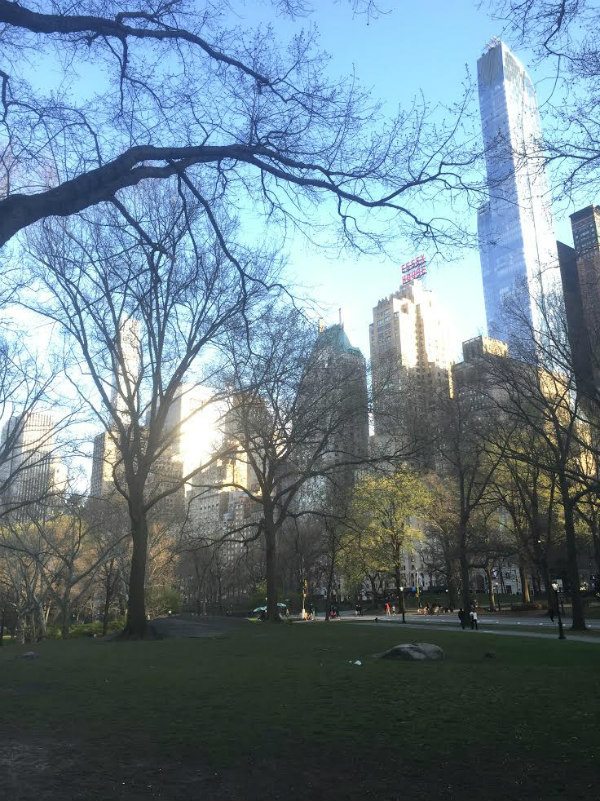 I was in the city with my friend Sandy– we stopped for one night on our way to Italy.  There were so many things we wanted to accomplish in 24 hours, but our first order of business was to grab an Uber car and head over to Central Park to see what was happening.  We thought maybe with spring looming that we might see an explosion of blooming flowers.  We saw some… but not oodles.  Central Park is still impressive in any season.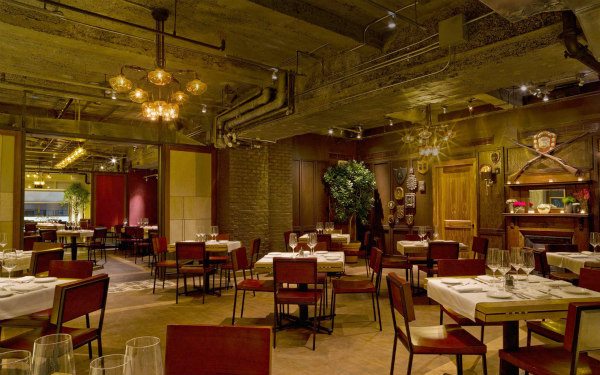 We hopped on the Open Table app to see what restaurants had a table for two available (bad idea… when you're going to NYC, make reservations at least a couple of weeks ahead of time!)  LUCKILY, we found this awesome restaurant, which was a short walk from Central Park:  Quality Italian.  We shared appetizers, salad and excellent wine.  All of it was delicious.  People near us were eating pizza, which looked amazing.  I'd recommend this restaurant for sure– it's a sister restaurant to Quality Meats.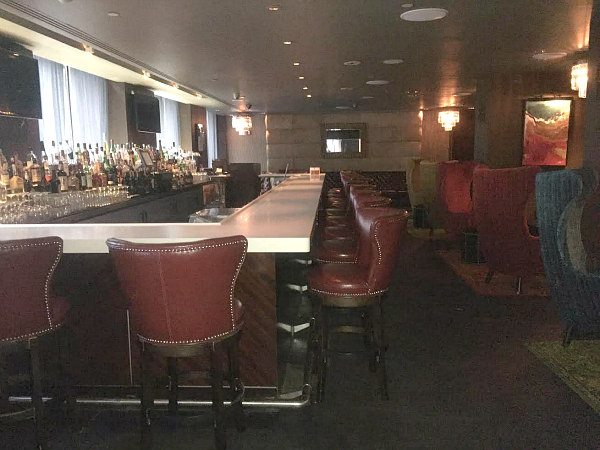 If we hadn't had wine at the restaurant, we could have chosen to visit the bar adjacent to The Court Hotel:  Lexington's Bar.  It's big, hip and has cozy seating.  There is also a separate room with a fireplace and a billiards table.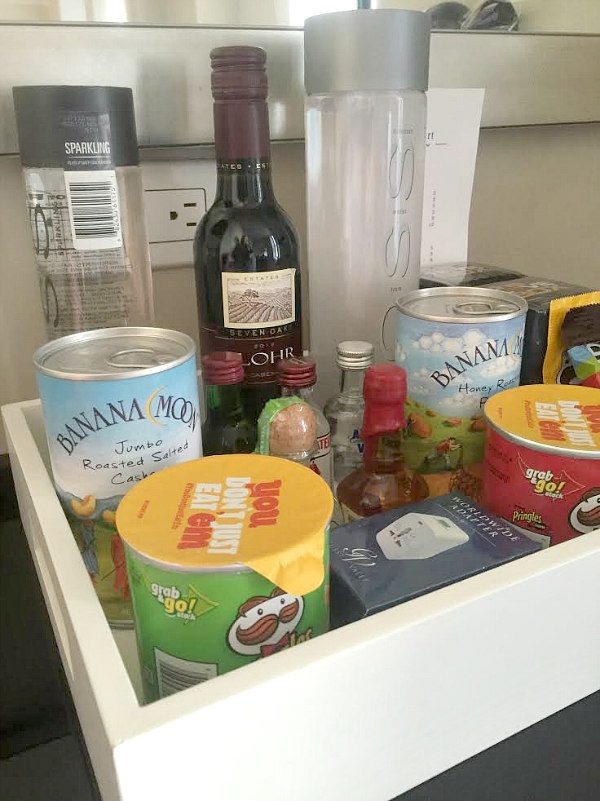 Back in the room at the hotel, there is a wonderful snack and booze selection to choose from.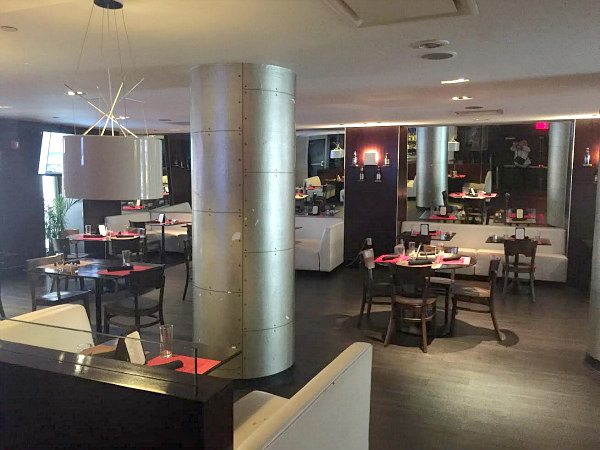 There is a restaurant just off The Court Hotel's lobby called, Beer & Buns.  They're open for breakfast, lunch and dinner.  Their Indulgence Burger (already famous) must be ordered a day in advance to secure the freshest possible ingredients—freshly ground Kobe beef, white truffles, seared foiegras, and caviar meld into burger nirvana.  I wish I had known about this… it would have been fun to try it!  Guests of The Court are also welcome to use the fitness center located in The Tuscany Hotel next door.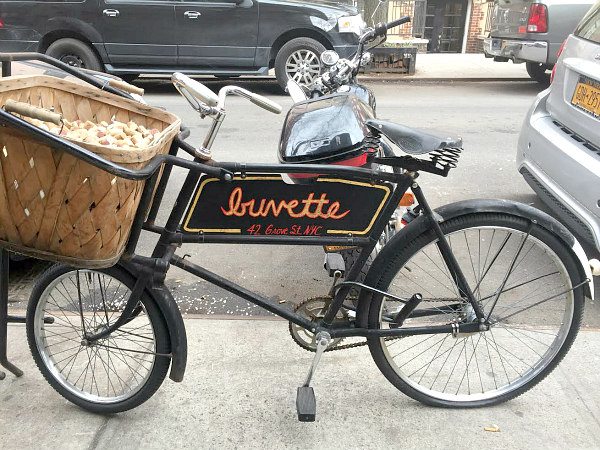 The next morning we took an Uber car into the West Village to meet our friend Amie for breakfast.  What a treat!  Buvette is an adorable french cafe and bar.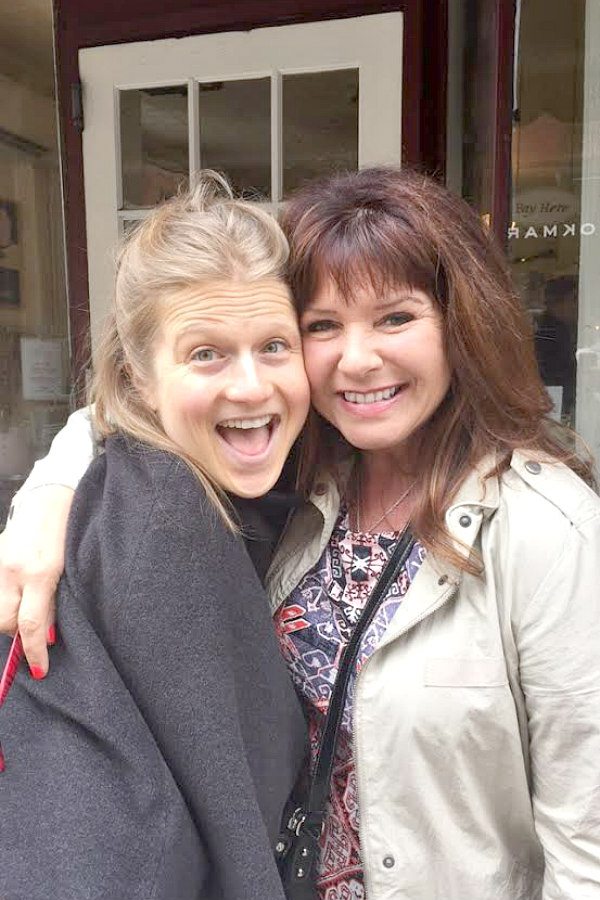 This is Sandy with our friend Amie Valpone (The Healthy Apple blog).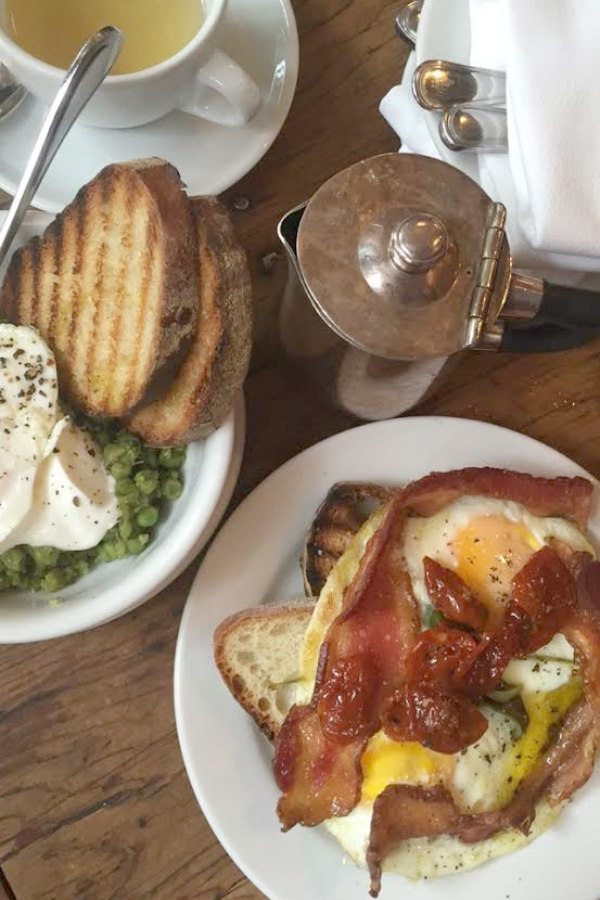 The breakfast choices are simple and perfect.  I had tea and the most incredible poached eggs served on a bed of fresh peas (WOW!)  Sandy had eggs with bacon on toast.  Nothing super fancy, but it's seriously one of my favorite breakfasts ever.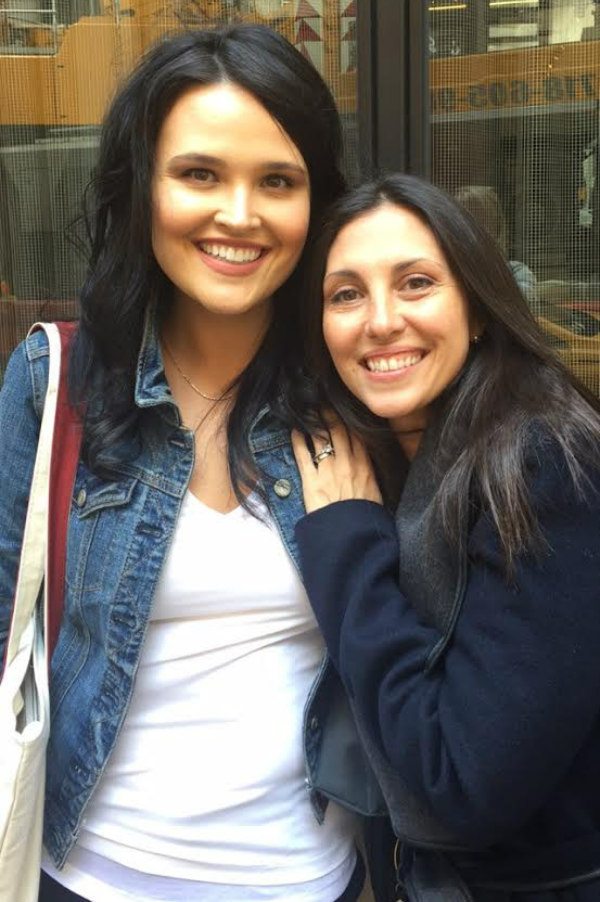 This is Andie Mitchell (Andie Mitchell blog) and Gina Holmolka (Skinnytaste blog).  We met them for lunch at Momofuku Má Pêche– which I believe is in Midtown West (15 West 56th between 5th and 6th).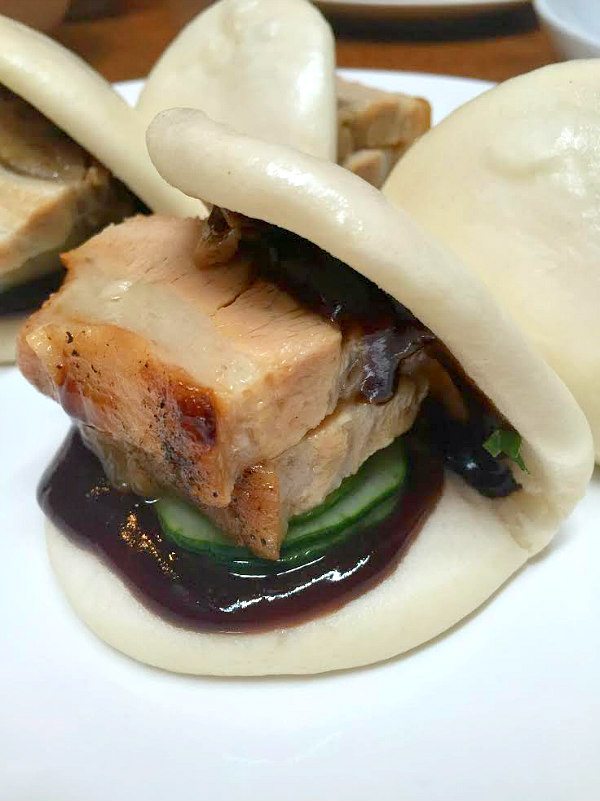 They serve creative Asian-tinged creative American fare.  This is a picture of their (famous) Pork Buns.  We tried so many things… Habanero Fried Chicken, Vegetable Rice Cakes, Broccoli Salad, Beets… and they do this cool thing where they bring around "passed plates."  The passed plates are additional dishes that you can choose to try- special things that are not on the regular menu.  It makes experience in eating there really fun!
Until next time, New York City….
The Court: a St. Giles Hotel: 130 East 39th Street, New York City
The Court was able to store our baggage while we explored NYC on our second day, and they were gracious enough to find us comfortable, reliable, affordable transportation to the airport too.
Disclosure:  The Court Hotel provided a one-night's stay in order for me to review their hotel and share my experience with my readers.  I wouldn't hesitate to recommend The Court as an affordable, spacious hotel room option in New York City.