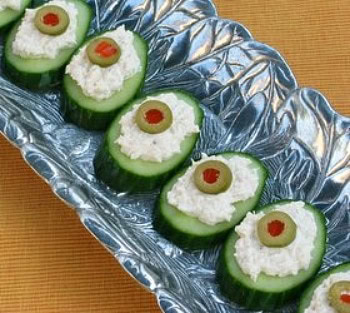 Crabmeat Cucumber Rounds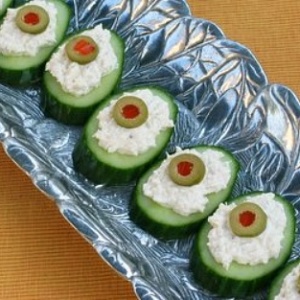 Yield: 16 appetizers Serves: 8 (2 rounds per serving)
Prep Time: 20 minutes + time for refrigeration
These bite-sized rounds are a great lower- fat option to serve as an appetizer.
Ingredients:
1/4 cup reduced-fat mayonnaise
1 teaspoon prepared horseradish
1/2 teaspoon Dijon mustard
1/2 teaspoon worcestershire sauce
1 (4.25 ounce) can crab meat, squeezed dry
1/2 large unpeeled English hothouse cucumber, cut crosswise into 16 thin slices
8 pimiento stuffed green olives, sliced
Directions:
1. In a small bowl, mix together mayonnaise, horseradish, mustard and worcestershire sauce. Stir in crab meat. Cover and refrigerate for 30 minutes.
2. Arrange cucumber slices in single layer on a serving tray. Spoon 1 T. crabmeat mixture onto each cucumber slice. If you have a Tablespoon scoop, that makes this part super easy. If not, just scoop it on w/ a spoon.
3. Garnish with olive slices and serve.
Nutrition Facts - Amount Per Serving of 2 rounds each:
Calories 33, Calories From Fat (46%) 15, Total Fat 1.73g, Sat Fat .26g, Cholesterol 14.5mg, Sodium 119mg, Carbohydrates 1g, Dietary Fiber 0.29g, Sugar 0.43g, Net Carbs .76g, Protein 3.28g
WW POINTS per serving of 2 appetizer rounds:
Points Plus Program: 1 Old Points Program: 1