Cranberry Bliss Bars
This week, I baked Cranberry Bliss Bars.  The recipe originally comes from Taste of Home.
They call them "White Chocolate Cranberry Blondies," but if you're a Starbuck's fan… they're clearly Cranberry Bliss Bars.
You can view a short video showing you how to make these bars toward the end of this post, then scroll to the bottom to print out the complete recipe so you can make them yourself at home!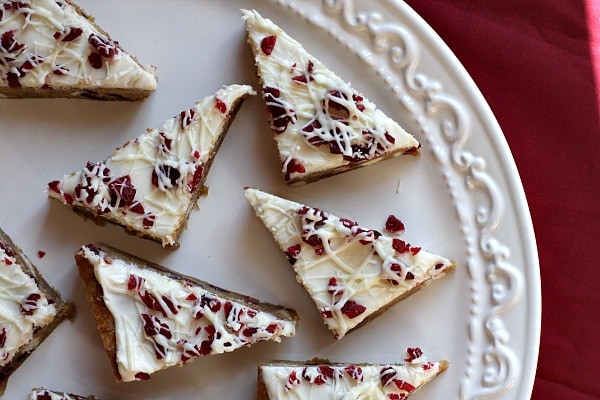 I love to bake.  And if I've been baking, then you should know that it's because of one of these 5 reasons:
1. I've developed or discovered a recipe that I have to try ASAP.
2. It's raining
3. I'm falling off the diet wagon
4. I'm baking for something or someone
5. I'm depressed, and baking cheers me up!
Lucky for me, 98.9% of the time it's #1.
The past week has been a roller coaster of emotions. I attended to my Mother in the hospital post-surgery each day. I watched my 10 year old get an opportunity to play quarterback and throw an exciting touchdown pass.
I lost a parking structure voucher and had to pay the maximum fine. I received emails with great opportunities attached.
I got a flat tire. I managed to create a handful of really yummy recipes for my cookbook.
I gained a pound. And I got in some good snuggle time with my 10-year-old boy, who made me pancakes on Sunday morning.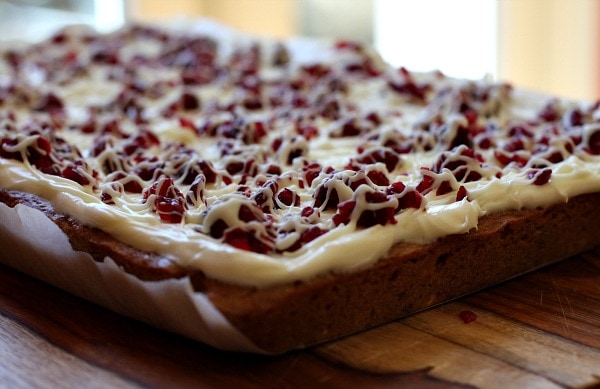 I hate being emotional. I guess it makes me human. It makes owning DiorShow Waterproof Mascara absolutely essential.  
For some reason, feeling all weepy and weird usually makes me feel like baking (which is probably why I gained a pound).
This is a bar that is sort of the ultimate in comfort.  I kind of wanted to just pick up the whole SLAB and just take one big, fat, messy bite.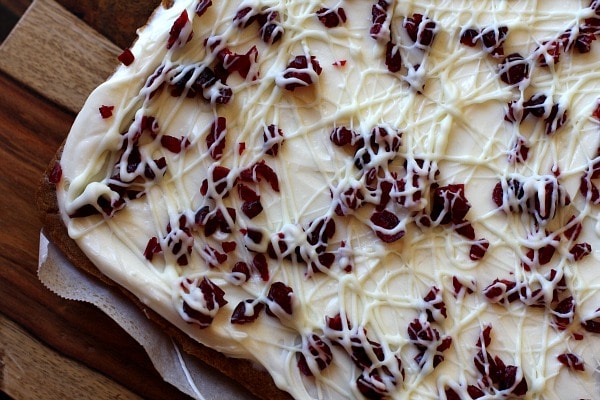 These bars are topped with a white-chocolate-cream cheese frosting.  They're sprinkled with dried cranberries and drizzled with white chocolate squiggles.  
Starbuck's version adds an orange zest element to it.  I'm not into that, so I left it out.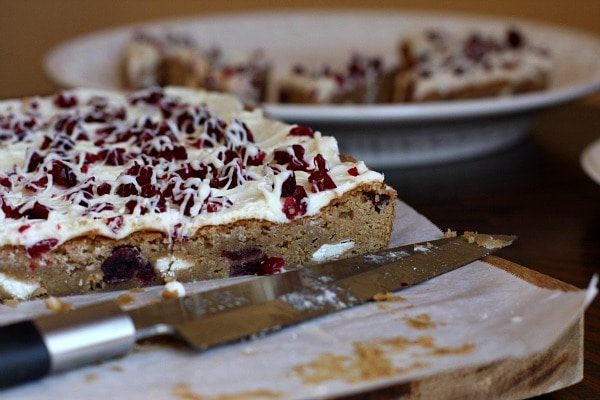 The first layer is blondie-like- so sweet, soft-ish, but firm- and a great base for this bar.  There's white chocolate and dried cranberries mixed into the base too.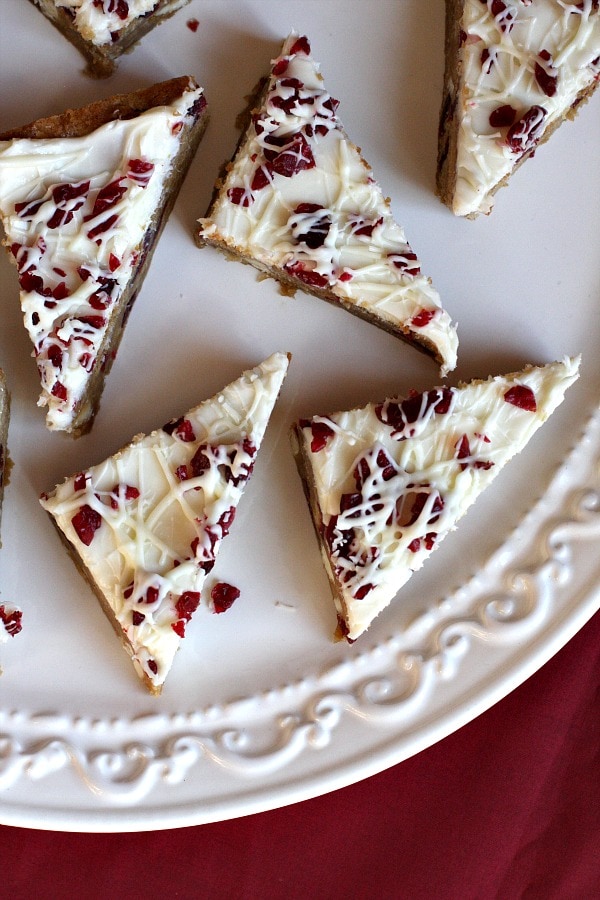 Triangles seemed like the obvious shape to cut these into.  They're much prettier than "squares," and they have three syllables instead of one.  
I don't know why I said that, but it seemed like something I needed to point out.  See?  I told you it's been a strange week.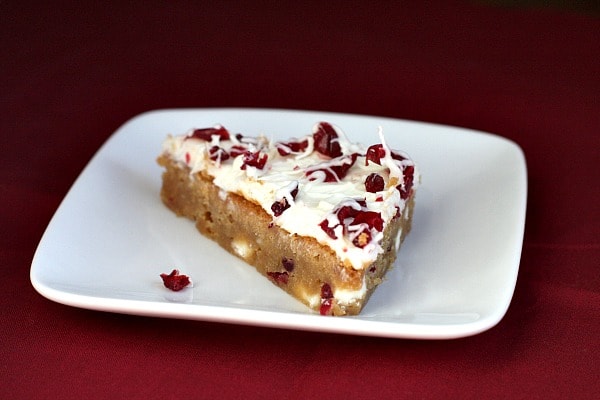 I must say that these bars might cheer up even the gloomiest of people.  I'm not even a huge fan of white chocolate, and I could have eaten a whole bunch of this stuff.  
So yeah, they're really, really good.  Starbucks Good.  Maybe better than SBux.
I forgot to mention a few more bright sides of my week- that the barking dog neighbors are moving out and our good friends are moving in, that I got 8 beautiful new cookbooks in the mail, and that I brainstormed some delightful new ideas for recipes coming up soon on the blog.  
Life is good, it's just sometimes full of roller-coaster moments.  I just need to remind myself of that when life gets weird- make a cup of hot chocolate overflowing with marshmallows (spike it, if need be), relax, and accept the oodles of hugs and love that my husband showers me with daily.  
I'm one lucky girl.  And I love to bake!   If you lived near me, you'd get stuff.  
Good stuff.  Yummy stuff.  Stuff I don't want to eat but I do, and then I'm desperately looking for someone to give it to (like these bars).
Click below to watch a short video showing you how to make this recipe, then scroll to the end of this post to print out the complete recipe.
Yield: 2 1/2 dozen bars
Prep Time: 35 minutes
Cook Time: 20 minutes + cooling time
Cranberry Bliss Bars
A white- chocolate cranberry blondies recipe that is very reminiscent of Starbuck's Cranberry Bliss Bars.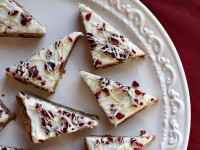 Ingredients:
BLONDIE LAYER:
3/4 cup (1 1/2 sticks) salted butter, cubed
1 1/2 cups packed light brown sugar
2 large eggs
3/4 teaspoon vanilla extract
2 1/4 cups all-purpose flour
1 1/2 teaspoons baking powder
1/4 teaspoon salt
1/8 teaspoon ground cinnamon
1/2 cup dried cranberries
6 ounces white baking chocolate, coarsely chopped
FROSTING:
1 package (8 ounces) cream cheese, softened
1 cup powdered sugar, sifted
6 ounces white baking chocolate, melted
1/2 cup dried cranberries, chopped
Directions:
Preheat the oven to 350 degrees F. Spray a 13x9-inch baking dish with nonstick spray.
Prepare the blondie layer: In a medium bowl, melt butter for one minute in the microwave; stir in brown sugar. Scrape the butter & sugar into a large bowl and let cool to room temperature. Use an electric mixer to beat in the eggs and vanilla. In a separate bowl, whisk together the flour, baking powder, salt and cinnamon; gradually add the dry mixture to the butter mixture. Stir in the cranberries and chopped chocolate (the batter will be thick).
Spread the blondie batter into the prepared pan. Bake for 18-21 minutes or until a toothpick inserted near the center comes out clean (do not overbake). Cool completely on a wire rack.
Prepare the frosting: In a large bowl, use an electric mixer to beat the cream cheese and powdered sugar until well-blended. Gradually add half of the melted white chocolate; beat until blended. Frost brownies. Sprinkle with cranberries. Drizzle with remaining melted white chocolate. Cut into bars- square or triangle-shaped. Store in the refrigerator until ready to serve.
Here are a few more holiday bar recipes you might enjoy: