Creamy Baked Green Beans
A repeat recipe in our house: Creamy Baked Green Beans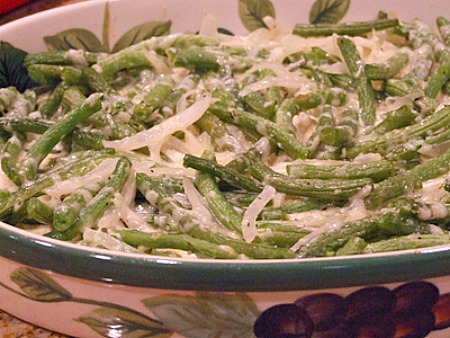 Yield: 8 to 10 servings
Prep Time: 30 minutes
Cook Time: 35 minutes
Creamy Baked Green Beans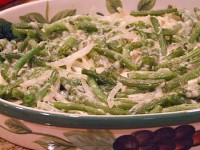 Ingredients:
1 medium onion, quartered and thinly sliced
3 cloves garlic, minced
3 tablespoons salted butter
2 pounds green beans, trimmed and snapped in half
1 teaspoon chopped fresh thyme or 1/4 teaspoon dried thyme, crushed
3/4 cup reduced- sodium chicken broth
3/4 cup whipping cream
1/4 teaspoon ground nutmeg (fresh is best)
1/2 cup finely shredded Parmesan cheese or Pecorino Romano cheese
1/4 teaspoon salt
1/8 teaspoon ground black pepper
Directions:
Preheat oven to 350°F. Lightly coat 1 1/2- quart oval baking dish with nonstick spray.
In a 12- inch skillet, cook onion and garlic in butter over medium heat for 3 minutes or until softened. Stir in beans and thyme. Cook for 4 minutes or until onions begin to brown. Add broth. Bring to boiling. Cook, stirring occasionally, for 3 to 4 minutes or until broth is nearly evaporated. Add whipping cream and nutmeg. Cook for 4 minutes or until mixture begins to thicken. Transfer to prepared baking dish. Stir in half of the cheese, all of the salt & pepper, and then sprinkle with remaining cheese.
Bake, uncovered, 15 to 20 minutes or until beans are tender- crisp.