Deviled Eggs Deluxe
As far as I'm concerned, all deviled eggs deserve the royal treatment. This Deviled Eggs Deluxe recipe has a little bit of crunch to the filling. Add more tabasco if you like things spicy!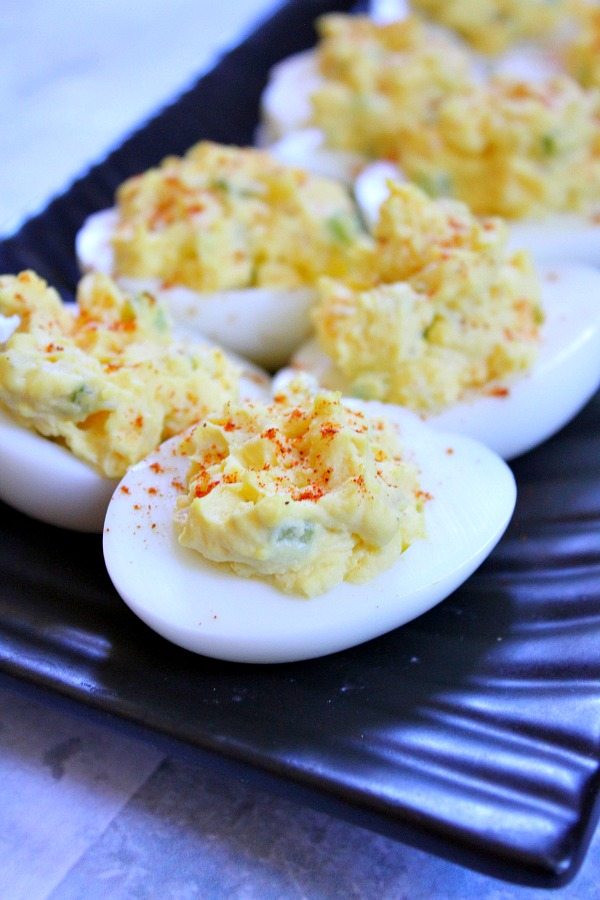 Deviled Eggs Deluxe
Yield:
12 appetizers
Prep Time: 25 minutes
Cook Time: 20 minutes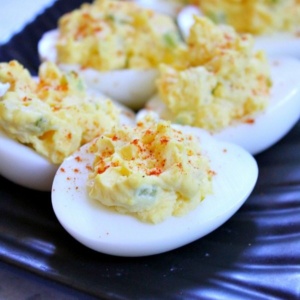 Ingredients:

6 large eggs
1/4 cup very finely chopped celery
1/4 cup very finely chopped sweet onion
1/4 cup (or more, to taste) mayonnaise (low fat is okay)
salt to taste
dash of tabasco, or more to taste
paprika, for garnish

Instructions:

Place eggs in a medium saucepan and cover with cold water. Bring water to a boil and immediately remove from heat. Cover and let eggs stand in hot water for 15 minutes. Remove from hot water, cool and peel.
Carefully cut eggs in half. Remove yolks and place in a medium bowl; mash together with celery, onion, mayo, salt and Tabasco.
Stuff the egg halves with egg yolk mixture. If you'd like them to look pretty, pipe them into the egg through an icing bag tip. You'll need to use a wide tip so the chunky stuff doesn't get stuck. Sprinkle eggs with paprika.
Chill, covered, in the refrigerator until serving.
SOURCE: RecipeGirl.com