I don't know about you, but I've done a lot of holiday entertaining this year… and there is a good deal more to come too!  Last weekend, we had a few of our good friends over for some holiday cheer and munchies.  This is the spread I put together to help us celebrate.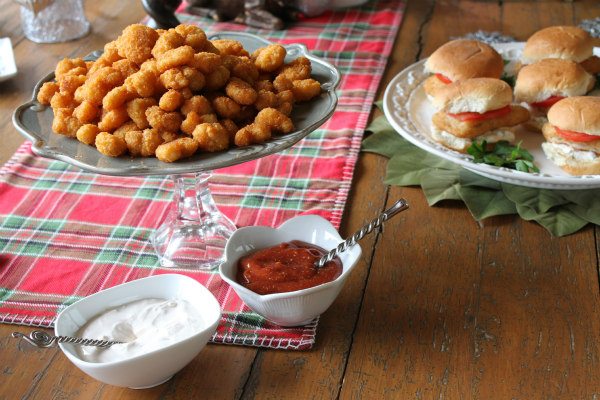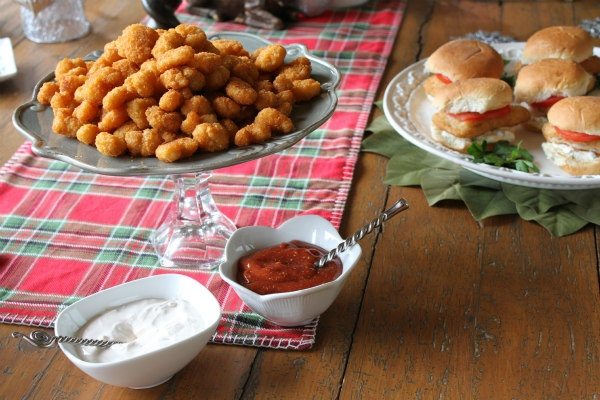 As the title of this post indicates (Easy Holiday Entertaining with Gorton's Seafood), I wanted to make things as simple as possible.  So I went with some shortcuts to make my crazy life during the holidays a bit more manageable.
Have I mentioned that I have 15 relatives coming to my house for Christmas this year, and I'm hosting them all??  FIFTEEN!  Shortcuts in entertaining are most welcome this year!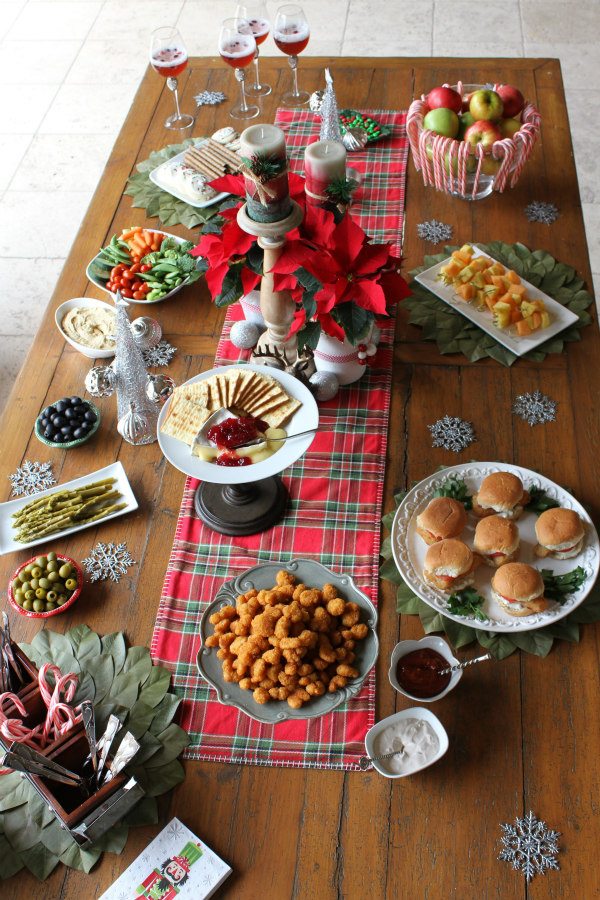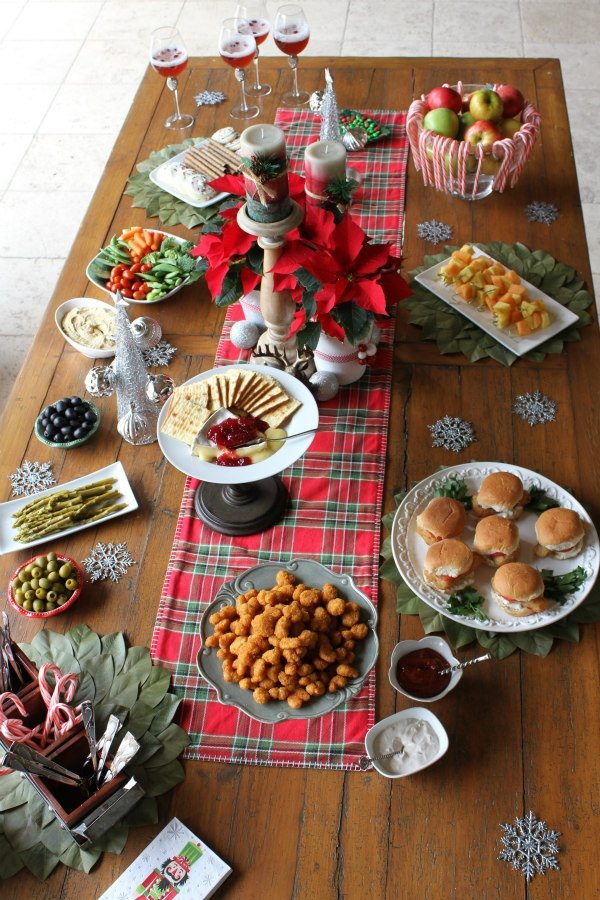 Here is the complete spread- all very easy to put together.  There are enough filling munchies to make everyone happy while holiday cheer-ing.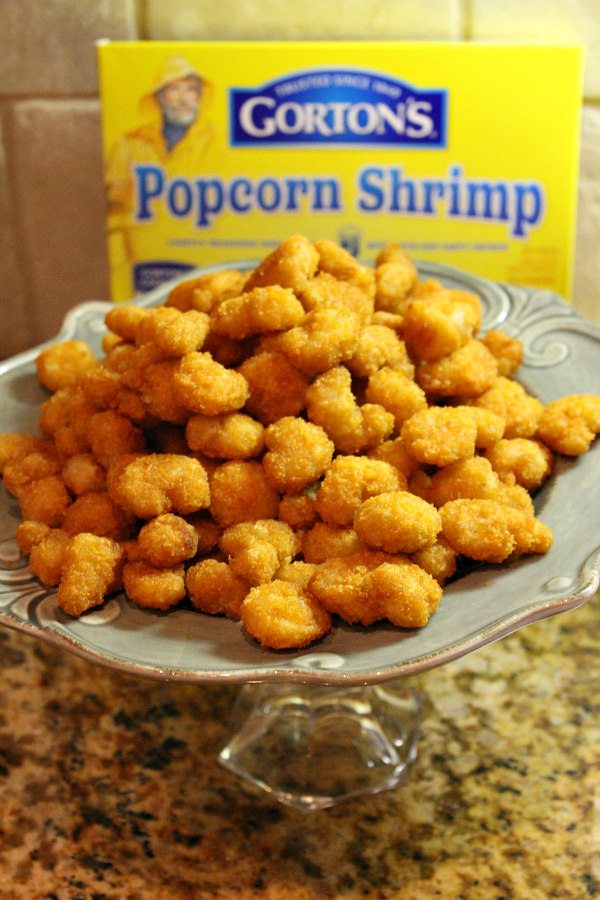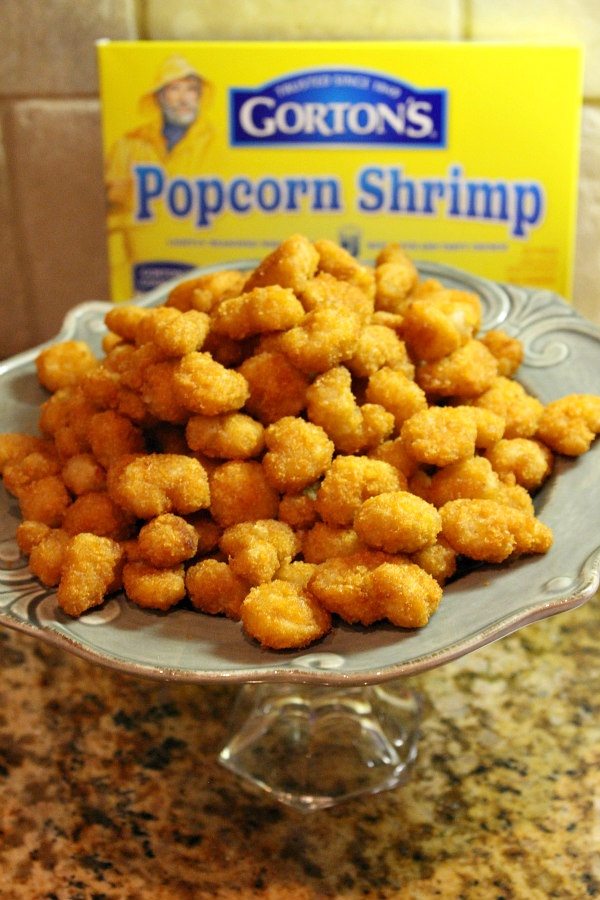 I started with picking up some frozen seafood by Gorton's– a company that has been selling quality frozen seafood for 167 years- which is perfect for quick and easy appetizers for a party.
After a quick bake in the oven, their perfectly seasoned Popcorn Shrimp is good to go.  This is a totally favorite little finger food– loved by all.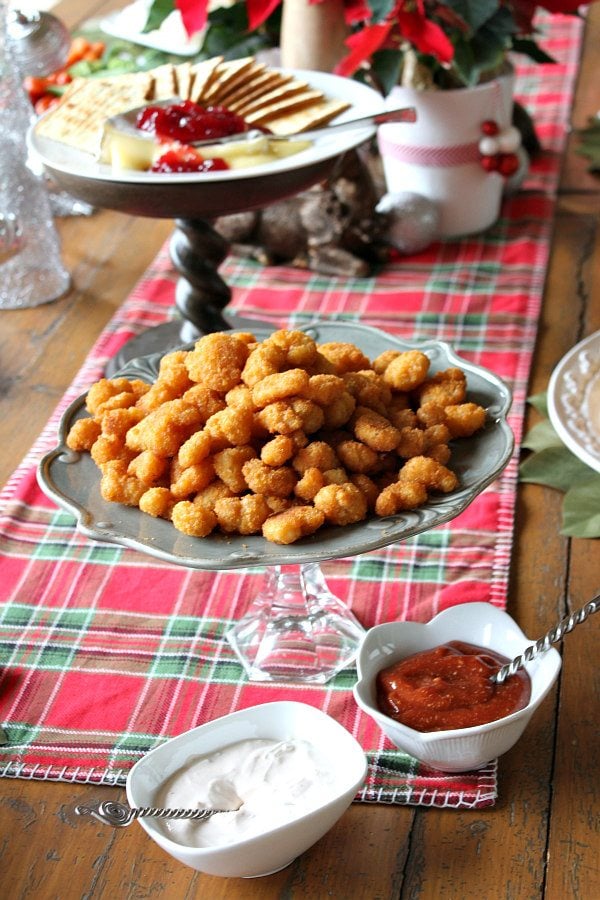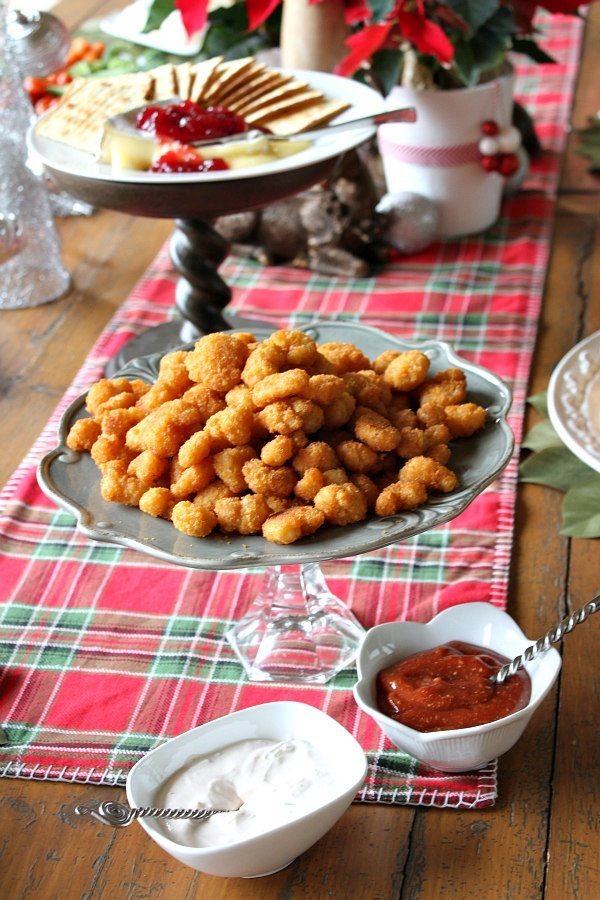 I served the Popcorn Shrimp with two very easy homemade sauces.
Chipotle-Cream Sauce (1/2 cup sour cream + 1 teaspoon minced chipotles in adobo sauce)
Sriracha Cocktail Sauce (1/2 cup ketchup + 2 teaspoons horseradish + 2 teaspoons Worcestershire sauce + 1 to 2 teaspoons Sriracha sauce + 1 teaspoon lime juice)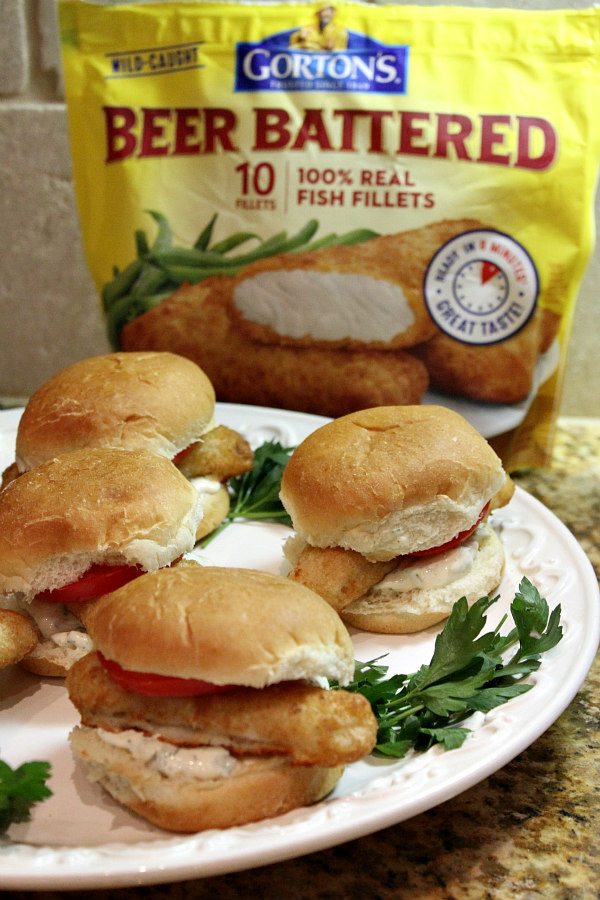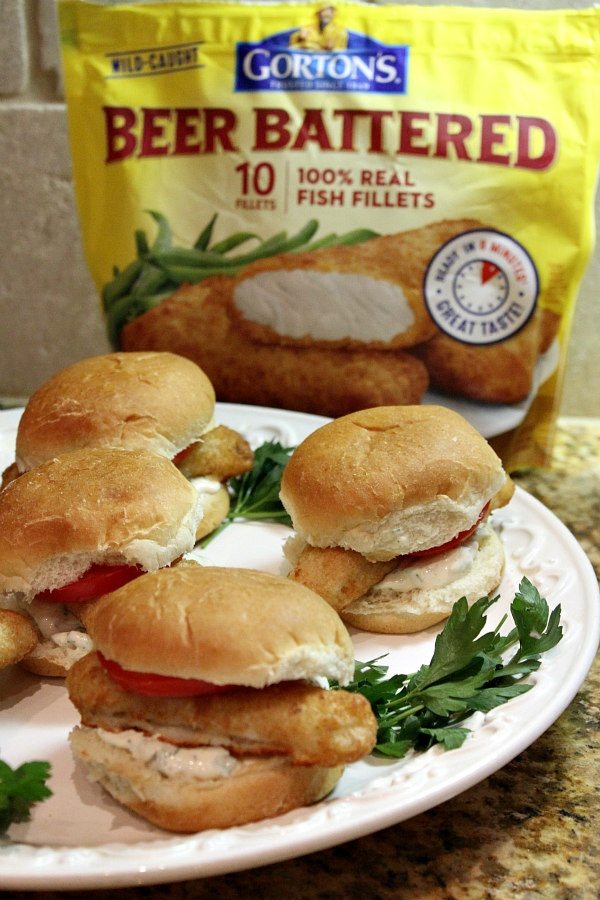 I also wanted to have one goodie on the table that was a bit more substantial, so I went with using Gorton's Beer Battered Fish Filets to make some hand-held sliders with homemade tartar sauce (1/2 cup mayonnaise + 1/2 cup chopped dill pickle + 1 tablespoon chopped fresh dill + 2 teaspoons lemon juice + 1 teaspoon Dijon mustard + 1/2 teaspoon garlic powder + sprinkle of cayenne pepper).  The filets are perfectly sized for sandwiching in between two small buns.  They come out of the oven crispy on the outside with a tender white fish on the inside.
This is another appetizer that is so easy to put together quickly– buns, a slather of sauce, a fish filet and a tomato slice.  Then they're good to go!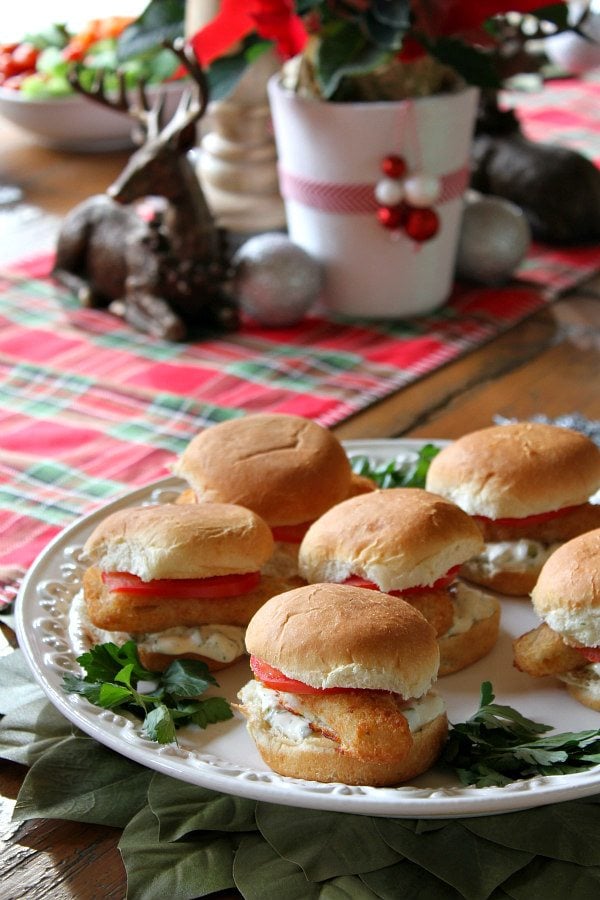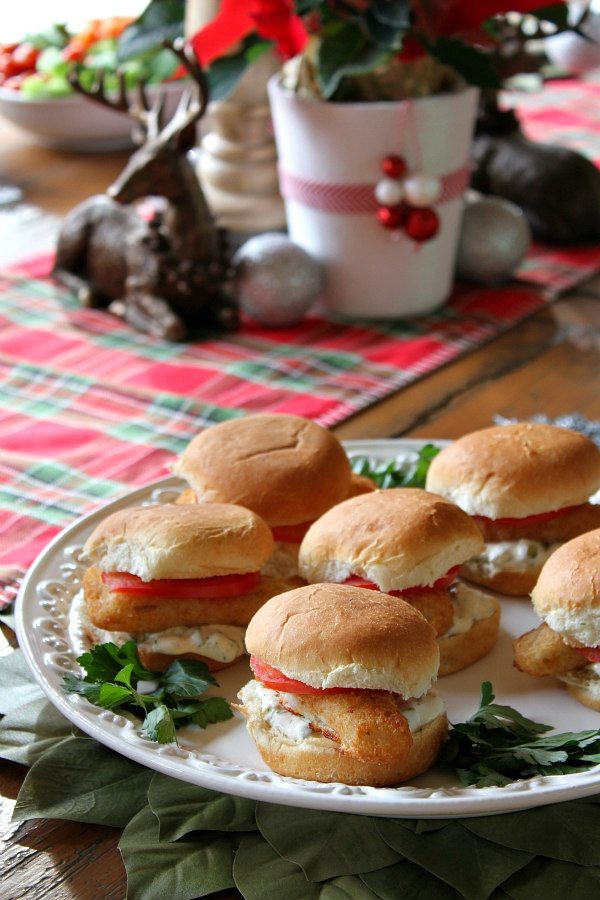 The sliders went over well with my guests.  They were reminiscent of the fish sandwiches we all grew up on.  We had some fun conversation about that.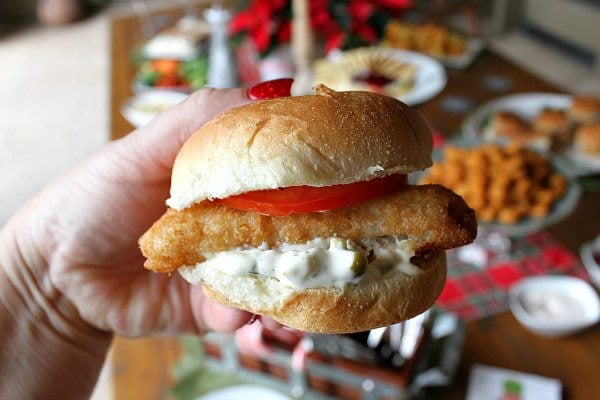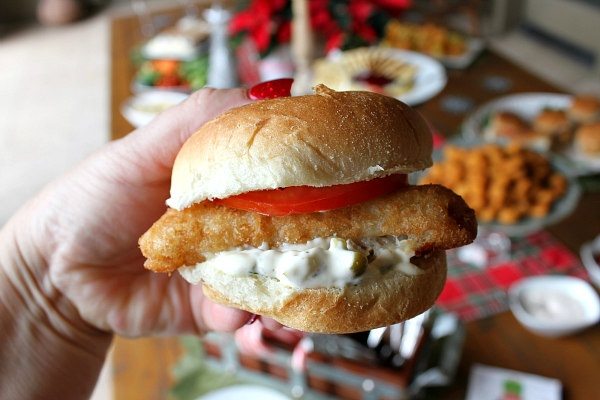 They're pretty cute, aren't they?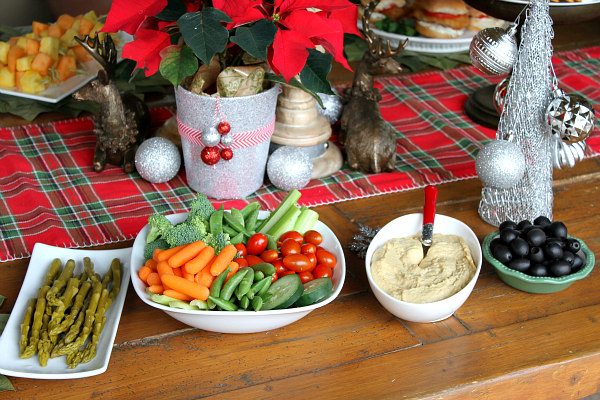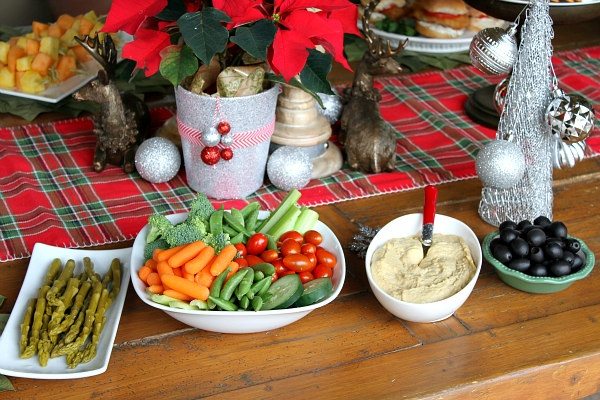 Other easy additions for holiday entertaining:  pickled asparagus, olives, fresh veggies with hummus, fruit kebabs and warm brie with cranberry.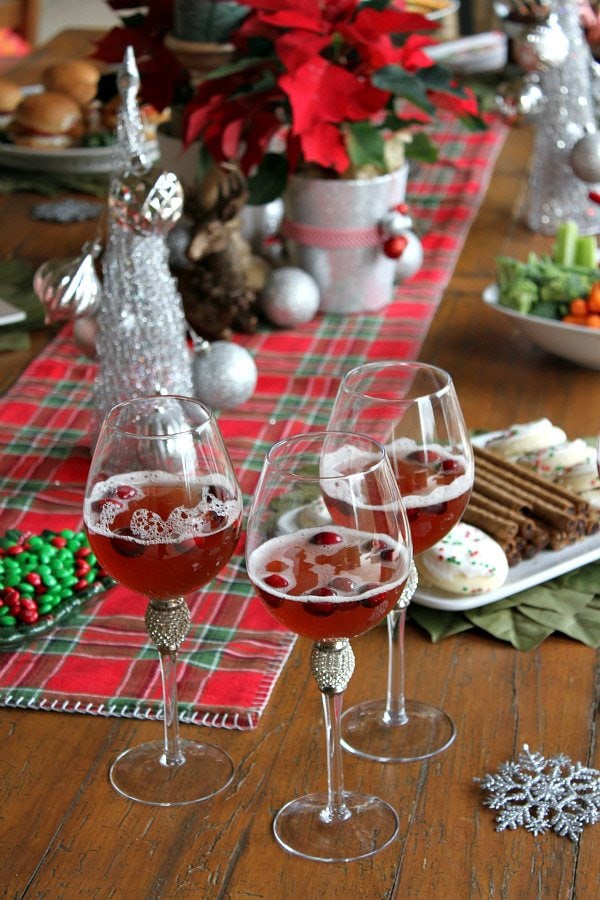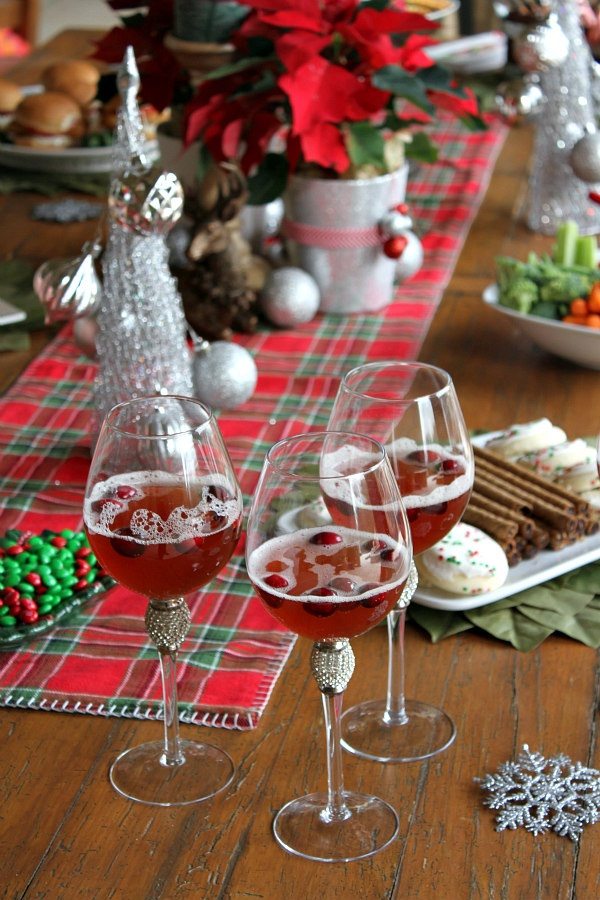 Rounding out the holiday table are some sweet treats (holiday candies and cookies) and fizzy cheer.  Add cranberries to the glasses so they can bob around and look pretty.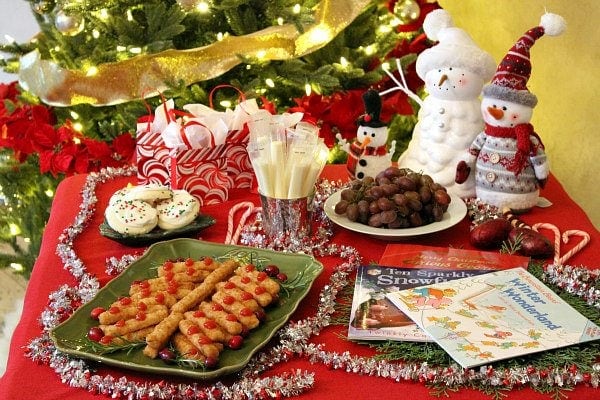 For the kiddos, I set up a kid's table of nibbles– complete with Gorton's Fish Sticks, grapes, cheese sticks and holiday cookies.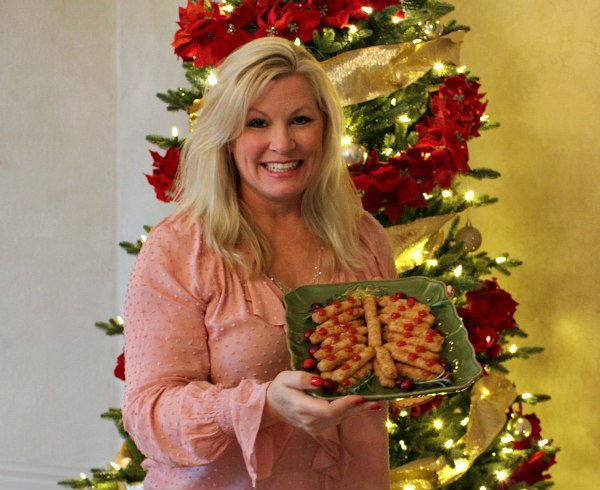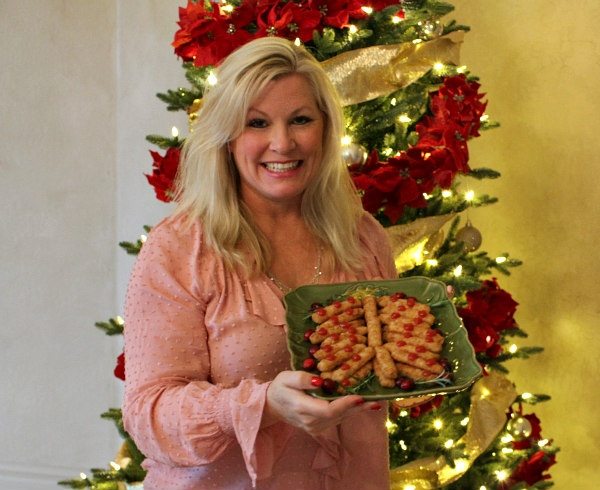 I decided to make a little "tree" out of the fish sticks, and all of the kids at my party thought that was the best thing ever.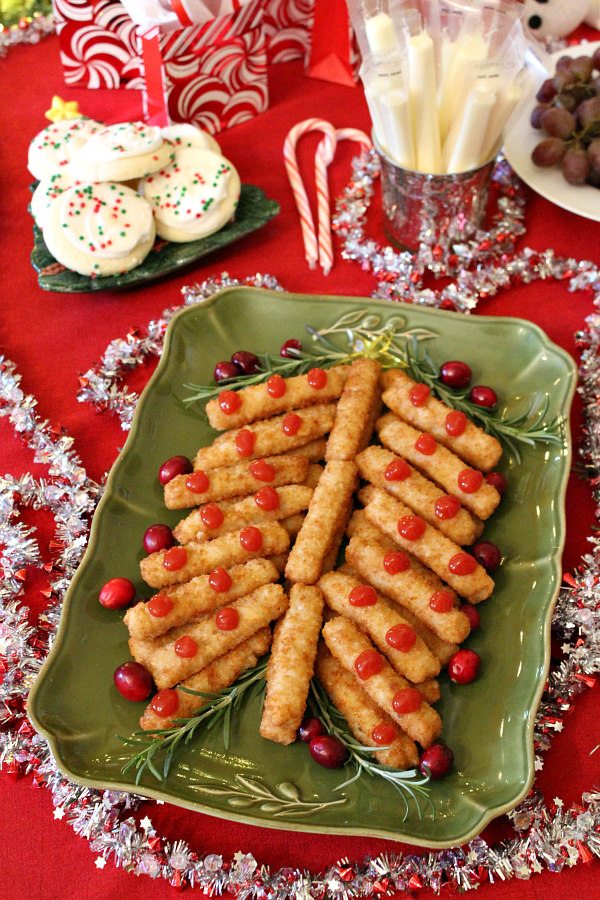 My tree is complete with ketchup Christmas bulbs.  Fish sticks are perfect for finger-fooding too.  The little ones in the house were perfectly happy!
Fun fact:  my 16 year old hovered over me the whole time I was creating this spread– he devoured the Popcorn Shrimp, downed a couple of sliders, and ate more than his fair share of fish sticks.  Apparently, this is good teenager food too!
I was super happy with the Gorton's products that I decided to include in my spread.  I go a bit mad when I'm trying to entertain sometimes– frantically trying to prepare everything and make it perfect. So having some frozen options to work with can make life a little bit easier once in a while.  It turns out that you actually can "trust the Gorton's fisherman" (as their long-running slogan emphatically suggests)!
Visit Gorton's online to see their whole line of products you can find in your frozen food section. They have quite a variety of options to choose from for meals and appetizers.
Disclosure:  This post was written in partnership with Gorton's Seafood to show how you can use their products for easy holiday entertaining.  I only work with companies that I know and trust and already use in my day-to-day life.  Thank you for supporting the companies I work with!