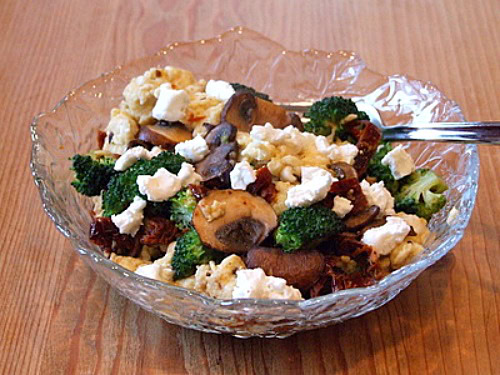 Egg Scramble with Sun-Dried Tomatoes
You get a good dose of fresh veggies in this breakfast dish. The sun dried tomatoes really make it delicious.
Yield:
2 servings
Prep Time: 15 min
Cook Time: 5 min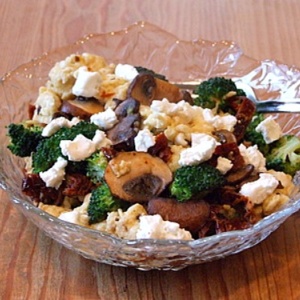 Ingredients:

3 cloves garlic, minced
1 tablespoon extra-virgin olive oil
2 cups chopped broccoli
1 cup sliced fresh mushrooms
1/3 cup sliced sun-dried tomatoes (if packed in oil, drain on paper towels)
3 large eggs
3 large egg whites
1/3 cup milk
salt and pepper to taste
crumbled goat or feta cheese

Instructions:

1. Coat a large skillet with nonstick spray and heat over medium heat.

2. Sauté garlic in the olive oil in the hot skillet for 1 minute. Stir in the broccoli, mushrooms and sun-dried tomatoes. Sauté for 2 minutes longer. Reduce heat to medium-low. Cook, covered, for 2 minutes or until the broccoli is tender-crisp, stirring occasionally. Remove the sautéed vegetables to a bowl. Using paper towels, wipe out pan.

3. Coat skillet with nonstick spray. Whisk eggs, egg whites, nonfat milk, salt and pepper in a bowl until blended. Heat skillet to medium-high and add eggs. Stir in broccoli mixture and scramble until cooked through.

4. Spoon egg mixture onto serving plates and sprinkle with goat cheese. Serve immediately.