Eggnog French Toast Casserole
This Eggnog French Toast Casserole will make holiday breakfast a breeze to serve!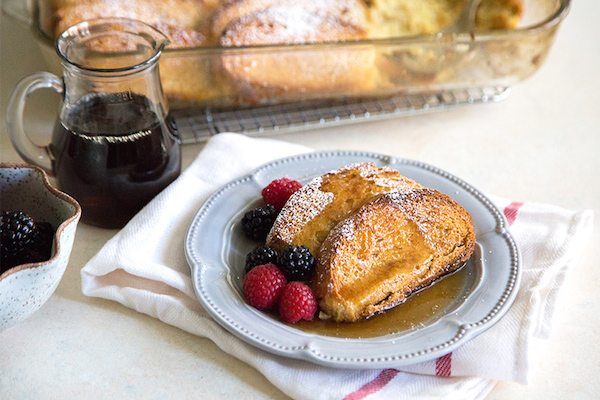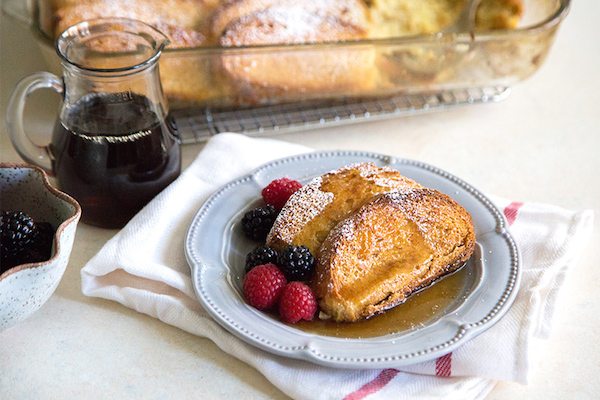 I normally gravitate towards grab-and-go breakfasts: muffins, scones, croissants. Basically anything I can eat quickly with my morning coffee. Weekend breakfasts are a completely different story. That's when I crave a hot breakfast, fresh squeezed juice, and free time to lounge around.
As the holidays approach, weekends are packed with parties, shopping, and every errand you can think of. A batch of this Eggnog French toast is an easy way to slow down, relax, and savor the moment.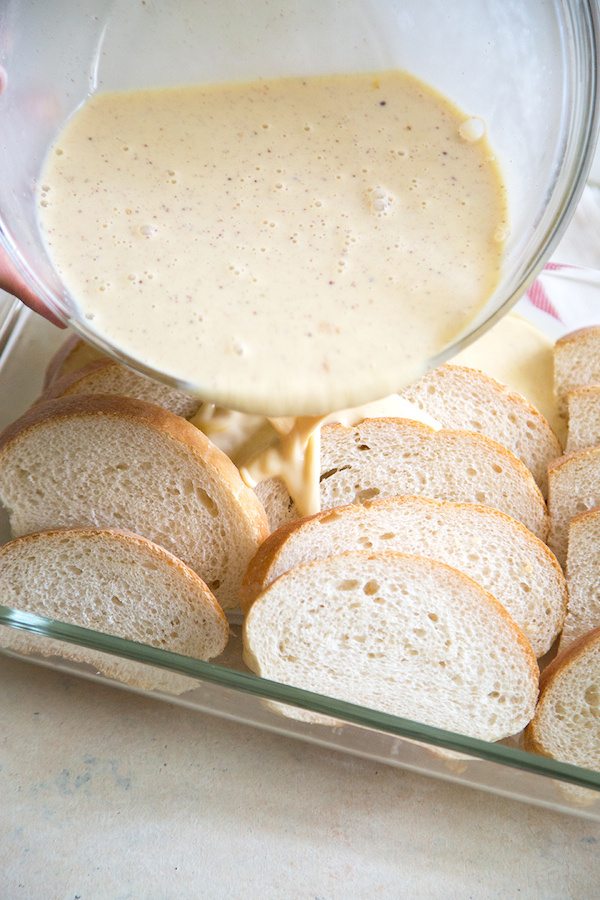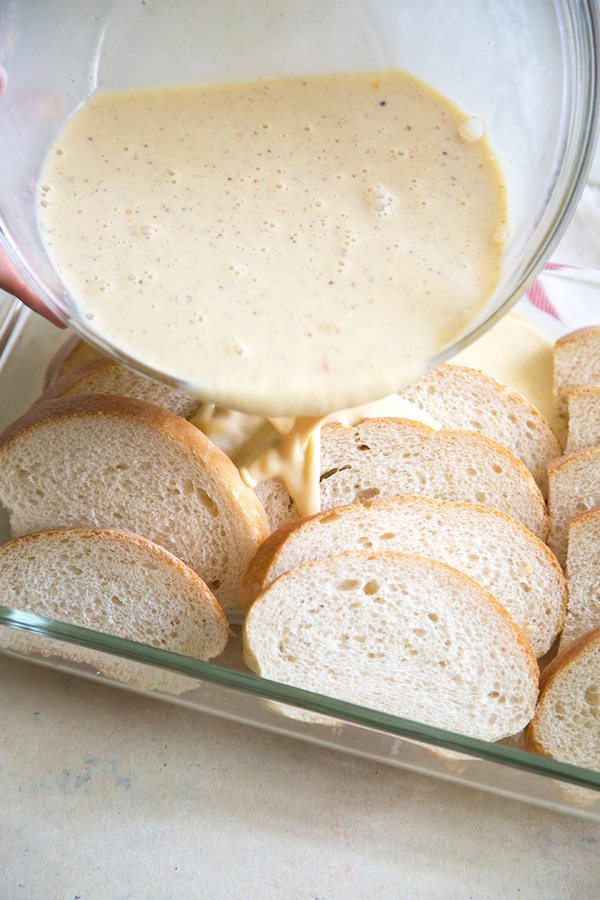 Prepping this French toast casserole is super easy. It can be prepared the day before serving. Any sturdy bread works well (such as brioche or challah), but I prefer to use French loaf for this recipe. It's best to use day old bread. The slightly stale bread will soak up the milky batter much better.
Traditionally, French toast is made with eggs, milk, and cream. This holiday version uses eggnog to add extra warmth and flavor. The addition of cinnamon and nutmeg rounds out the festive touch. If you'd like to a make an adults version, you can spike it with a little rum or brandy.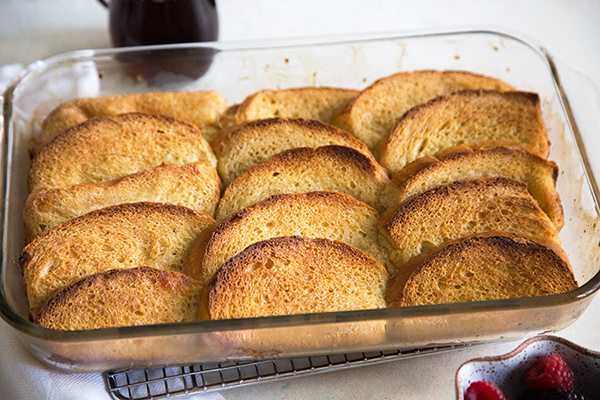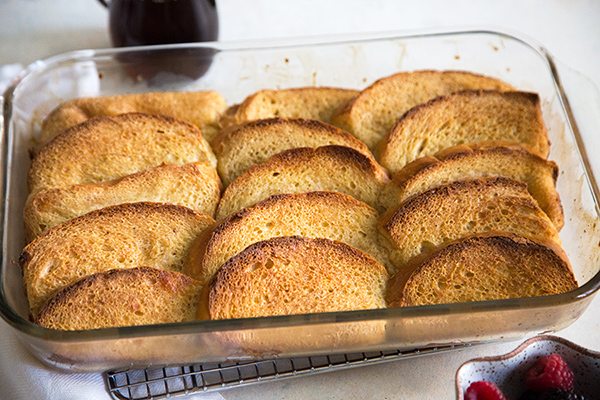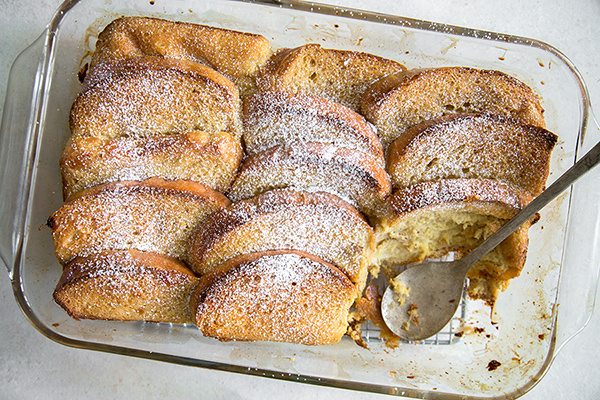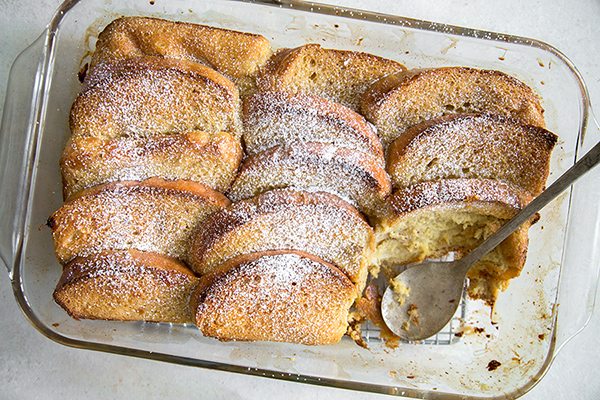 By shingling the bread, like the photo above, you'll be able to achieve a crusty exterior on top and the iconic custard-like interior. Let the bread soak overnight and pop it in the oven the following morning. In less than an hour, you'll have a warm delicious breakfast ready to serve!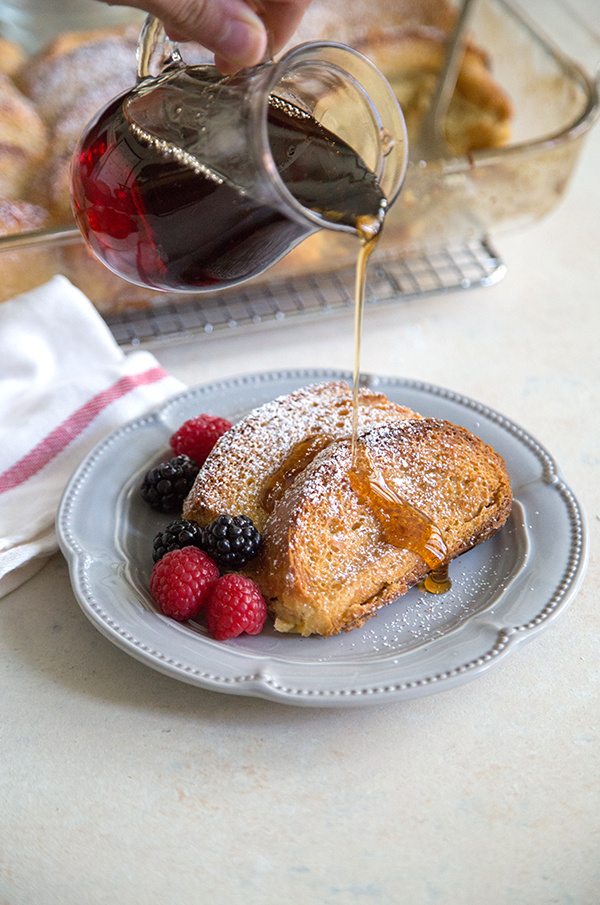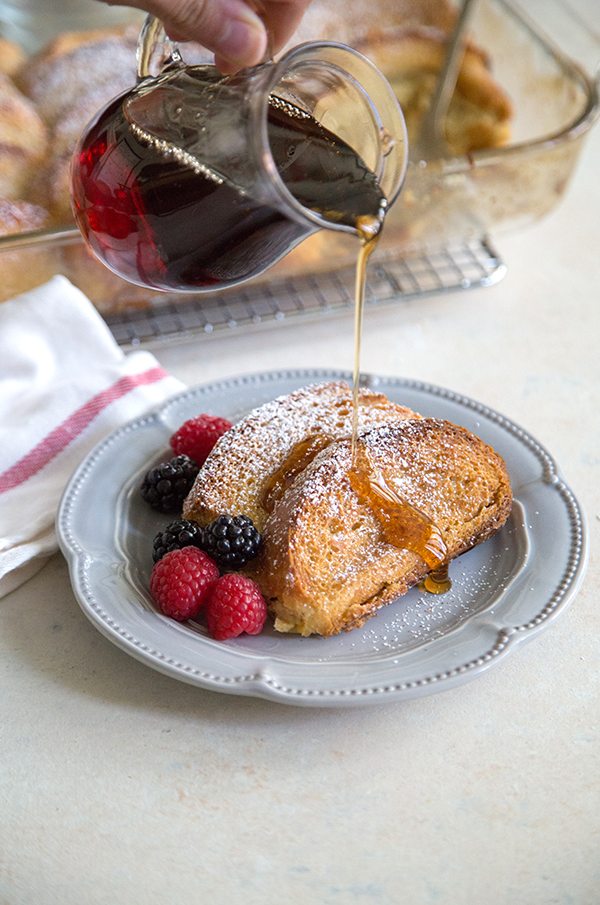 Eggnog French Toast Casserole
Yield:
9 x 13-inch pan
Prep Time: 15 minutes + overnight soaking
Cook Time: 50 minutes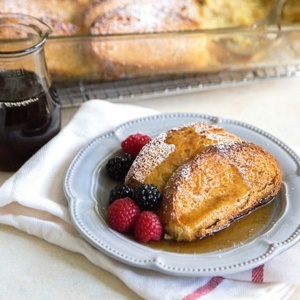 Ingredients:

1 pound day old French loaf bread, cut into 1/2-inch thick slices
7 large Eggland's Best eggs
1 1/2 cups eggnog (store-bought or homemade)
1/4 cup heavy whipping cream
1/2 cup whole milk
2 tablespoons dark brown sugar
pinch of fine sea salt
1/2 teaspoon ground cinnamon
1/4 teaspoon ground nutmeg
sifted powdered sugar, to garnish
maple syrup, to serve

Instructions:

Lightly butter the bottom and sides of a 9 x 13-inch baking pan. Shingle the sliced bread in the  prepared baking pan.
In a large bowl, whisk the eggs. Add the eggnog, cream, milk, brown sugar, salt, cinnamon and nutmeg. Whisk until well combined. Pour the mixture evenly over the sliced bread. If necessary, flip the bread slices to soak up the liquids evenly.
Cover the baking pan with plastic wrap and let chill in the fridge for at least 3 hours (up to overnight).
Preheat the oven to 350 degrees F. Remove the plastic wrap and bake the casserole for 40 to 50 minutes until the bread is golden brown. Sift the powdered sugar over the warm French toast. Serve with maple syrup.

Nutrition:

Notes: If using glass bakeware, allow dish to warm to room temperature before placing in the hot oven. Cold glass may shatter in the oven.
SOURCE: RecipeGirl.com
Here are a few more French toast recipes you might enjoy: