Fast Fish Tacos
Here is a 5 ingredient, 15 minute dinner: Fast Fish Tacos. In Southern California, fish tacos are pretty much daily fare. You'll find them in all kinds of restaurants prepared in a variety of ways. This is a fresh, healthy and simple way to prepare fish tacos. I like mine with a 6th ingredient added (avocado) and sometimes a squeeze of lime too. This recipe is gluten free adaptable- please see tips below the recipe.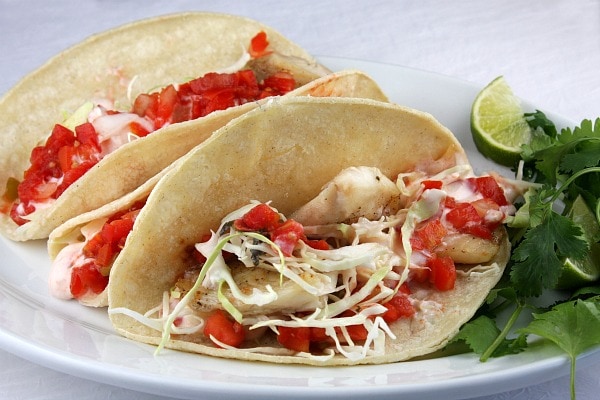 Fast Fish Tacos
A quick and easy recipe for those tacos that have become a favorite in Southern California: Fish Tacos.
Yield:
12 tacos
Prep Time: 15 min
Cook Time: 10 min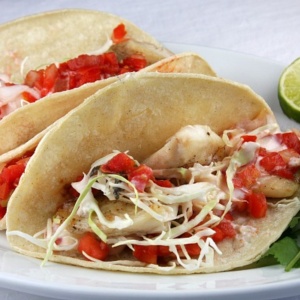 Ingredients:

1 pound boneless & skinless tilapia fillets, cut into 2-inch pieces, rinsed & patted dry
olive oil, salt and pepper
3/4 cup sour cream
3/4 cup + 2 Tablespoons fresh salsa
12 corn or flour tortillas, warmed
1 1/2 cups shredded cabbage
Optional garnishes: cheese, cilantro, lime, avocado

Instructions:

1. Heat broiler, with rack in highest position. Place fish on rimmed baking sheet; drizzle with olive oil & season with salt and pepper. Broil until fish is lightly browned on top, 5-10 minutes, until flesh is opaque throughout.
2. Meanwhile in a small bowl, mix sour cream with 2 Tablespoons fresh salsa.
3. Divide fish evenly among tortillas and top with shredded cabbage, sour cream and fresh salsa.