I get a zillion cookbooks in the mail every year.  Here are my favorites… from 2011.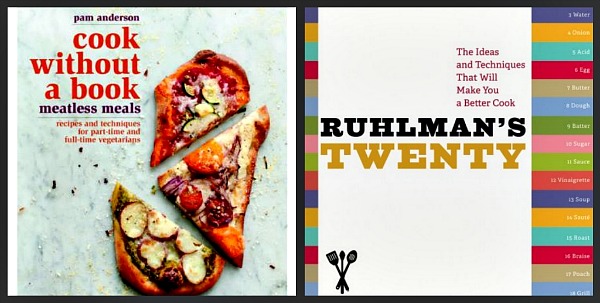 Cook Without a Book- Meatless Meals by Pam Anderson- this one is not only for vegetarians.  Getting more grains and vegetables into your diet is healthy and recommended.  Anderson shows you how to use whatever is fresh, in season and on-sale- and not be so focused on cooking by the book.  Recipes are displayed as "Master Formulas" with multiple variations listed, giving you the opportunity to adapt the recipes to your own preference.
Ruhlman's Twenty:  20 Techniques, 100 Recipes, A Cook's Manifesto by Michael Ruhlman- Such a clever idea for a book, Ruhlman shares twenty essential ideas guaranteed to elevate anyone's cooking.  Rather than simply following a recipe, his book helps cooks to think about the *what* and *why* of what they are doing.  Chapters on things such as Salt (your most important tool) and Onion (a chef's secret weapon) educate even the most experienced cooks.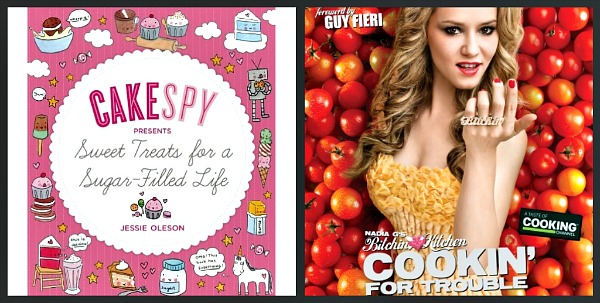 Cakespy:  Sweet Treats for a Sugar-Filled Life by Jesse Oleson- This cookbook is just plain FUN.  With recipes such as S'Moreos, Cupcake- Stuffed Cupcakes, Red Velvet Cake Shake, Pop Rocks Cookies and Homemade Candy Corn… how could this book be anything BUT fun?!  Oleson is a talented artist too- her cupcake art work is displayed throughout the cookbook.
Nadia G's Bitchin' Kitchen:  Cookin' for Trouble– Nadia G is the host of Cooking Channel's Bitchin' Kitchen, she's got rock-star style and a personality that just doesn't quit.  I've met Nadia before, and this chick is talented.  The cookbook is wild and crazy-fun.  Chapter titles might give you an idea of what this is all about:  (Dysfunctional) Family Pizza Night, Happiness= Bacon, Back of the Fridge Bachelorfest, Depression Desserts, and more.  I love it all.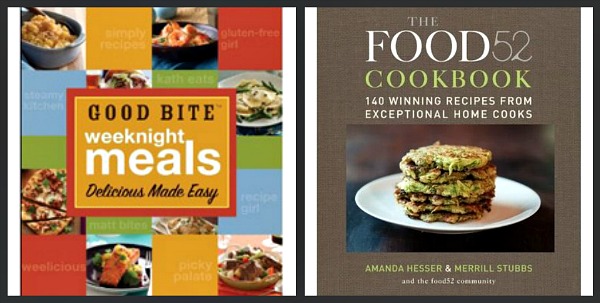 GoodBite Weeknight Meals:  Delicious Made Easy– Cooking Website GoodBite.com gathered together 16 of the internet's best food bloggers.  In this book they share 140 recipes for delicious and easy weeknight dinners.  What I love about this book is that the majority of the recipes are family-friendly and quick to prepare.  Recipes such as Slow Cooker Lasagna, Fast Fish Tacos, Blueberry Pulled Pork and Chicken & Spinach Enchiladas have me picking it up again and again for dinner ideas.
The Food 52 Cookbook:  140 Winning Recipes from Exceptional Home Cooks by Amanda Hesser & Merrill Stubbs & the Food 52 Community- This cookbook is a community cookbook of the most interesting sort.  Each week for 52 weeks, Hesser & Stubbs ran recipe contests on their Food 52 website to find the best home cooks in the country.  140 of the winning recipes make up this book.  I'm a big fan of home cooks who are good cooks!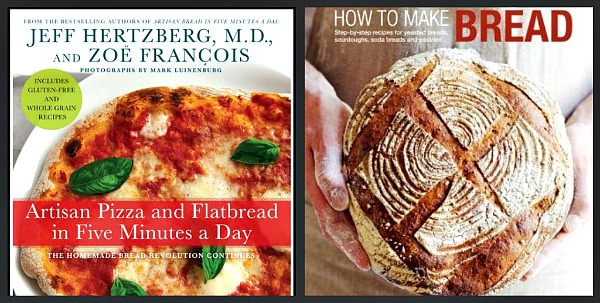 Artisan Pizza and Flatbread in Five Minutes a Day by Jeff Hertzberg & Zoe Francois- A follow-up to their first two wildly-successful bread books, this time it's Pizza!  Jeff & Zoe show readers how to use their stored, no-knead dough to make pizzas, flatbreads and sweet/savory tarts.  Variations include whole grain, spelt and gluten free.  They'll explain that in just 5 minutes a day of active prep time, you can create some pretty amazing pizza recipes.
How to Make Bread by Emmanuel Hadjiandreou- If you are a bread enthusiast or if you have a desire to learn how to make bread, this book is a good place to start.  It includes photographed step-by-step recipes for yeast breads, sourdoughs, soda breads, gluten free breads and pastries.  Every single recipe contains multiple photos.  Both standard and metric measurements are included.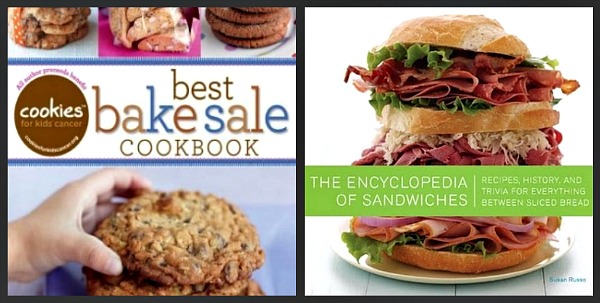 Cookies for Cancer:  Best Bakesale Cookbook by Gretchen Holt Witt- If you're a cookie fan and you love baking, this book is a must to have on hand.  Besides the fact that it has great, classic recipes… the book has a story behind it that resonates with everyone.   All proceeds from this book go to research related to Kids with Cancer.  All of the recipes in this book are perfect for bake-sales, which is perfect for raising money for charities like Cookies for Kids' Cancer.
The Encyclopedia of Sandwiches by Susan Russo- This one includes recipes, history and trivia about every kind of sandwich you can imagine.  I love the creativity that Russo put forth in this book… with recipes for the Doughnut Sandwich, the Cubano, the Fried-Green Tomato BLT, The Elvis, the Po'Boy and the Juicy Lucy, as well as primers on the classic bologna sandwich and peanut butter and jelly.  It's a fun book to have on the shelf.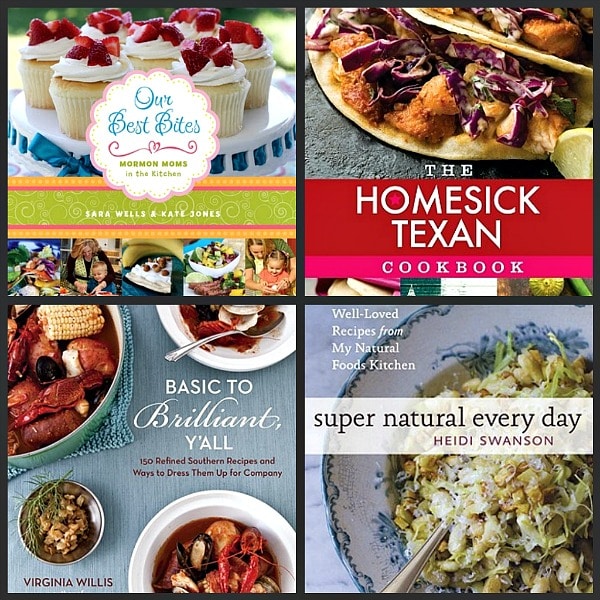 A few I don't have on my bookshelf yet, but I'm hearing raves about…
Our Best Bites:  Mormon Moms in the Kitchen by Sara Wells- 150 family-friendly recipes with mouthwatering full-color photos, step-by-step tutorials, ideas for using leftover ingredients, shortcuts and tips for cooking, and serving suggestions.
Homesick Texan by Lisa Fain- In 2006, Fain started the blog Homesick Texan to share Texan food with fellow expatriates, and the site immediately connected with readers worldwide, Texan and non-Texan alike. Now, in her long-awaited first cookbook, Fain brings the comfort of Texan home cooking to you.
Basic to Brilliant, Y'all by Virginia Willis- The author's fans love her knack for giving classic French dishes a down-home Southern feel and re-imagining homey Southern favorites en Française. This book builds on her signature style, offering 150 soul-satisfying recipes and accompanying each with a new preparation technique, fresh presentation style, or creative recipe variation that transforms an already wonderful dish into an all-out show stopper.
Super Natural Every Day by Heidi Swanson- From her Northern California kitchen, the author has introduced us to a less-processed world of cooking and eating through her award-winning blog, 101 Cookbooks. In this book, she helps us make nutritionally packed meals part of our daily repertoire by expanding our pantries and integrate nutrient-rich superfoods into our diets.

and then there are a few that I thought sounded kind of fun for college kids or bachelors 😉
The I Love Trader Joe's College Cookbook: 150 Cheap & Easy Gourmet Recipes by  Andrea Lynn- Since I practically lived at Trader Joe's in college, I would think this one could only be great.
100 Things to Do With Ramen Noodles by Toni Patrick- Not that I condone cooking with ramen noodles, but this just sounds fun… and most college kids live on Ramen at least part of the time, right?
What the F Should I Make for Dinner by Zach Golden- I guess you'd have to buy this one for the right person, but I think there's a good possibility that this book could get some laughs from the recipient.  I hear the writing from this guy is hilarious.  And hey, maybe there are some good recipes in there too!
Hope you found a cookbook or two or three in there that you like!  Let us know in the comments below if you have a cookbook recommendation from 2011 that I may have left out!
Disclosure: There are Amazon affiliate links included within this post.