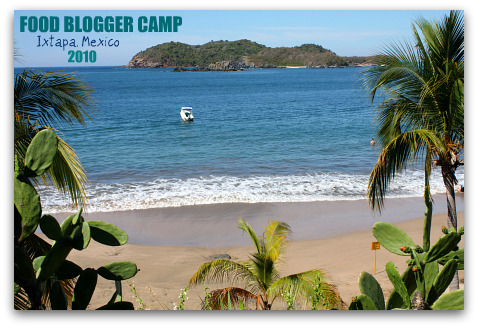 The moment this conference was announced, I started saving my pennies.  I was lucky enough to attend Food Blogger Camp last week featuring some experts in the field of food writing.  And the best part?… it was held in Mexico at Club Med Ixtapa.  My family tagged along, and we called it a quasi- vacation.  I learned more than I ever imagined, so of course I'd like to share that information with my food blogging friends and fellow food writers/photographers.  Here's the breakdown of presenters & tips/coaching/advice- all in one spot, so I can get back to sharing recipes in my next post.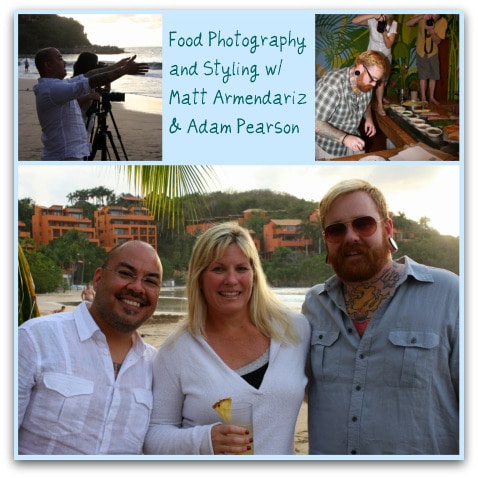 Adam Pearson (www.AdamCPearson.com)
Food Styling- The Art of Cooking, Texture & Shape
Adam gave us great tips for food styling, bringing many of his cool tools to show us how to style food to make it look better for the camera.  A few things stood out for me:
•put syrup in freezer for a few minutes before pouring (slower pour)
•stack plates & style food on top plate (more height & visual interest)
•paint/spray olive oil or water on dish to brighten up dull product
•use sea salt & self-chopped peppercorns (you'll see them better)
•use toothpicks to secure food (take them out before eating!)
•use polygrip to get things to stand up (like hard-shelled tacos)
•ice cream: scoop, place on cookie sheet & re-freeze before shooting
•create height on plate for more visual interest (place cut-up sponges or bunched up brown paper towels under the food & stack food on top).
Matt Armendariz (www.MattBites.com)
Food Photography
I've admired Matt's photography from afar for a very long time.  What a treat it was to finally meet the master & learn from him.  He taught us that the most important element in photographs is light, & natural light is best.
•Food needs directional light.  Use a foil-covered board (or white foam board) to reflect light onto food.  Use a wire-mesh screen or vellum paper to diffuse light.  Use gatorboard to break down light- it lets light turn
•You don't always have to shoot food so close-up.  Shoot farther away & create a story with your photo by using other elements in your picture.
•Use museum wax to hold foods in place (like fruit on edge of bowl).
•Practice/experience shooting w/ fruits/veg (nice, bright subjects)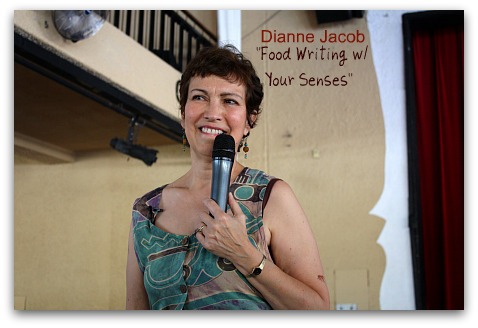 Dianne Jacob (http://www.diannej.com/blog/)
"Food Writing With Your Senses"
Dianne is the author of "Will Write For Food," a must-read for any food writer.
She had us food bloggers writing up descriptive stories about a miniature box of Corn Pops, using all of our senses of course.  It really got us thinking about how we approach writing about food.  Dianne even sat down with each of us and offered a 15 minute private coaching session.  It gave me a chance to chat with her about ideas for a cookbook and whether or not it's a good idea (she gave me great advice).  Her tips for food writing:
•avoid 'general' words, & write sparingly when using adjectives
•'yummy, delicious, amazing, good' don't tell your reader much
•use analogies, metaphors & similes in food writing
•avoid using cliches
•Limit use of the word "is"- it's a very weak word
•use your senses (touch, taste, sight, sound smell) to describe
the food you're writing about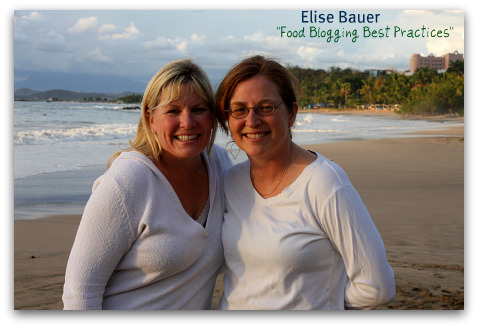 Elise Bauer (www.SimplyRecipes.com)
Food Blogging Best Practices  "What are you intentions with your blog?"
I've met Elise a couple of times before and have heard her speak.  She's been around a long time and has tons to offer.  She willingly shares anything and everything she knows about how to have a successful blog.  Her main point is that your blog should be useful, entertaining & timely.
•don't be afraid to go back and re-write older posts
•write short paragraphs- easier to read
•praise publicly, criticize privately & thank people who help you
•respond to questions in comments so all readers can see
•Set rules for your blog.  Don't engage w/ rude commenters.
•Comment on blogs only if you have something valuable to add
•don't self promote & don't ask for link exchanges
•your blog should be easy to find/load/read- reduce clutter
•check www.browsercam.com to make sure your site loads well
•make sure you have an 'about' page & include contact form
•install a print-friendly template
•use Google Analytics and/or Sitemeter to keep track of stats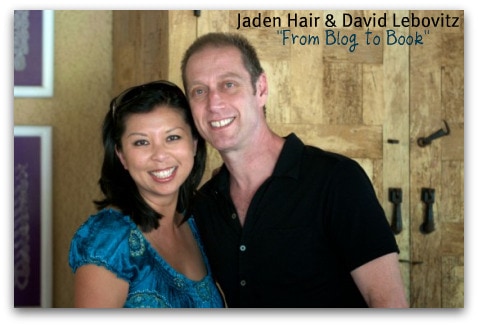 Photo courtesy of www.WhiteonRiceCouple.com

Jaden Hair (www.SteamyKitchen.com & David Lebovitz www.DavidLebovitz.com)
From Blog to Book
"The Steamy Kitchen Cookbook" was published last year.
Jaden, who started her blog in early 2008) succeeded very quickly in the food blogging world by using multimedia to build her brand.   I've followed her from the start & watched her rise to fame!  Her tips:
•build authentic relationships w/ people in the industry and use a variety of multi-media to get yourself known & build your "brand" (blog, newspaper, radio, TV).  Also, be entertaining, useful & engaging- you have to be able to hold the attention of your readers.
David has written several books- his most recent "The Sweet Life in Paris."  A former pastry chef, David began his blog in 1999 and had several years of restaurant experience before he published any books.  David is genuinely funny and nice & he has a fondness for Pineapple + Champagne cocktails (good stuff 🙂 )  His main point was that you shouldn't try and write a cookbook to get rich (because it's probably not going to happen, especially with your 1st one).  Write because it's what you love to do.
His tips:
     •create a niche & a great idea, sometimes you have to spend $$ to make money (give your blog a more professional look/feel– if you can't afford to hire someone, learn yourself.)  Try http://www.lynda.com/  for tutorials.
•you'll need an agent for a book (15% of advance goes to agent & 25% to taxes).  Another option is  Amazon's https://www.createspace.com/  (self-publishing w/ 35% profit share)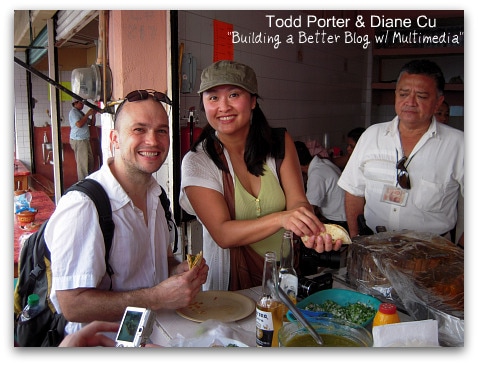 Todd Porter & Diane Cu (www.WhiteonRiceCouple.com)
"Building a Better Blog w/ Multimedia"
I was so happy to have finally met Diane and Todd.  I've followed their blog and watched it evolve from the very beginning.  It's nice to see their much deserved success.  They're talented in so many areas and they were willing to share with us everything they know about using multimedia.  A few tips/resources:
•use creative voice in your writing
•try giveaways or surveys (www.quibblo.com)
•slide shows (Flickr)
•use black/white photography
•photoshop, http://www.paint.net/ image & photo editing
•www.animoto.com, www.picnik.com photo editing
•http://www.photovisi.com/ creating collages
• http://twaud.io/ share audio w/ Twitter followers
•http://audioboo.fm/ iphone app to record podcasts
•http://www.justin.tv/  for live stream video
•to create videos http://www.vimeo.com/,
http://www.youtube.com/, http://www.blip.tv/
•music for videos: www.freeplaymusic.com,
http://www.audiomicro.com/, & http://musicbakery.com/
•use manfrotto monopod to keep camera still when filming
•sound is really important in video production &  it's best to invest in a mic.  You can get a $35 mic that mounts on top of your video camera & will pick up what's in front of the camera.  The Canon Vixia HF200 video camera was recommended.  Wireless Sennheiser mics are best option for sound.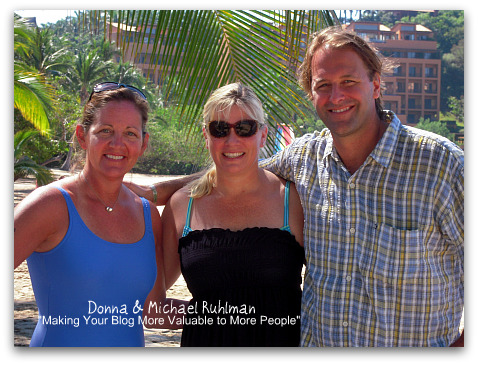 Michael & Donna Ruhlman (www.Ruhlman.com)
Making Your Blog More Valuable to People
Michael writes food-related books (his most recent being "Ratio") and Donna is a photo-journalist who also captures the images for Michael's blog.  I have to admit, I had never read any of Michael's books before and didn't really know much about him.  He spent a lot of time in Ixtapa sharing advice about food writing and I learned so much from him.  I left the conference with a great deal of respect for Michael and his work, and I've already ordered a couple of his books on Amazon.  Everyone admired and teased Michael about his hair, which seemed to style itself even after a good pounding of body surfing in the ocean.
Michael's tips:
      •If you want to improve your writing skills (or write a book), you really need to set aside a given amount of time each day for writing.  Just sit down and write.  Commit to a certain amount of words to write per day & write whatever comes to you.  It's best to set aside the same time each day and use that time for writing.
• When you're in the midst of writing, you need to be able to turn off Twitter, Facebook, and email completely.  Concentrate solely on your writing and let everything else go.  Don't be tempted to check email.
•Don't bore your readers!
Donna's tips:
     •Like Michael, Donna believes in practice.  Practice shooting various things, starting with single subjects and adding more elements as you gain confidence and skill.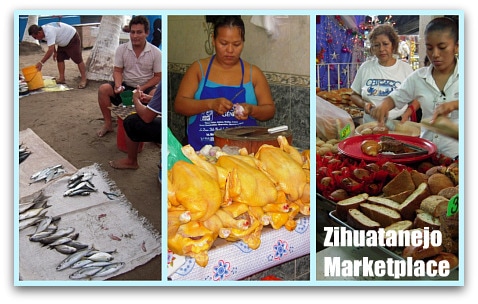 We also managed a day trip to Zihuatanejo's Market.  Local fisherman displayed their morning's catches on tarps, playing checkers on makeshift gameboards to pass the time.  Freshly killed and plucked chickens were chopped before our very eyes, all parts available for sale, even the feet.  Pastelerias featured fresh breads and pastries.  Other vendors showcased fresh salsas and cheeses, seasonal vegetables, fruits & herbs, a variety of hot peppers, seafood and meats of every kind, etc.  We sampled street tacos, mango with chili salt, freshly peeled coconut, gorditas, sweet corn tamales and Mexican beer!  Many of us purchased pottery, clothing, tequila and cigars too.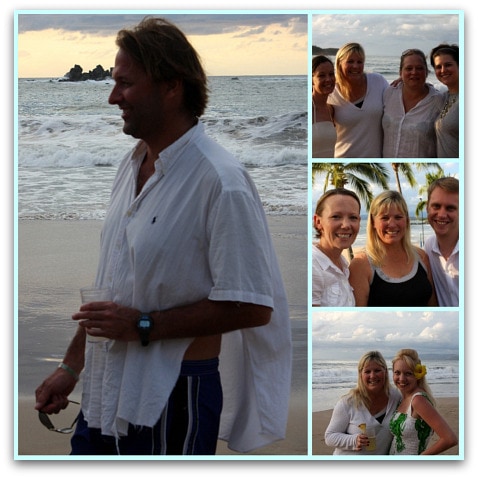 Pictured above:  Michael Ruhlman:  I asked about the shirt, and he explained that writers don't make much money.  I think his next book should be called, "Will Write for Clothes."
Top Photo:  Stephanie from Wasabimon, Cecilie from Lekkermunn (she traveled all the way from Norway!), Casey from Good Food Stories & me
Middle Photo:  Brooke from Foodwoolf, Garrett from Vanilla Garlic & me
Bottom Photo:  Diana from Dianasaur Dishes & me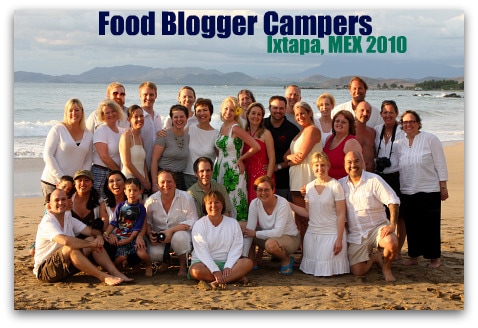 Wonderful, new friends were made on this trip.  After a week spent with food professionals and food bloggers from all over the world, I can honestly say that this was the most valuable (and fun!) conference I've attended.  I learned so much from everyone, and I would recommend the experience in a heartbeat.  Start saving your money for next year- the exotic location hasn't been announced yet, but I'm sure Jaden will have some big plans in the works sometime soon.
Club Med Ixtapa itself is a terrific family resort.  There is daycare/camp for every age, and the caregivers and staff are all very friendly and professional.  My son had a blast doing archery, soccer, trampoline and boogie boarding with other children every day.  At night he participated in talent, circus and hip hop dance shows.  We enjoyed all-inclusive- fun… food, drinks and activities.  We spent a little $$ in the gift shop but that was it.  And the only thing we forgot was the bug spray (to fend off the dusk-time mosquitos).  It's safe to say that we were sad to leave this glorious place.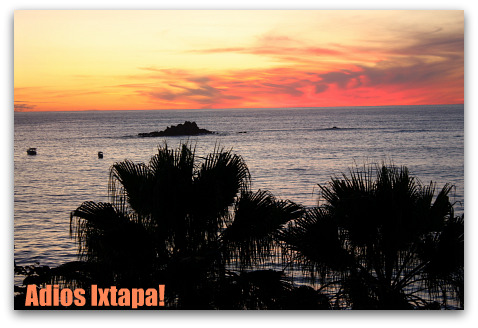 Related Posts from Other Food Blog Campers:
Food Blogger Camp, Part 1 (David Lebovitz)
Food Blogger Camp, Part 2 (David Lebovitz)
All I Got From Food Blogger Camp… (Steamy Kitchen)
Food Blogger Camp: Food Writing, Photography & Styling Tips (White on Rice Couple)
Food Photography, Getting a Cookbook Deal & Zihua Market (White on Rice Couple)
Food Blogger Camp at Club Med Ixtapa (Dianasaur Dishes)
Clicking the Mental Refresh Button in Ixtapa (Foodspiration)
Food Blogger Camp Part Uno (A Beach Home Companion)
Food Blogger Camp Part Dos (A Beach Home Companion)
Food Blogger Camp Part Tres (A Beach Home Companion)
Kickin' It at Food Blogger Camp (Dianne Jacob)
Food Blogger Camp Tips & Insights (Dianne Jacob)
Sensuous Writing with Corn Pops (Dianne Jacob)
Eating in Paradise (Frantastic Food)
Sunset (Frantastic Food)
A Day at the Beach (Frantastic Food)
And He Said, "Let there be light" (Frantastic Food)
Constants (and Tequila) (Vanilla Garlic)
Zihuatanejo Market: A Short Tour (Vanilla Garlic)
Food Blogger Camp at Club Med- Top 10 (Matt Bites)
Ixtapa Food Blogger Camp Recap (Wasabimon)
Food Blog Camp Flickr Pool (Photos)