Entertaining can be scary and stressful. When you have easy to prepare food to share, that makes things a lot easier. Here are four easy appetizers for entertaining that you'll want to make over and over again.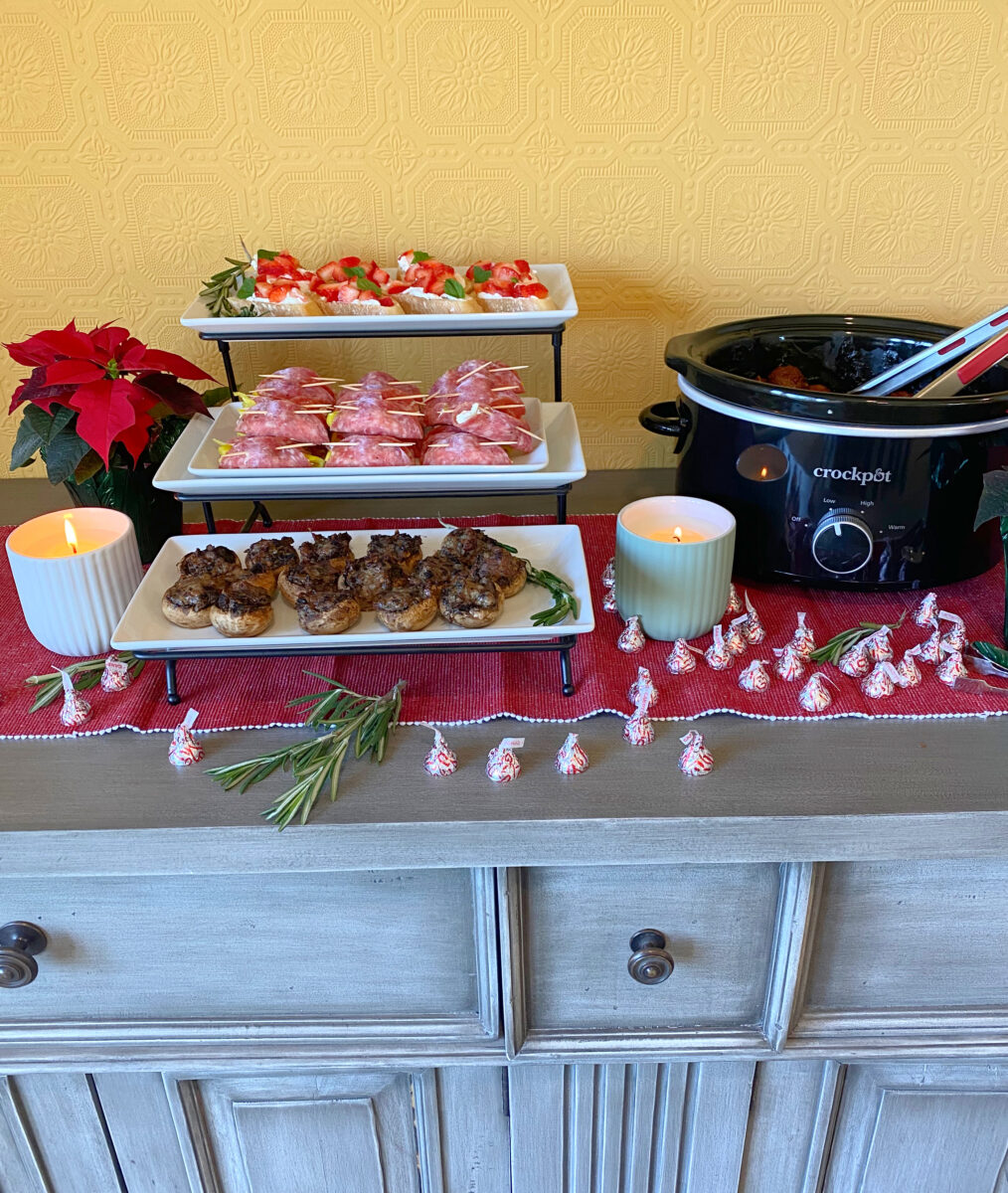 Display doesn't have to be fancy either! Just go with a few items that work for what you're doing. It can all be very simple and low stress. I promise!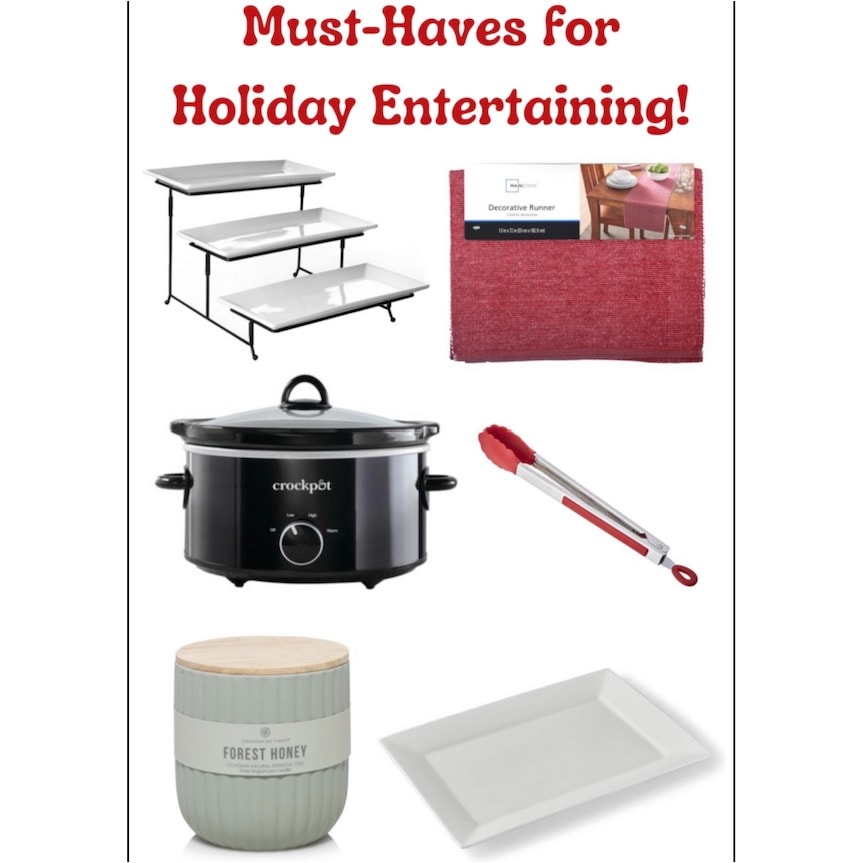 I picked up six items at Walmart to help with my party decor and serving, plus a couple of small pointsettia plants.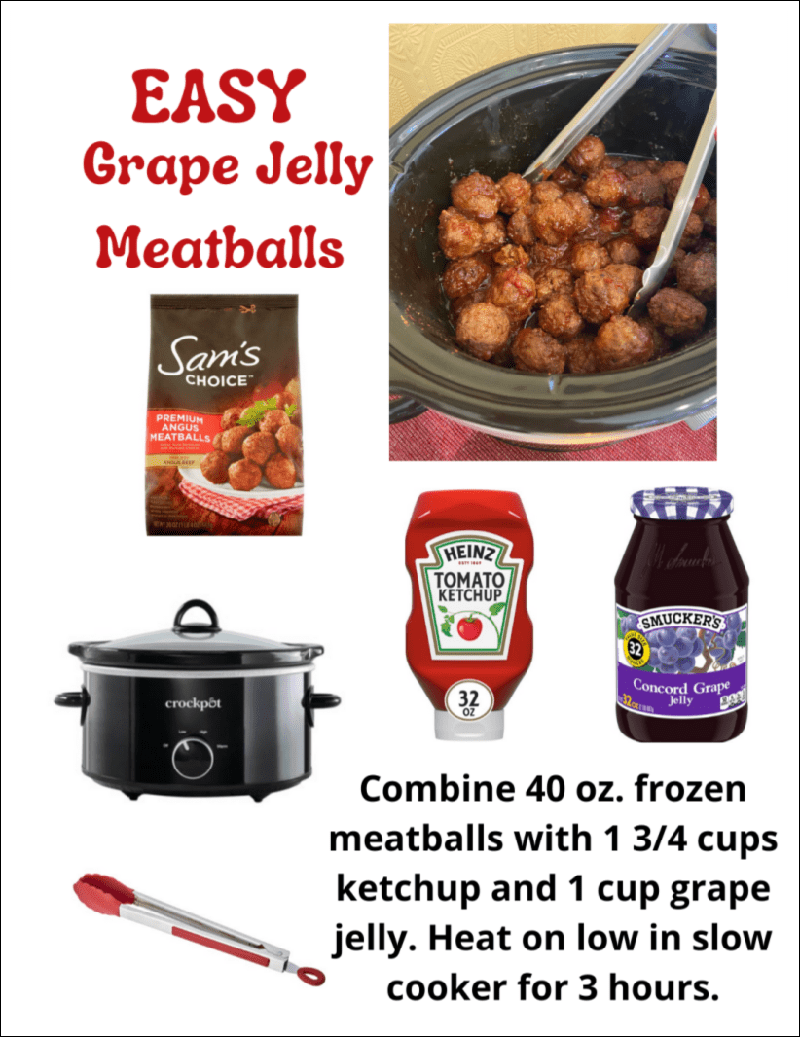 I made four easy appetizers for entertaining for my most recent gathering with friends. The first was for Grape Jelly Meatballs. You only need three ingredients. Heat frozen meatballs in the crockpot with ketchup and grape jelly. That's it!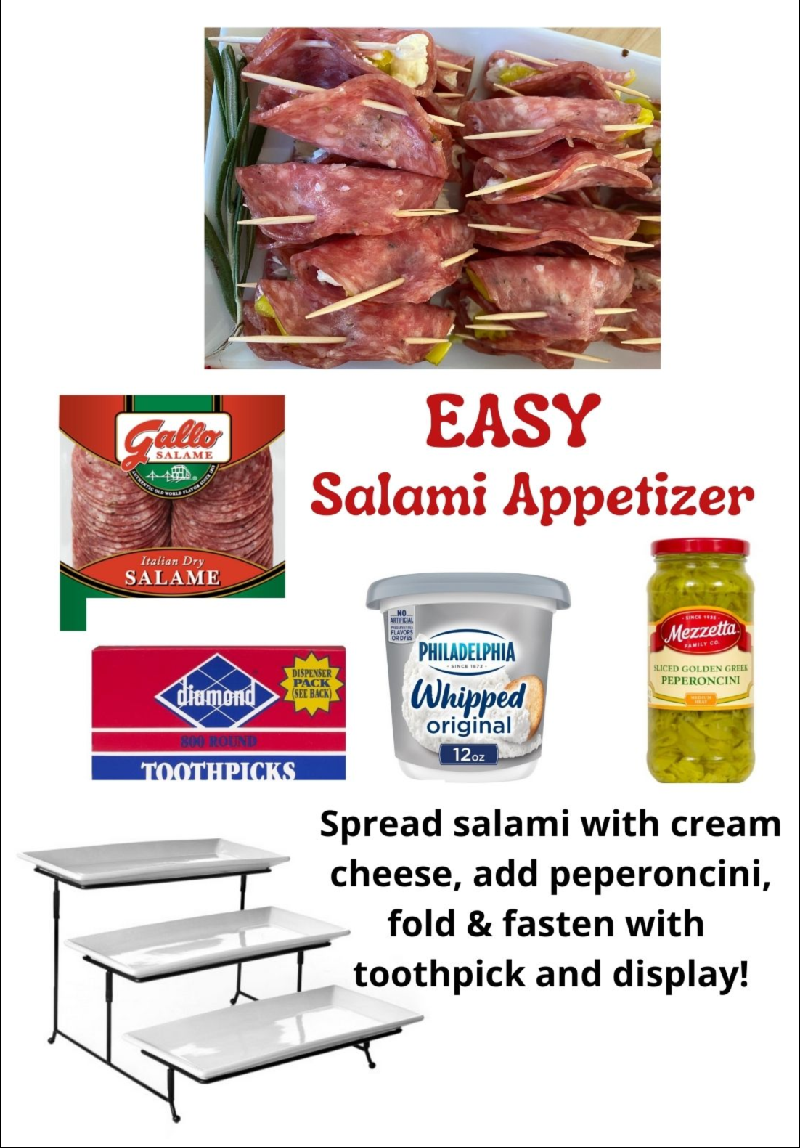 The second was my Easy Salami Appetizer. You only need four ingredients. Spread whipped cream cheese on salami, top with peperoncini, fold and fasten with a toothpick.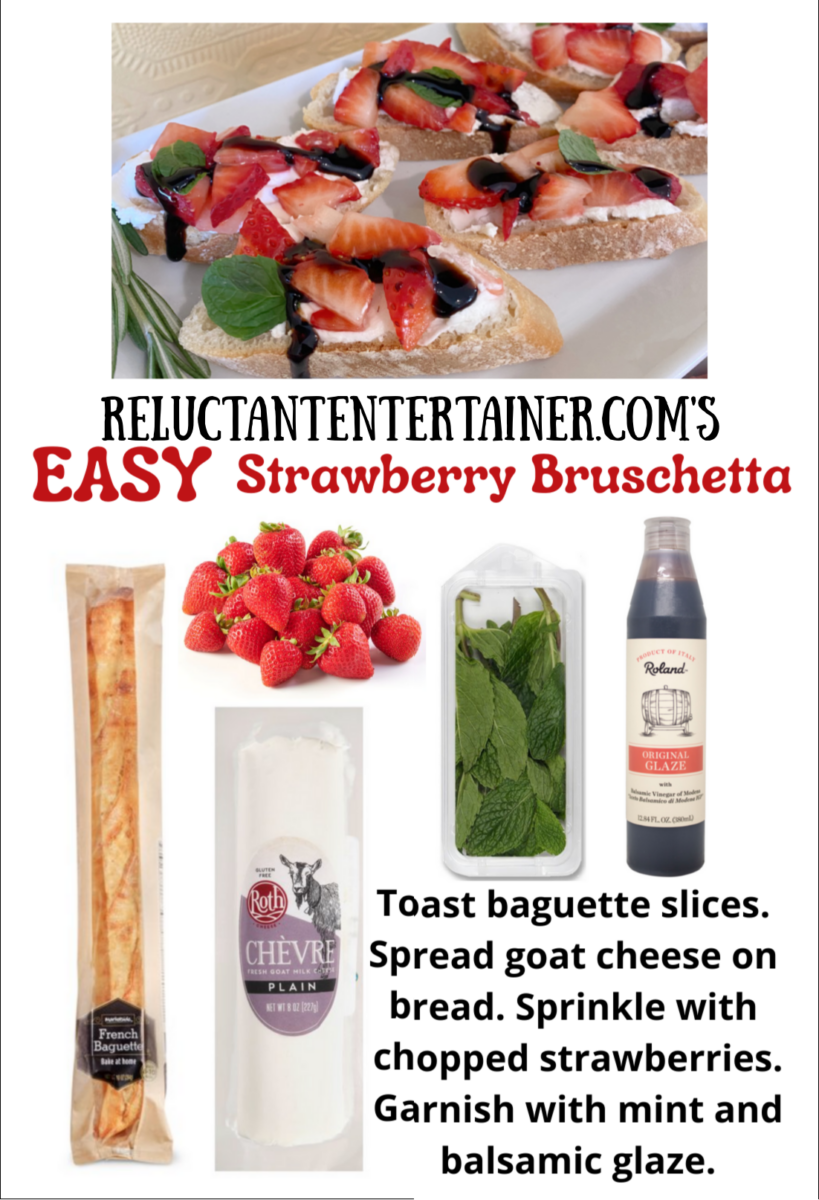 The third appetizer I made was Strawberry Goat Cheese Bruschetta. This is a five ingredient recipe. Toast baguette slices, spread goat cheese on the bread, sprinkle chopped strawberries on top, garnish with a piece of mint and drizzle with balsamic glaze. Easy!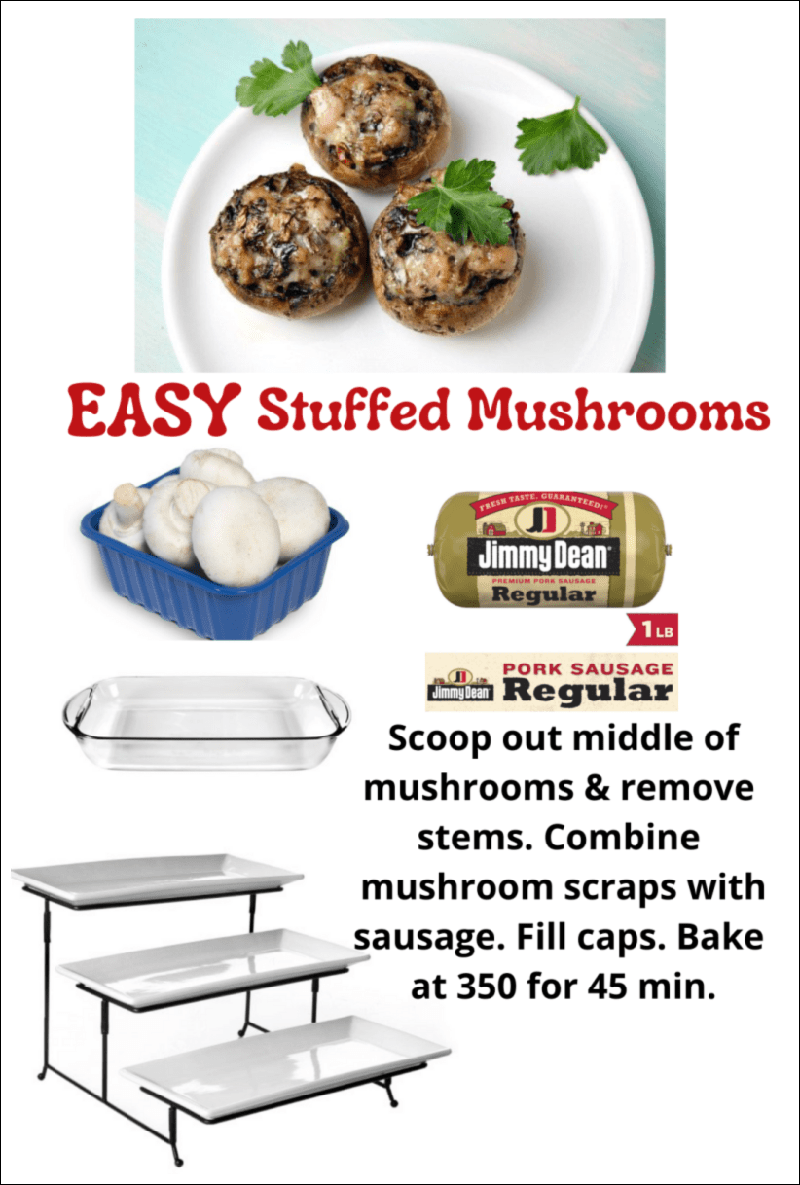 And finally, I made these Easy Stuffed Mushrooms. This is a favorite, easy-entertaining recipe I got from my Mom and you only need two ingredients. Wash mushrooms and pull off the stems. Scoop out the insides of the mushrooms to create more space for filling them. Mix sausage with the mushroom insides, and stuff into each mushroom cap. Place in a baking dish with a little bit of water, and bake for 45 minutes.
I got everything I needed for this party at Walmart. I like going to Walmart for party supplies and seasonal goodies because they have kitchen items, entertaining supplies and all the food you need all in one place. I don't like hopping around from store to store looking for what I need- especially during the holidays. One stop shopping is what's important to me.
Also, you can find a lot more items at Walmart online than you can in the regular store. Lots of gift ideas and things you need for the holidays- without the hassle of trying to battle the traffic and parking and crowds, etc. Grocery items can be delivered too.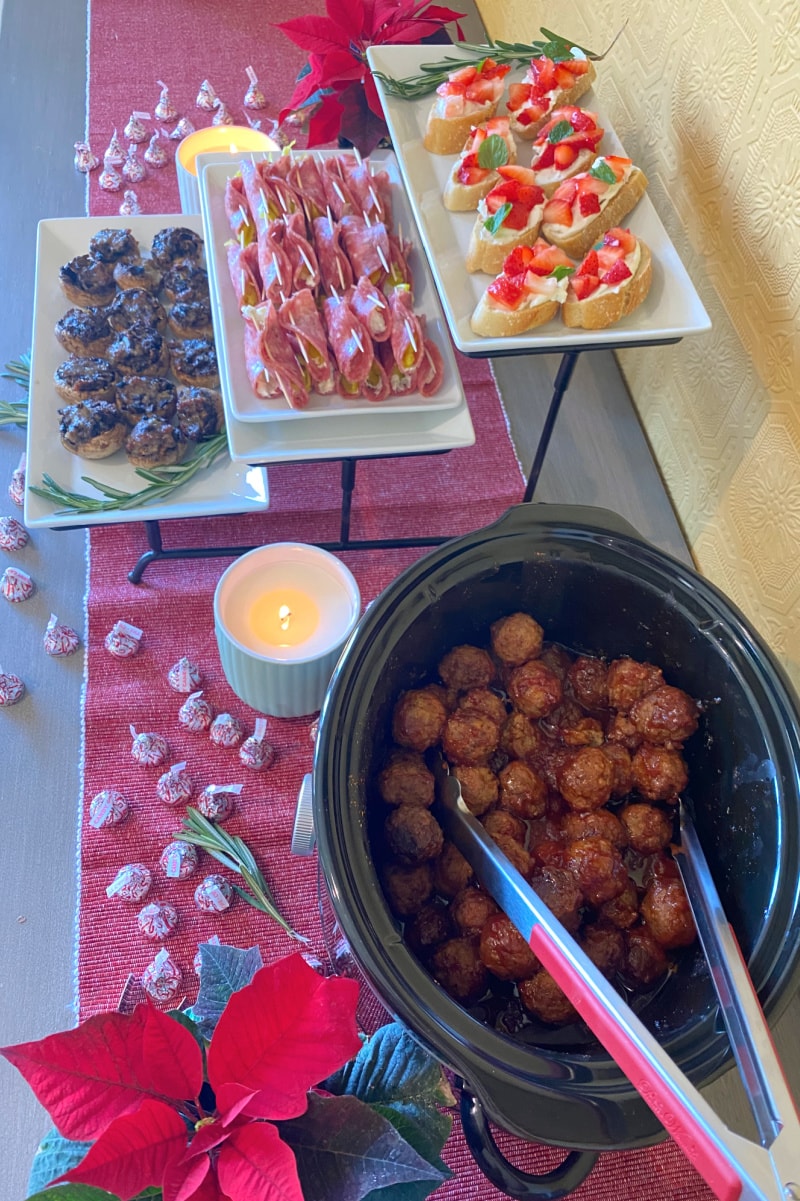 My three-tiered tray is my most favorite purchase this holiday season. It comes apart easily for easy storing. And I can just picture soup and chili season being so much easier having an extra slow cooker around too.
Ok, you have no excuses not to have a party now that you're armed with these four easy appetizers for entertaining. Have fun!
Shop the post! Click the photos below to purchase products needed for this 4- appetizer party spread: