Fresh Fruit Pizza with Lemon Curd
A lovely dessert recipe using fresh fruit: Fresh Fruit Pizza with Lemon Curd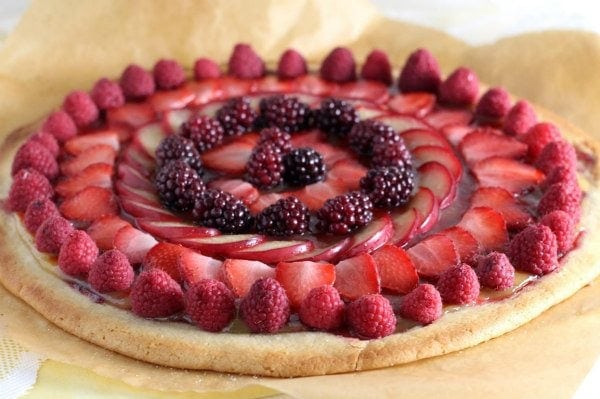 The lemon curd on this dessert pizza gives this an extra punch of flavor and pizzazz.  Everyone loves a dessert pizza!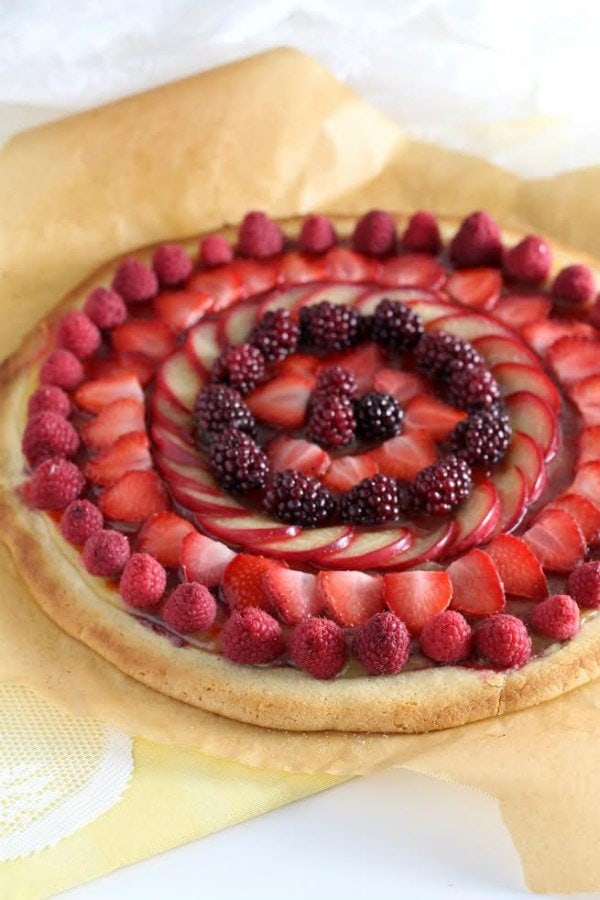 Fresh Fruit Pizza with Lemon Curd
Fun, family-friendly dessert...
Yield:
12 servings
Prep Time: 30 minutes
Cook Time: 20 minutes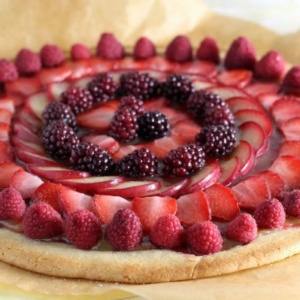 Ingredients:

LEMON CURD:

3/4 cup granulated white sugar
1 tablespoon grated lemon zest
2 large eggs
2/3 cup freshly squeezed lemon juice
2 tablespoons butter

PIZZA:

1 (18 ounce) package refrigerated sugar cookie dough
2 to 3 tablespoons seedless raspberry jam, melted
3/4 cup lemon curd
1 to 2 cups fresh raspberries
1 to 2 cups fresh blackberries
1 cup fresh sliced strawberries
1 medium plum, sliced
2 teaspoons granulated white sugar

Instructions:

Prepare lemon curd: Combine sugar, zest and eggs in a saucepan over low to medium heat, stirring with a whisk. Stir in lemon juice and butter. Cook for 5 minutes, or until the mixture thinly coats the back of a spoon. Stir constantly with whisk while cooking. Cool mixture. Cover and chill. The curd will thicken as it cools.
Prepare pizza: Preheat oven to 350 degrees F. Press dough into 12-inch pizza pan coated with cooking spray. Bake 12 minutes, or until golden brown.
Preheat broiler. Spread melted jam over crust. Spread lemon curd over jam. Arrange fruits on top. Sprinkle sugar over fruit. Broil 3 minutes.
Slice into wedges and serve.
SOURCE: RecipeGirl.com