I'm surrounded by boys!  Not much girly-girl stuff in my house, no-sirree!  Stuck on what to get your boys for Christmas?  Here are a few ideas for gift recommendations for boys of ALL ages, starting w/ the young ones…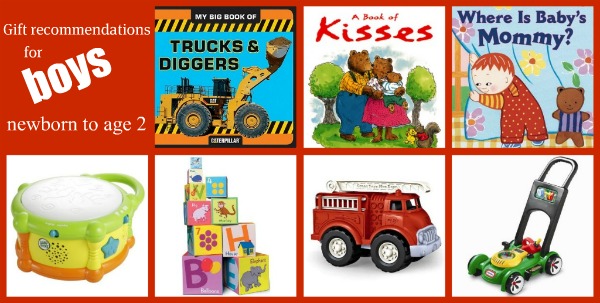 My Big Book of Trucks & Diggers: my boy could not get enough of this book
A Book of Kisses: this book is an excuse to give your boy a million kisses while reading it
Where Is Baby's Mommy?: a peekaboo book, looking for mommy (we loved this one)
LeapFrog Learn & Groove Play Drum ($19.00): I buy this for all of my friend's little ones.  So much fun.
Building/Nesting Blocks ($20.30): My son loved building from big to small w/ these.
Fire Truck ($17.35): For some reason, little boys go ga-ga over fire trucks
Push Mower ($24.99): Makes fun, mowing noises & no batteries needed!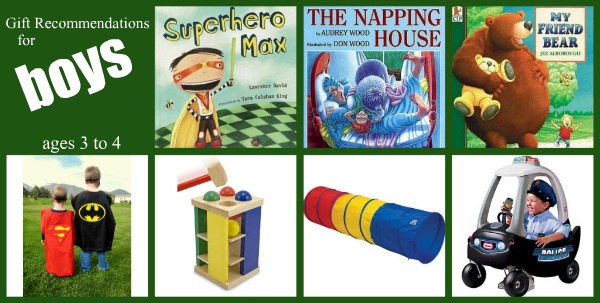 Superhero Max:  My son's all-time favorite book.
The Napping House:  Silly story.  Grandmother invites grandkids and pets into her bed, which gets very crowded.
My Friend Bear: Adorable book.
Reversible Superhero Cape ($27.00) For pretend play.
Pound & Roll Tower ($18.92) Because boys like to pound stuff.
6-foot Crawling Tube ($23.39) Great for the active little ones who love to crawl!
Patrol Police Car Ride-On ($119.99) This was our son's 2 year old bday gift.  He loved this car with all his being!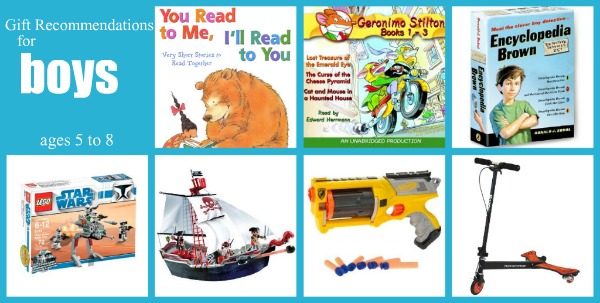 You Read to Me, I'll Read to You: A "taking turns" reading book.  Great practice for reading, & kids love it.
Geronimo Stilton Books: Great intro to chapter books for beginning readers who still like a lot of pictures- there are pictures mixed into the words in the story.
Encyclopedia Brown Books: For those little ones who are already avid, independent readers.  Boys seems to love this detective series.
Star Wars Legos Clone Walker Battle Pack ($22.99) The little ones need help putting these together, but the older ones have it down pat.
Playmobile Pirate Ship ($49.99): After many years of playing happily w/ this one, my 10 year old finally gave his away 🙁
Nerf Gun ($9.99) I must admit that we were COMPLETELY against guns of any sort when our guy was little.  But then he got one of these as a bday gift and absolutely loved playing w/ friends.  It's harmless.  But you really need to have two of them so your kid can play w/ someone else.
Power Wing Scooter ($74.99) My 10 year old STILL has this and enjoys it.  What I love about it is that your kid has to wiggle around to maneuver it and do tricks.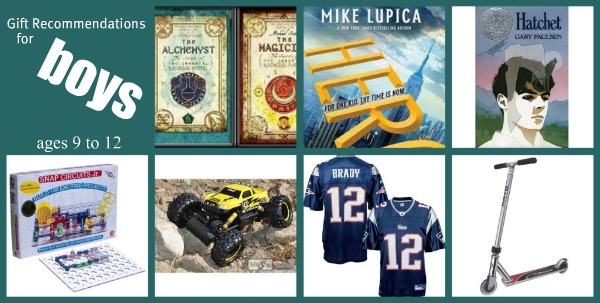 The Nicholas Flamel Series:  Advanced reading in the fantasy genre- my son's favorite series (he's 10)
Mike Lupica Books:  Kids who love sports of any kind will find books that they love from Lupica.
Gary Paulsen Books: Any of his books are great adventure books for boys, but start with "Hatchet."
Snap Circuits Electronic Building Kit ($39.42) For those kids who like to build & create things.  This is a quality kit.
Remote Control 4WD Rock Crawler ($46.00):  This is what my 10 year old is currently begging me for- a remote control vehicle that can go off-road!
NFL Replica Jerseys My boy loves these- check Kohls.
Razor Pro Scooter ($49.99) Great, durable scooter for older and heavier kids… who might do a little more w/ their scooter than just scoot.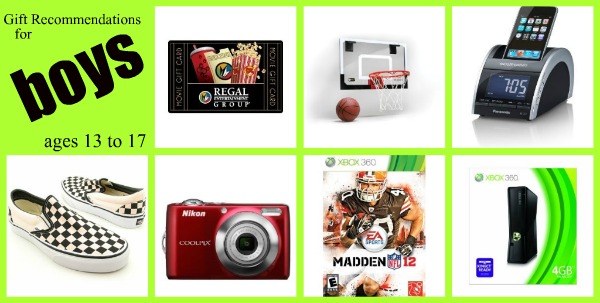 I have no idea what boys at this age read, so I left books out…
Movie Tickets ($25 or $50):  I figure teenagers can always use some movie tickets… or iTunes Gift Cards ($15, $25 or $50)!
Indoor Mini Basketball Hoop ($19.86):  For all ages, actually.
iPod/iPhone Docking Station Clock Radio ($53.00) We even have one of these… we keep it in our bathroom!
Checkered Vans ($40.20) I guess this one might seem strange if you don't live in California, but we think these are mighty cool here!
Nikon CoolPix Camera ($87.95) My kiddo has this one- and it actually takes pretty awesome photos!
Madden 12 for XBox ($39.99) If you have an XBox, this is a must for boys.  If you have a Wii, get the Wii version.
XBox Game System ($199):  A luxury, I know.  An even bigger luxury is the X Box Kinect.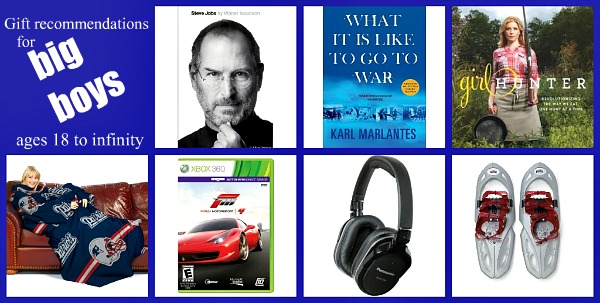 Steve Jobs:  Everyone is intrigued by this guy, so this one is a no-brainer for at least one boy in your life, right?
What it is Like to Go To War:  Guy stuff.
Girl Hunter:  for hunting enthusiasts and foodies alike.  Georgia Pellegrini, a classically trained NY chef, teams up with a veteran hunters to learn the ins-and-outs of hunting (recipes included).
NFL Comfy Throw Blanket ($24.10): For the sport's fan in your life.
Forza Motorsport ($39.99):  If your family has an X Box, the older guys who are car-lovers will appreciate playing this one.
Noise Canceling Headphones ($79.60) Perfect for the airplane traveler, or for those who need their quiet time.  These really work.
Snow Shoes ($62.42) For those who like to trudge around in the snow
I hope you found something you might like to buy for the boys in your life.  Please share any suggestions that you have for boys of any age… in the comments below!  Lord knows we can all use some help in figuring out what to buy that hard-to-buy-for person!  XO