I can't tell you how much fun I had shopping for girly things. Now I'm craving a baby girl (don't tell my husband…). Stuck on what to get girls in your life for Christmas? Here are a bunch of gift ideas for girls of all ages- starting with the young ones.  And if you're looking for BOYS, I did a gift guide for boys too!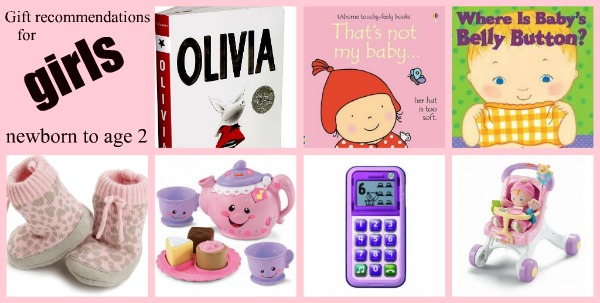 Board Book: Olivia– Cute book about a piglet named Olivia (and there are many more Olivia books to follow).Board
Board Book: That's Not My Baby…– an Usborne touchy-feely book.  I love these.
Board Book: Where is Baby's Belly Button?– This is one of my favorite board books ever (a lift-up-the-flap book)
Carter's Animal Print Slippers ($16)- so cute!!
Fisher Price Laugh & Learn Tea Set ($18.99) For pretend…
Leapfrog Chat & Count Cell Phone ($14.97) Because when Mommy is on the cell phone, kiddo wants one too.
Fisher Price Strong Along Walker ($31.99) For toddling…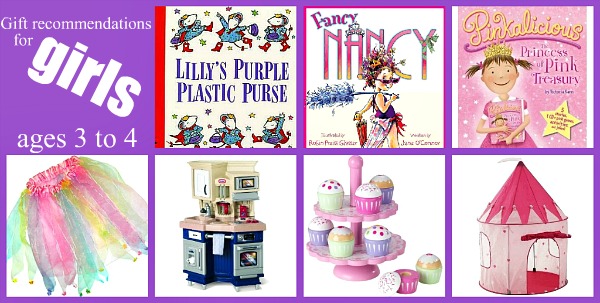 Book:  Lily's Purple Plastic Purse– girls always love this book & the author has a zillion other great books too.
Book:  Fancy Nancy– a book about being fancy!
Book: Pinkalicious– about a girl who turns pink!  Lots of great sequels too.
Fairy Rainbow Ribbon Tutu ($5.99) If I had a girl, this is what she'd be wearing 🙂
Little Tikes Super Chef Kitchen ($89.99) Cute first kitchen
Cupcake Stand Set ($21.37) Fun for little ones who have Mommies who bake
Fairy Princess Castle Play Tent ($49.79) Obviously fun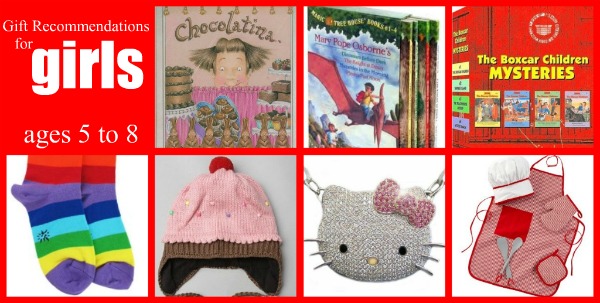 Book:  Chocolatina– about a little girl who finds out that you are what you eat… and she eats chocolate!
Book:  Magic Treehouse Set– Jack & Annie go on a set of adventures throughout history.
Book:  Boxcar Children Set– a story about the adventures of four orphans
Sock it to Me Rainbow Knee High Socks ($13) All the cool kids are wearing them
Strawberry Cupcake Hat– ($28) for the cupcake-lover
Hello Kitty Necklace ($19.90) Super sparkly and pretty
Kidcraft Tasty Treats Chef Accessories Kit ($20.10) Get those kids in the kitchen!
Book:  Rescuing Racei– My son's 5th grade teacher wrote this book, and the kids in the class are all in love with it.
Book:  The Secret Garden– Such a great classic that all kids should read.
Book:  Inheritance Boxed Set– Advanced reading (imagination and fantasy)
Alex Toys Bracelet Making Kit ($18.40) For the crafty kid
Creativity for Kits Scrapbook Kit ($21.99) Keeping memories- and crafty art love too.
Just Dance 3 ($34.99) for XBox owners
Sony Cyber Shot Camera ($89.99) I'm a firm believer that this is the right age to get your child their first camera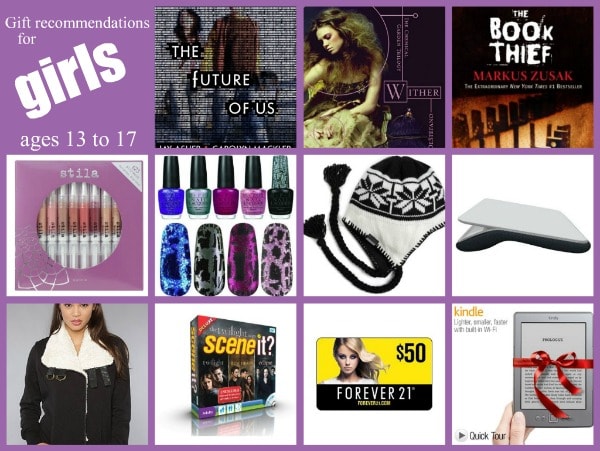 Book:  The Future of Us– Emma & Josh discover themselves on Facebook…15 years in the future.
Book:  Wither (The Chemical Garden Trilogy)– Young adult Dystopian fiction
Book:  The Book Thief– Set in WWII Nazi Germany, about a young girl so in love w/ books that she has to steal them.
Stila Lip Glaze Set– ($25) I have this, and I love it.  Good value for what you get too.
OPI Katy Perry Collection– ($30) 5 bottles of crackle finish nail polish.  Again, a good quality product.
Logitech Comfort Lapdesk ($35) Great for laptop users.
Columbia Women's Peak Ascent Hat ($29.90) My niece wears cute hats like this, and she's a trendy college student 🙂
ONeil Wrap Jacket ($84) I'm kind of loving this for me.
Scene It Game:  Twilight version ($33.99) Surely you have a Twilight fan in your life.  These Scene It games are tons of fun.
Forever 21 Gift Card ($25 or $50) Such a cute mall store with young, trendy stuff.
Kindle ($79) The gift of reading is a great gift.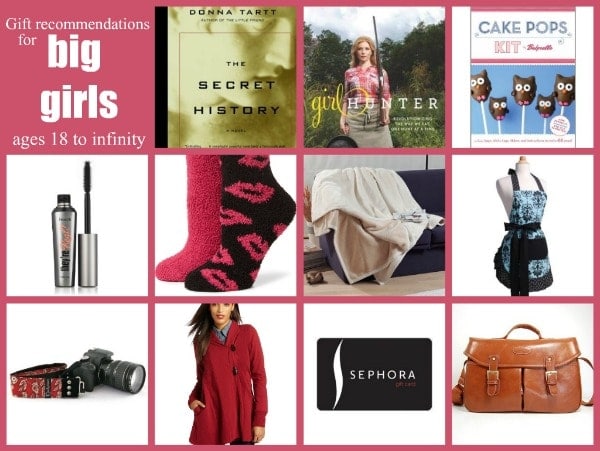 Book:  The Secret History– this is one of my favorite novels of all time.  I always recommend it!
Book:  Girl Hunter– You don't have to be into hunting to enjoy this one.  It's the fascinating story of a NY chef who wanted to learn the art of hunting… and there are many wonderful stories of her experiences within the book (recipes too!)  I loved it.
Cake Pops Kit– ($13.57) an adorable kit with a step-by-step guide to making several different designs of cake pops.  Just plain fun.
Benefit "They're Real!" Mascara ($22) A *must* for the stocking.  I love this mascara & it fluffs up lashes perfectly.
Betsey Johnson Slipper Socks ($16) I wear these around the house all day long.  They're comfy & cute.
100% Natural Cotton Reversible Blanket & Throw ($72.49) On my Christmas list- I love being warm & cozy.
Flirty Apron ($32) Girly apron- so fun for the girly cook.
Capturing Couture Camera Strap– ($39) all of their designs are so cute.  I love mine.
Lucky Wrap Jacket ($69.99) I want this jacket in a big way.
Sephora Gift Card ($25 or $50) LOVE this store.  If you have a beauty products- lover in your life, this is for them.
Camera Bag ($58.99) I hope my husband is reading this… honey, I want this cute camera bag 🙂
If you have a girl gift recommendation, please share in the comments below!