It's the day after Mother's Day, and I've decided to honor my Mom today. She was diagnosed with Celiac Disease in the last year, and has had to figure out a whole new way of eating. Imagine decades of eating without thinking about much about what you're eating.  Switching to a gluten-free lifestyle later in life is no easy task.  As a food blogger, it's made me become much more aware of what ingredients contain gluten.  And as a result, I've been able to add a forever-growing Gluten-Free/Adaptable section here on the RecipeGirl site.  Some recipes are naturally gluten-free, and some include tips on how to easily adapt the recipe to make it gluten-free.  I hope people find this section helpful.
Here are some things I've learned from my Mom: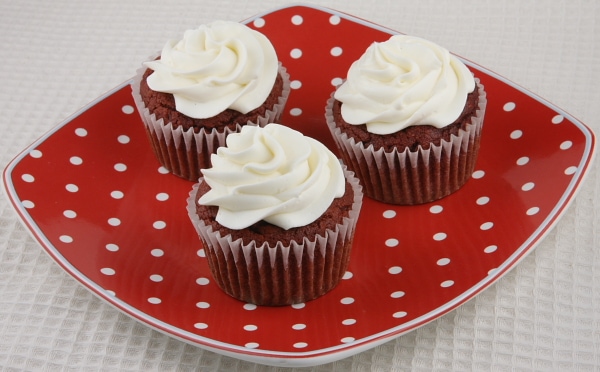 1.  Mom has taught me that eating gluten-free can be delicious. You really can adapt many recipes to be free of gluten, and… thanks to cookbooks like Elana Amsterdam's Gluten Free Cupcakes, you can still make my very favorite kind of cupcake- Gluten Free- Red Velvet Cupcakes!  Yay!
2.  Mom has taught me that it's never too late to do something. Mom got her college degree AFTER she retired.  How cool is that?  And I had a 12 year stint as an elementary teacher before taking on the food world.  I never thought I could do what I'm doing now.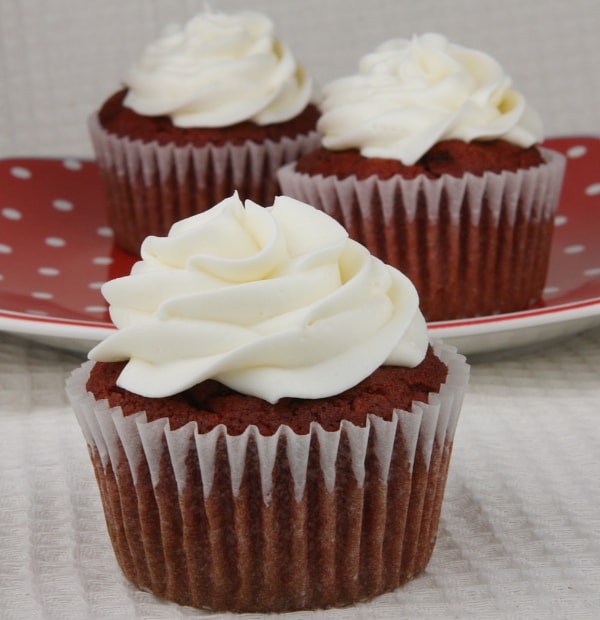 3.  Mom has taught me that sometimes worry is really just good, old-fashioned concern and caring. Enough said on that one.
4.  Mom has taught me that holiday traditions are special and memorable. I'm talking things like carving pumpkins, dyeing Easter eggs, and decorating Christmas cookies.  I'm grateful to have grown up with those traditions, and I know that my son enjoys the fact that I'm exposing him to those traditions as well.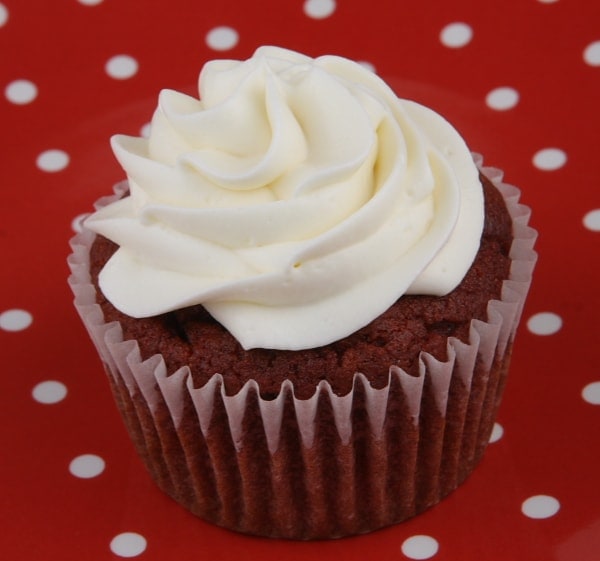 5.  Mom has taught me that family is important. Don't hold grudges, let the resentment go, DO NOT GOSSIP, and have regular family reunions to keep everyone in touch.  I guess I'm guilty of gossip… she reminds me about this one often 😉
Love you Mom- more than words can say- and if I don't tell you enough… I appreciate everything you have done and continue to do for me.  (And oh, just so you know… you've taught me a lot more than 5 things!)
On to business… and a GIVEAWAY!
————————————————————
Elana Amsterdam writes the blog Elana's Pantry, and she has just published a new book:  Gluten-Free Cupcakes:  50 Irresistible Recipes Made with Almond and Coconut Flour. There are a good variety of delicious cupcake recipes in Elana's book. Besides baking GF, she also leans toward baking with healthy ingredients, so you'll see ingredients called for like almond flour, coconut flour, coconut oil, flax meal, natural food coloring, agave nectar, Stevia, grapeseed oil and more. I need more cookbooks like this on my cookbook shelf!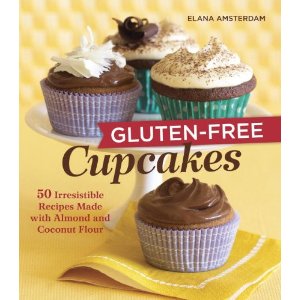 I got my hands on a copy of her cookbook, and I was delighted to find that I actually had all of the ingredients for her GF Red Velvet Cupcakes already in my pantry!  These are delicious- hard to believe, really, that they're gluten-free.  My son is always a good tester since he has the ability to sense if anything is "weird."  No weirdness at all… he said they tasted "normal and good."  I had never baked with coconut flour before, and wondered how much that coconut flavor would come through.  The verdict:  I could definitely taste the coconut.  But I did enjoy the cupcakes- especially combined with the frosting.
This giveaway is now over!  Congrats to commenters #8 (Melinda) and #13 (Rebecca).  You are the randomly selected winners of this cookbook.  Enjoy!

Gluten Free Red Velvet Cupcakes w/ Cream Cheese Frosting
Gluten-free Red Velvet Lovers can now enjoy a cupcake of their own...
Yield:
9 cupcakes
Prep Time: 30 min
Cook Time: 18 min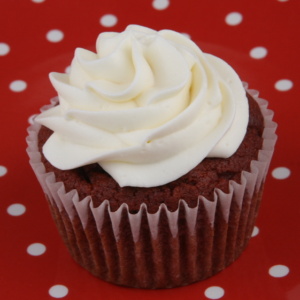 Ingredients:

CUPCAKES:
1/2 cup coconut flour
2 Tablespoons unsweetened cocoa powder
1/4 teaspoon sea salt
1/4 teaspoon baking soda
4 large eggs
2 Tablespoons grapeseed (or canola) oil
1/2 cup agave nectar
1 Tablespoon red food coloring

CREAM CHEESE FROSTING:
3/4 cup heavy whipping cream
8 ounces cream cheese, at room temperature
1/4 cup agave nectar

Instructions:

Prepare cupcakes:
1. Preheat oven to 350 degrees F. Line 9 muffin cups with paper liners. In a large bowl, whisk together coconut flour, cocoa powder, salt and baking soda. In a separate bowl, combine eggs, oil, agave nectar and food coloring; whisk vigorously until well mixed. Add wet ingredients to dry ingredients; use electric mixer to combine. Scoop 1/4 cup of batter into each prepared muffin cup. Bake 18 to 22 minutes, or until toothpick inserted in the center of a cupcake comes out clean. Let cupcakes cool, then remove from pan and frost.

Prepare frosting:
2. In a deep bowl, whip the cream with an electric mixer until stiff peaks form. In a separate, larger bowl, whip the cream cheese and agave nectar until well combined. Using a rubber spatula, gently fold the whipped cream into the cream cheese mixture. Spread or pipe onto cupcakes.

Tips:

*If you're not comfortable with using artificial red dye, look for natural vegetable coloring at health food stores.
*For the frosting, I used a combination of agave nectar and honey. I loved the flavor that the honey added to the frosting!