Greek Chicken Pasta Toss
This Greek Chicken Pasta Toss is a big-time favorite for dinner at my house.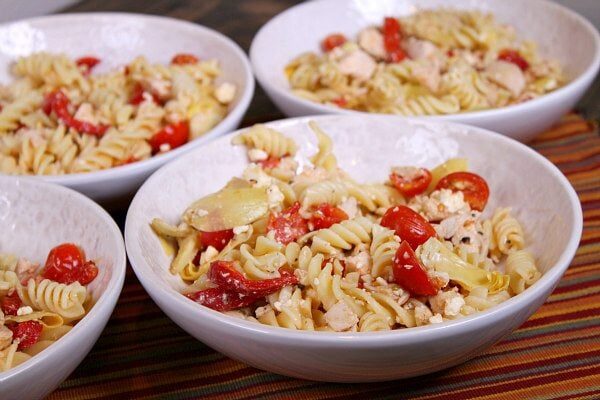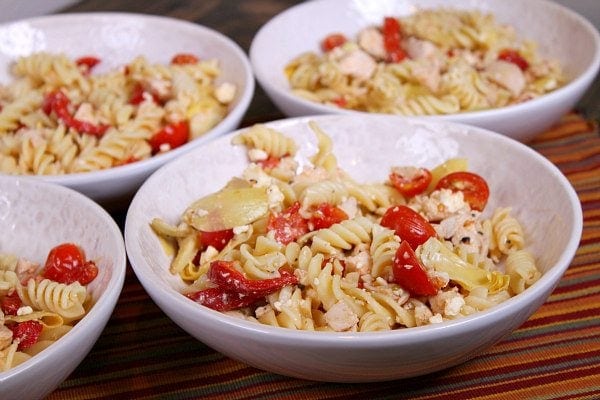 It's a lighter variety of pasta, so you're not going to find any heavy sauces on this one.  It's simply freshly cooked noodles tossed with Greek things… like tomato, artichoke hearts, roasted red bell peppers and feta cheese.
It's the kind of meal you can throw together very quickly for a weeknight meal.  Add more cheese if you'd like.  I always do!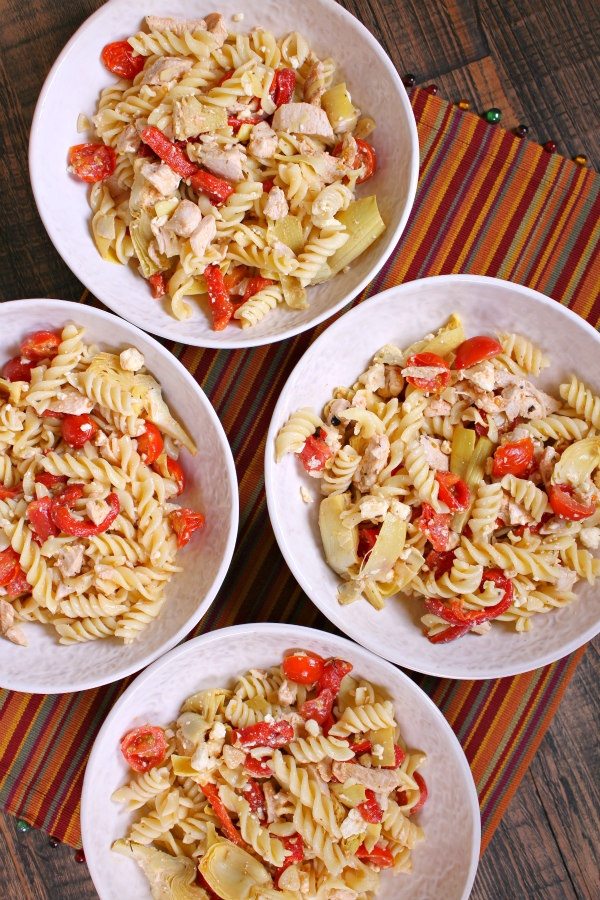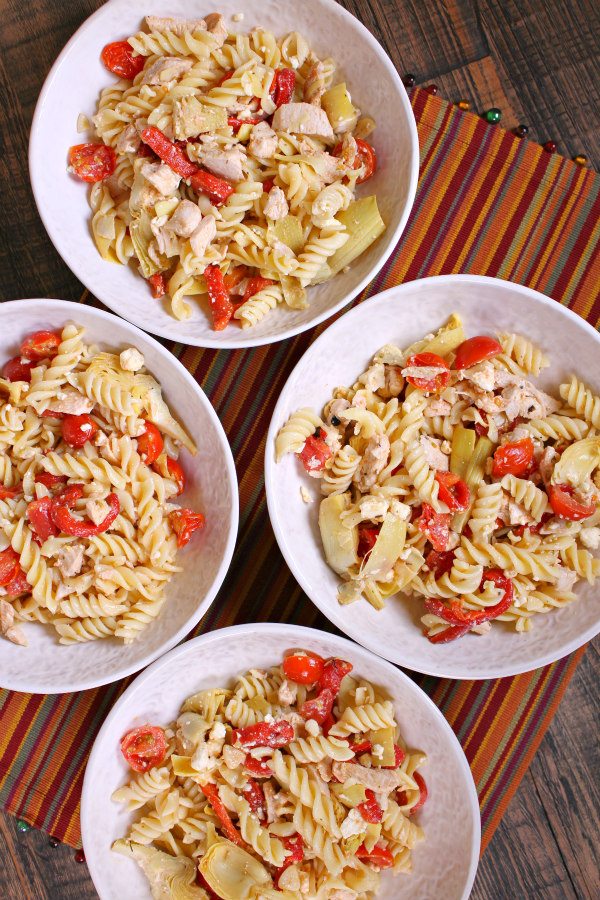 Greek Chicken Pasta Toss
Terrific, family-friendly dinner...
Yield:
4 servings
Prep Time: 25 minutes
Cook Time: 22 minutes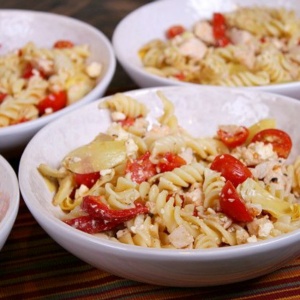 Ingredients:

1/2 pound rotini (or other short pasta)
2 tablespoons extra-virgin olive oil, divided
1 pound skinless boneless chicken breasts, cut into thin strips
1/4 teaspoon salt
1/4 teaspoon coarsely ground black pepper
3 cloves garlic, thinly sliced
1 teaspoon dried oregano
One 7-ounce jar roasted red peppers, drained and thinly sliced
One 14-ounce can artichoke hearts, drained and quartered
1 pint cherry tomatoes, halved
2 tablespoons freshly squeezed lemon juice
2 ounces feta cheese
2 tablespoons grated Parmesan cheese

Instructions:

Bring a large pot of salted water to boil. Add pasta and cook according to package directions; drain.
Heat 1 tablespoon of the oil in a large nonstick skillet over medium-high heat. Sprinkle the chicken with salt and pepper and add to the skillet. Cook, stirring occasionally, until lightly browned and cooked through, 6 to 7 minutes.
Remove the chicken and add the remaining 1 tablespoon oil to the skillet, along with the garlic and oregano; cook 30 seconds. Add the roasted peppers, artichoke hearts and tomatoes; cook until the tomatoes start to soften, about 3 minutes. Add the lemon juice and the reserved chicken and cook 1 minute longer. Transfer to a large bowl and add the pasta, feta, and Parmesan cheese. Toss well. Serve warm or at room temperature.

Nutrition:

12 Weight Watchers SmartPoints per serving (recipe divided into 4 servings)
Here are a few more pasta recipes you might enjoy: