Here's a delicious recipe to make with mashed potatoes:  Ham and Cheese Potato Pancakes with Honey Mustard Sauce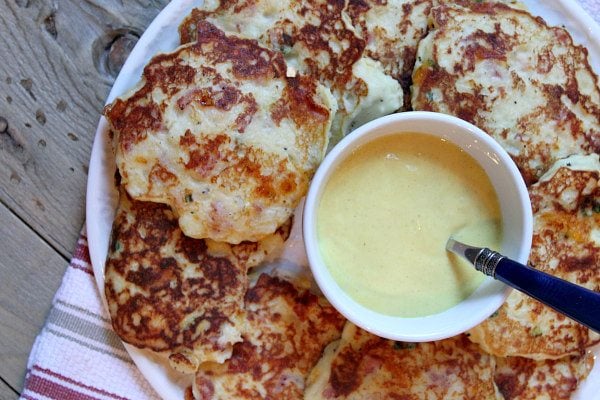 These potato pancakes are made from a base of already-prepared, creamy mashed potatoes.  The mashed potatoes are combined with a few goodies to turn them into a batter that is perfect for turning them into pancakes.
I've partnered with Bob Evans Foods to create a few recipes showing you what you can do with their line of refrigerated side dishes.  Bob Evans' sides are the #1 selling refrigerated side dish in the country.  They're great on their own or as the basis for quick, easy and delicious recipes.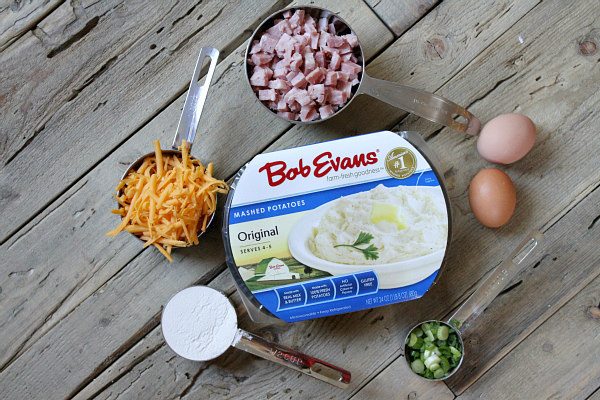 Bob Evans' line of mashed potato refrigerated sides are what I'm focused on today.  I used their Original Mashed Potatoes for this recipe.  They're made with real potatoes, real milk and real butter.  My family LOVES THESE POTATOES.  They are great for when you want to pick up a quick side to go with your main dish– so you don't have to spend an hour peeling, boiling and mashing from scratch.  These are a great, quick option to pick up from the store (think of those busy weeknights when you don't have time to make everything homemade!), and it's a quality product that your whole family will enjoy.
I do use the mashed potatoes on their own as a fabulous side dish, but today I'm showing you how to use them in a recipe to turn them into something else:  Ham and Cheese Potato Pancakes!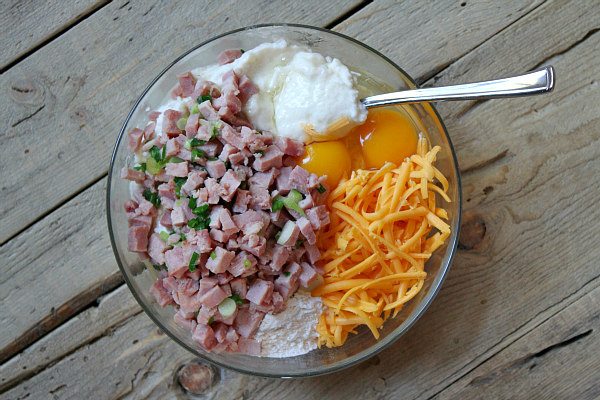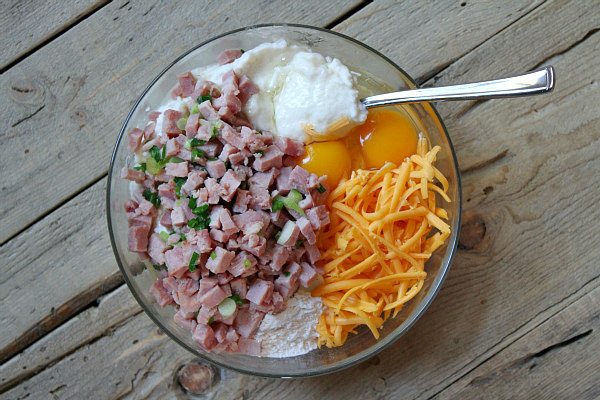 With just a few added ingredients, mashed potatoes can be turned into delicious little pancakes.  I've added flour, ham, cheese, green onions and eggs.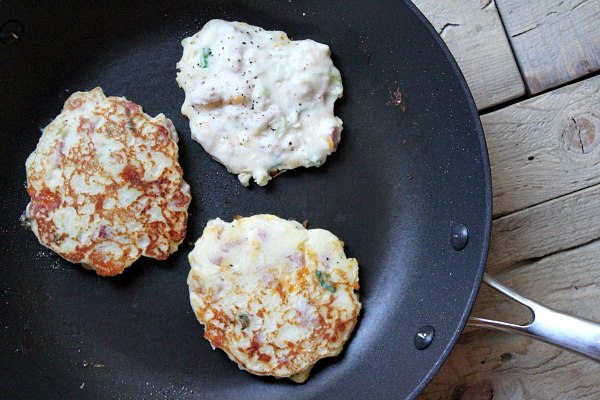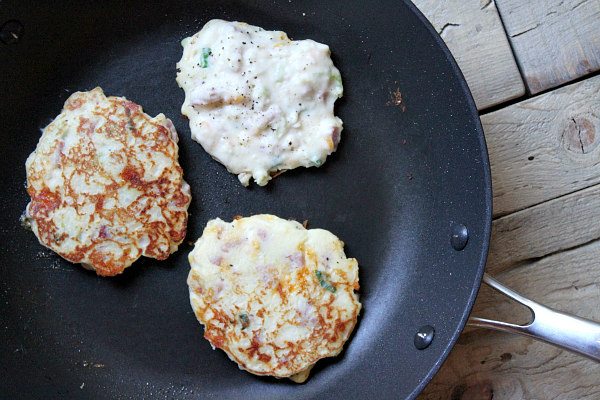 Fry them up just like regular pancakes.  They'll get golden and crispy on the outside and stay tender on the inside.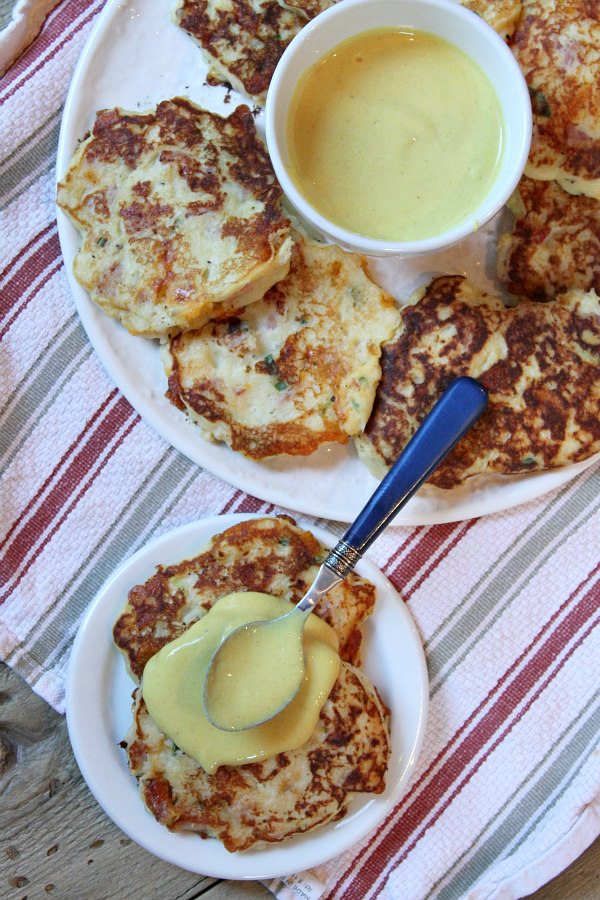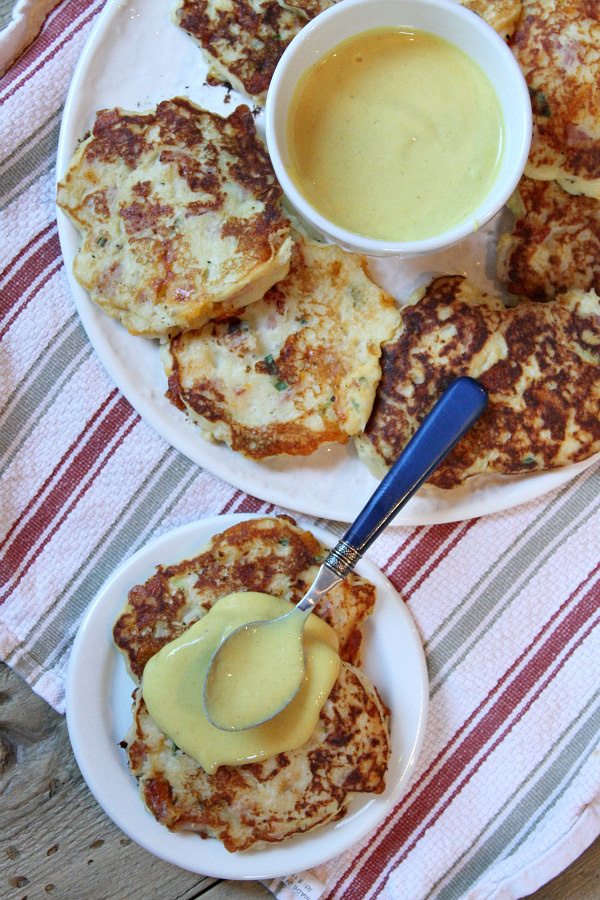 And they are served with a spoonful of creamy honey mustard sauce.  Since you've got ham and cheese packed into the pancakes, you can serve them as a main dish, as an appetizer, or as a side dish too.
Isn't it fun to see what you can do with mashed potatoes?  For more recipes using Bob Evans' products, visit https://www.bobevansgrocery.com/farm-fresh-ideas.
Ham and Cheese Potato Pancakes with Honey Mustard Sauce
Yield:
12 to 14 three-inch pancakes
Prep Time: 20 minutes
Cook Time: 10 minutes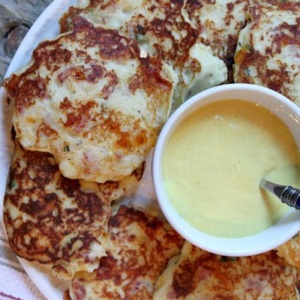 Ingredients:

Sauce:

1/2 cup sour cream
1/4 cup honey mustard

Pancakes

:

1 1/2 cups finely chopped

ham

1/3 cup chopped green onions
One 24-ounce container Bob Evans Original Mashed Potatoes
1 cup shredded cheddar

cheese

2 large eggs
1/2 cup all-purpose flour
salt and pepper

Instructions:

Spray a large skillet with nonstick spray, and heat to medium.  Sauté

ham

and onions until onions have softened and mixture is warm.
In a large bowl, combine the cooked

ham

/onions with the potatoes,

cheese

, eggs and flour.
Wipe out the skillet and spray again with nonstick spray.  Spoon about 1/3 cup of batter onto the hot skillet (can do 3 to 4 at a time, depending on size of skillet).  Spread into a 3-inch round, and sprinkle with salt and pepper.  Cook 3 to 4 minutes on each side, until golden brown, slightly crispy on the exterior and warmed throughout.  Serve with a drizzle of the honey mustard sauce.
SOURCE:  RecipeGirl.com
Here are a few more potato pancake recipes you might enjoy:
Disclosure:  This recipe was made in partnership with Bob Evans Foods.  This is a product that I know and use in my kitchen.  All opinions shared are my own.