Ham and Lentil Soup
This slow cooker Ham and Lentil Soup is a wonderful surprise… it's easy, it's light and it's filling. I find that I like having it around to eat a nice warm cup of it for lunch.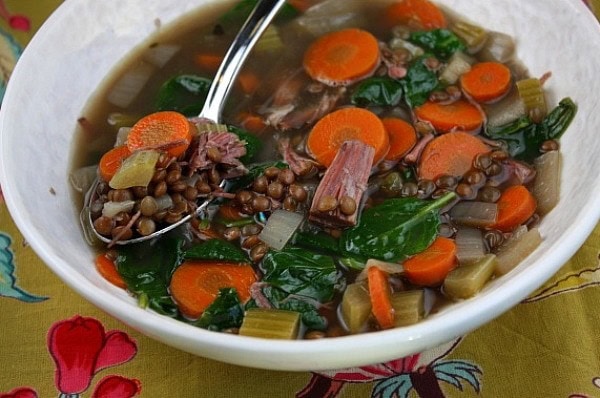 Yield:
6 servings
Prep Time: 15 minutes
Cook Time: 4 hours
Ingredients:
3 cups reduced-sodium fat-free chicken broth
3 cups water
1 medium onion, chopped
1 1/2 cups chopped celery
1 1/2 cups sliced carrots (about 3 medium)
1 cup dried lentils, rinsed
6 ounces cooked ham, diced finely (or use a ham shoulder and shred after cooking)
1 tablespoon chopped fresh thyme
3 cups fresh baby spinach leaves
salt and freshly ground pepper, to taste
shredded Parmesan cheese to top, optional
Directions:
In a 4 to 5 quart slow cooker, combine broth, water, onion, celery, carrots, lentils, ham and thyme. Cover and cook on low-heat setting for 7 to 8 hours or on high-heat setting for 3 1/2 to 4 hours.
When ready to serve, stir in spinach. Ladle into bowls and top with Parmesan cheese, if using.
Nutrition:
SOURCE: RecipeGirl.com (Adapted from The Ultimate Slow Cooker Cookbook)