These are best when the are slightly undercooked and gooey! > Heavy Chocolate Brownies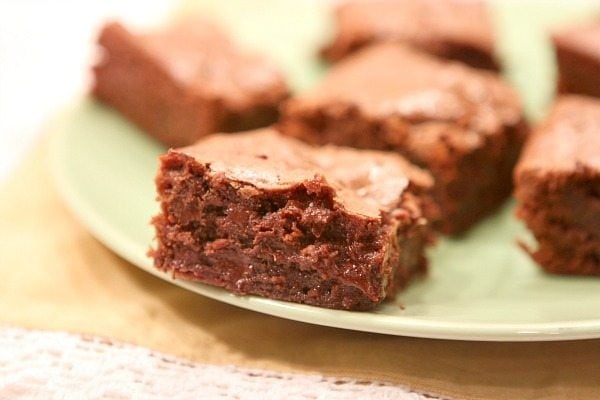 Heavy Chocolate Brownies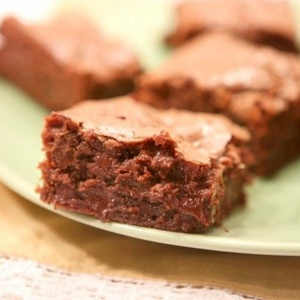 Yield:
9 brownies
Prep Time: 20 min
Cook Time: 28 min
Ingredients:
3/4 cup all-purpose flour
1 tablespoon unsweetened cocoa powder
1/4 teaspoon salt
1/2 cup (1 stick) unsalted butter, plus more for pan
3/4 teaspoon instant espresso powder
5 ounces semi-sweet chocolate, finely chopped
3/4 cup granulated white sugar
1/4 cup packed light brown sugar
3 large eggs
1 teaspoon pure vanilla extract
3/4 cup (4.5 ounces) semi-sweet chocolate chips (optional)
Directions:
1. Preheat oven to 350°F. Butter 8x8-inch square baking pan. Line with parchment paper and butter parchment.
2. In a medium bowl, sift together flour, cocoa powder, and salt; set aside.
3. In a large, heavy-bottomed saucepan, combine butter and espresso. Place over low heat and stir until butter has melted. Add chocolate, and stir constantly until mixture is smooth, about 2 minutes. Remove from heat, and stir in both sugars until well combined.
4. Add eggs and vanilla and continue stirring until well incorporated and mixture no longer appears grainy. Sift flour mixture over batter, and stir until just combined. Stir in chocolate chips, if using.
5. Pour batter into prepared pan; smooth top with back of a wooden spoon or a spatula. Bake until a toothpick inserted in the center comes out with a few moist crumbs, 28 to 30 minutes. Be sure not to over bake. Let cool completely on a wire rack. Cut into 9 brownies.
SOURCE: RecipeGirl.com (via Baked)