The holidays are upon us.  Friends and family will be gathering to celebrate the season, and some of that may be happening in your home.  If so, you may be starting to think about what sorts of festive treats to serve up for the holidays this year. I've taken my favorite shrimp taco recipe and used it as inspiration to create a delicious red & green holiday appetizer using Puff Pastry: Margarita Shrimp Bites with Southwestern Sauce.
Here's the How-To:
Marinate shrimp with lime juice, lime zest, sugar, and tequila. Defrost a Puff Pastry sheet and roll out into an even square. Cut into 16 equal squares.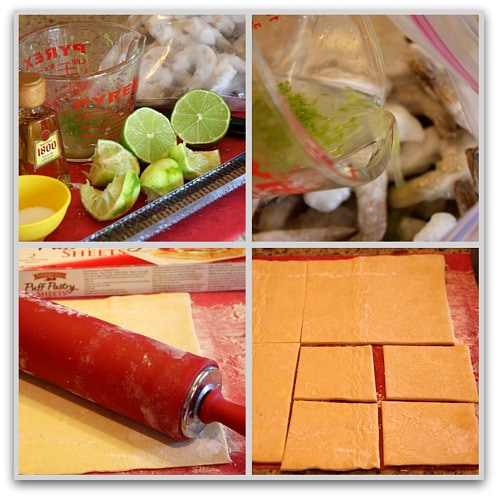 Assemble the appetizers. Place one shrimp and one piece each of red and green bell pepper on top of each Puff Pastry square. Fasten corners together diagonally and seal with a fork and a bit of water.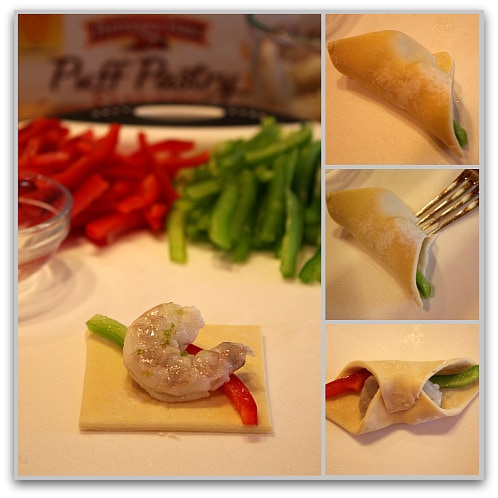 These appetizers can be prepared ahead… up until this point. Place them all on a parchment-lined baking sheet and cover with plastic wrap. Refrigerate several hours (or overnight) until ready to serve.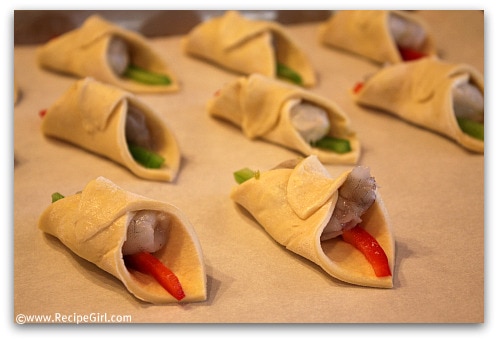 When you're ready to bake these up and serve them, brush each bite with a swish of egg wash.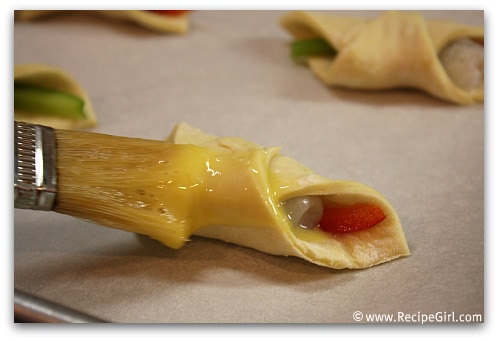 Bake them for 15 to 20 minutes, and they'll come out golden brown and ready for eating… almost…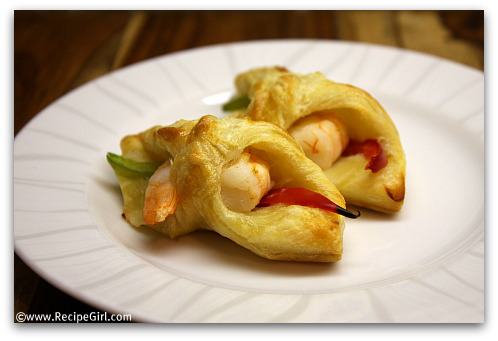 They need a drizzle of Southwestern Sauce (sour cream mixed with chopped chipotle chile/sauce, cumin, lime juice and salt). A single leaf of cilantro tops each bite.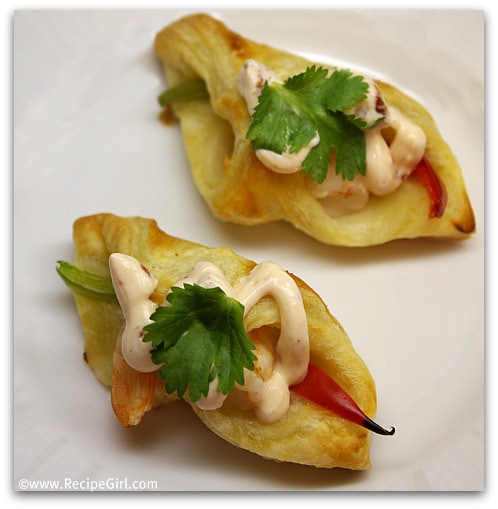 I served up a whole bunch of these at a big birthday bash I threw for my husband last weekend.  I baked two trays at a time and as soon as I took them out of the oven, I had people hovering over me with interest at what gourmet appetizer I was plating.  32 appetizers were gone in literally 32 seconds as I passed them around.  Our guests loved them, noting that the sauce was perfect to top the Puff Pastry-wrapped shrimp.
With the red and green bell pepper and the green cilantro leaf, these would be a perfect appetizer for a holiday party.

This recipe can be found here: Margarita Shrimp Bites.
This post is being sponsored by Pepperidge Farm Puff Pastry.