If you're planning holiday parties this season, I have some festive ideas to share- along with three appetizer cookbooks very worthy of purchase for your ever-growing cookbook collections!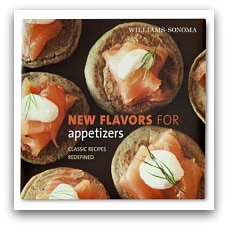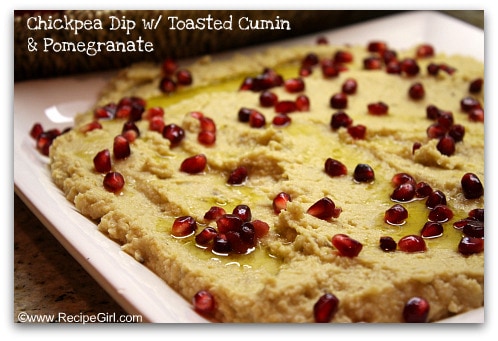 The first recipe comes from New Flavors for Appetizers: Classic Recipes Redefined by Amy Sherman ( CookingWithAmy)  I've met Amy a couple of times before, and apart from being a genuinely nice person, I can tell you that she is extremely passionate about what she does in the kitchen.  Her first book is a collection of 44 appetizers with a big, beautiful photograph included for every single recipe.  Organized seasonally, Amy has come up with some unique, fresh takes on classic recipes, such as deviled eggs with watercress, mushroom tartlets with cornmeal crusts, savory apple, cheddar & thyme turnovers, and crostini with white beans, garlic & tuscan kale.  I chose to make the Chickpea Dip with Toasted Cumin & Pomegranate for a recent party.  It fit the bill perfectly- easy to make, festive-looking & was devoured quickly by guests.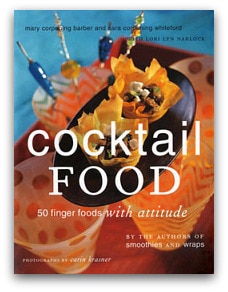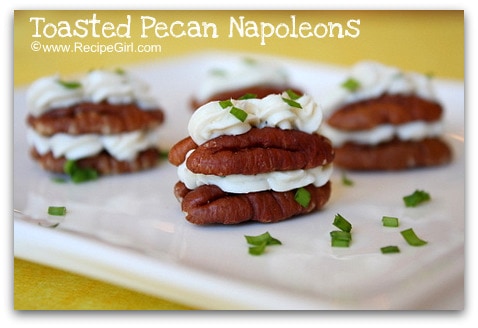 This recipe comes from a little cookbook treasure that I picked up on a whim:  Cocktail Food:  50 finger foods with attitude by Mary Corpening Barber & Sara Corpening Whiteford.  There are some really different ideas for appetizers in this cookbook, and there are photographs included for almost every recipe.  Enticing recipes include Fried Plantains with Peanut Salsa, Spicy Tuna Tartare on Wonton Squares, New Potatoes Stuffed with Feta, Green Olives & Pine Nuts, Miniature Tartlets Filled with Walnuts, Brie & Grape Salsa, and Smoked Salmon and Cream Cheese Croquettes.  I chose to make Toasted Pecan Napoleons for a recent party.  They were festive, delicious little nibbles and cute as can be.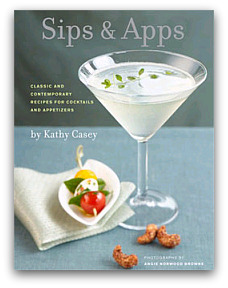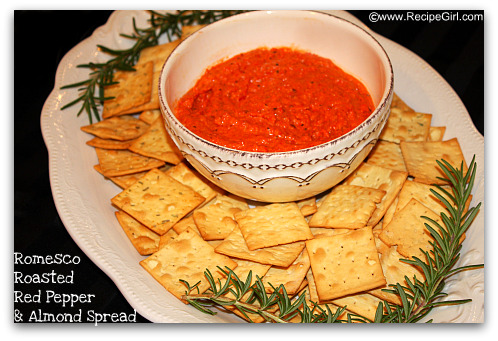 This recipe comes from Kathy Casey's new cookbook:  Sips and Apps:  Classic and Contemporary Recipes for Cocktails and Appetizers.  The cookbook begins with lots of handy bar tips, measurement equivalents, garnish descriptions, etc.  There's one of those cute little attached ribbons in the binding of the book that you can use to easily mark a favorite page.  Casey included recipes for 51 cocktails and 35 appetizers, with photographs included for some.  Drinks I'd like to try:  Hot Mango Love, Tuscan Rosemary Lemon Drop, Fresh Apple Mojito and Summer Melon Sangria.  The appetizer section includes goodies such as Bacon, Blue Cheese & Pecan Cocktail Cookies, Sake Teriyaki Sticky Chicken Wings, California Crab "Truffles" and Chips and Roasted Pear Crostini with Gorgonzola. I tried the Romesco Roasted Red Pepper & Almond Spread at my party- very festive, and the dip was scraped clean in no time.
*You'll find full descriptions of the books with an option to purchase by clicking on any of the titles above.
*Recipes featured above can be viewed and printed by clicking on the recipe titles.
Happy holiday entertaining!