When I was little I lived in a California neighborhood with a zillion kids. With zero knowledge of the impending video game era, we entertained ourselves easily with outdoor games such as hide-and-go-seek and kick-the-can. Sometimes we just sat on the curb of the street and talked, or raced tiny paper 'boats' in the sprinkler run-off in the gutters, chasing them until they fell into the sewer drain. Because we were in California, it was almost always hot, and because we were outside, we always heard the music from the ice cream truck as it began to approach us from several blocks away. The music sent us into a frenzy, racing for our houses to look for change… in our piggie banks, under the couch cushions or in the bottom of Mom's purse. My favorite Ice Cream Truck treat back then was the Missile Pop– a red, white and blue monstrosity of a popsicle.
Nowadays, we see only the occasional ice cream truck… at the park or at a school event. The kids still play outside- spying, riding bikes, playing whiffle ball- but no ice cream truck comes through our neighborhood. Instead, I have to create the excitement by announcing to the kids what flavor ice cream I have churning. They're always a little blown away that's it's homemade. No one does that, at least no one around here. (Except me, of course) 🙂
Here are three flavors I've churned up this summer that'll rival that Ice Cream Man & his truck full of treats any day: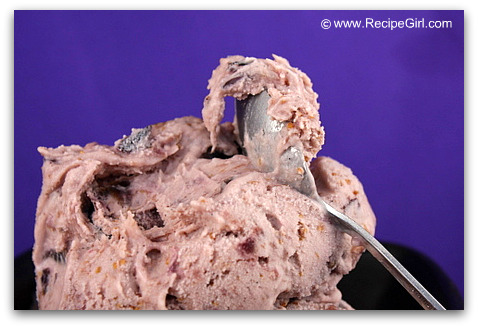 FRESH FIG ICE CREAM (no eggs)
Adapted from David Leibovitz, this one was a delicious choice to play with a bunch of fresh figs. I'd have to say that I think you'd probably have to like figs in the first place to enjoy the ice cream. You definitely taste figs, and if you love figs… you're likely to love this too.

FRESH STRAWBERRY ICE CREAM (NO COOK) -and no eggs
I made this one because I promised a little girl in the neighborhood that I would make her some strawberry ice cream… just for her. The smile she gave me when I brought it to her house was priceless. I heard that she gobbled it up, reluctantly shared it with her sisters, and made sure she had some saved for the next day.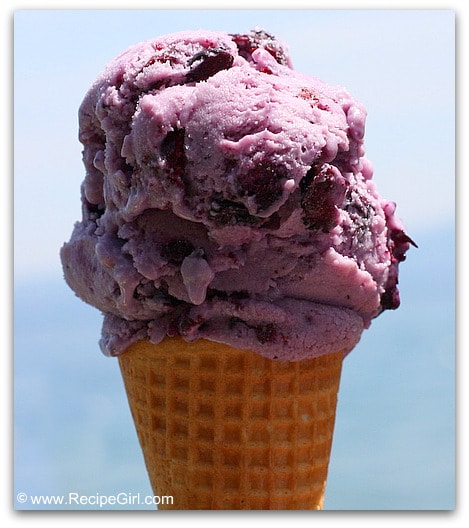 BLUEBERRY CHEESECAKE ICE CREAM (eggs in this one):
Let me put it to you this way: If you're a cheesecake lover like me, you're gonna like this one. It tastes just like blueberry cheesecake. The good news is that this is a lighter ice cream recipe. It's 268 calories for 2/3 cup (and 6 Weight Watcher points, for those who are counting). It's worth the calories, but there might be an issue with stopping at just 2/3 of a cup 😉
Oddly enough, I was at the park with a few Moms and their kids just a couple of days ago when an ice cream truck rolled up- blaring its music and sending all of our children into frantic-mode.  None of us had any cash with us so we had to send our sulking kids back to the playground without a frozen treat.  I found myself wondering, though, if that ice cream man had a red, white and blue Missile pop hidden somewhere inside his truck.
Each of the ice cream recipes can be found by clicking on the recipe titles above.

Note: The figs and strawberries used in the making of these treats were picked up at my favorite San Diego produce warehouse:  Specialty Produce.

——————————————————————
Other delicious ice cream flavors on the blogs:
Use Real Butter:  Toasted Coconut Ice Cream
Smitten Kitchen:  Butterscotch Ice Cream
What We're Eating:  Lemon Cheesecake Ice Cream
Joy the Baker:  Banana Pudding Ice Cream