Irish Corned Beef Cabbage and Carrots
A favorite, classic meal this time of year is Corned Beef and Cabbage. This recipe originated with James Beard. It's his take on Irish Corned Beef, Cabbage and Carrots.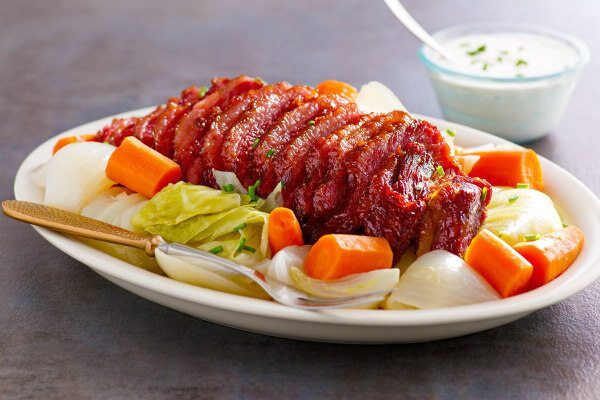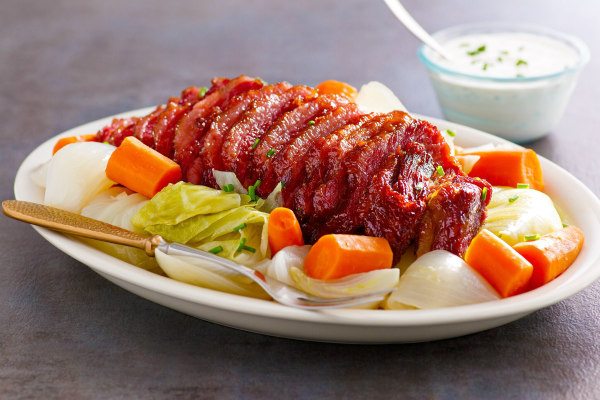 Corned Beef and Cabbage
I don't think people really make Corned Beef and Cabbage all that often in the United States unless St. Patrick's Day is looming ahead.  Corned Beef is actually not even very easy to locate at other times of the year.  It makes such a delicious meal though that I wish it were more mainstream all year long.  I'm sure Ireland has it right.  They're probably eating Corned Beef quite often.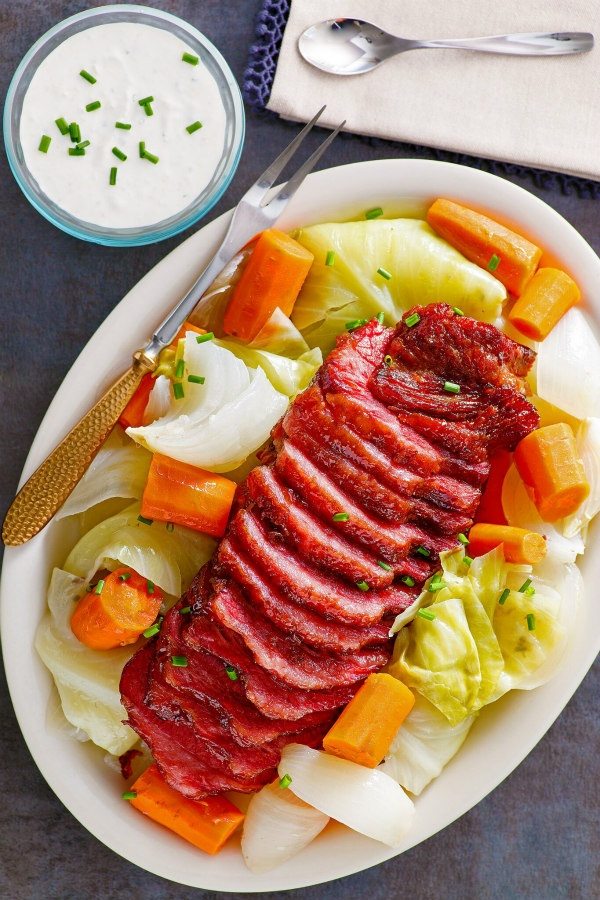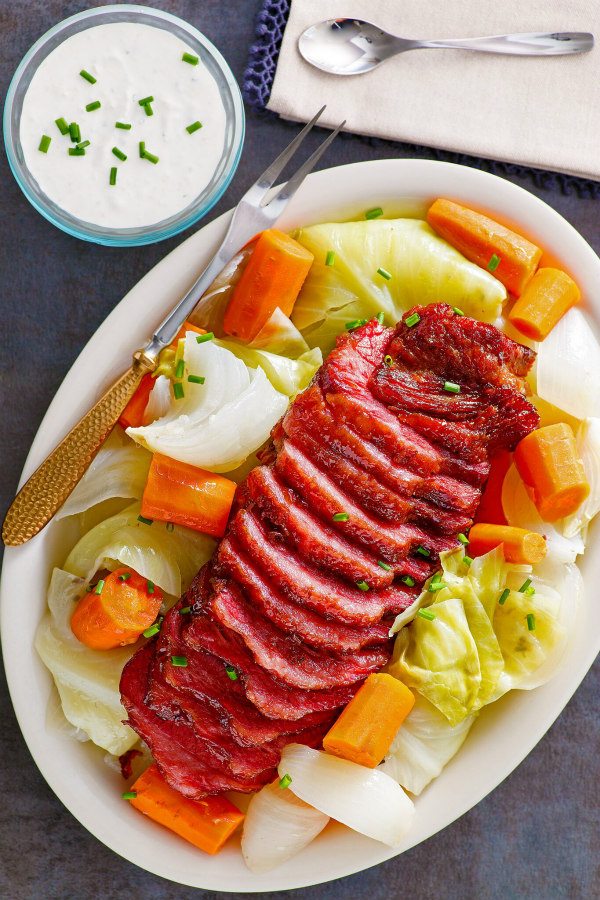 How to Make Corned Beef and Cabbage
The corned beef is placed into a large pot with a bottle of beer, water and peppercorns.  It's simmered for four hours.  That ensures this meat is going to be tender as can be!
After simmering, the meat comes out of the broth.  You'll use the rich broth to simmer onions, carrots and cabbage.
The final step in making sure this is the best corned beef possible is that you're going to drizzle a simple glaze on top and roast it for 30 minutes.
An easy-to-assemble horseradish sauce is served alongside.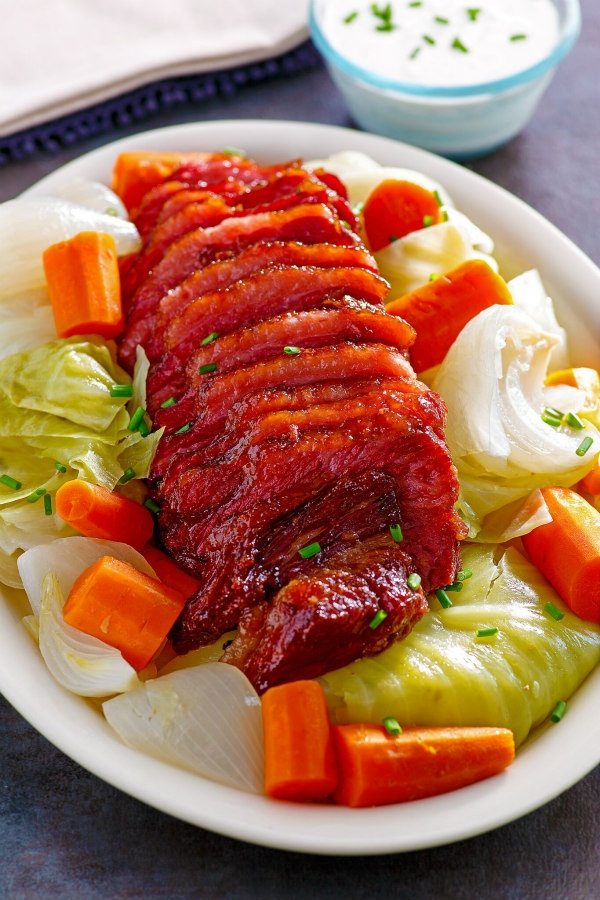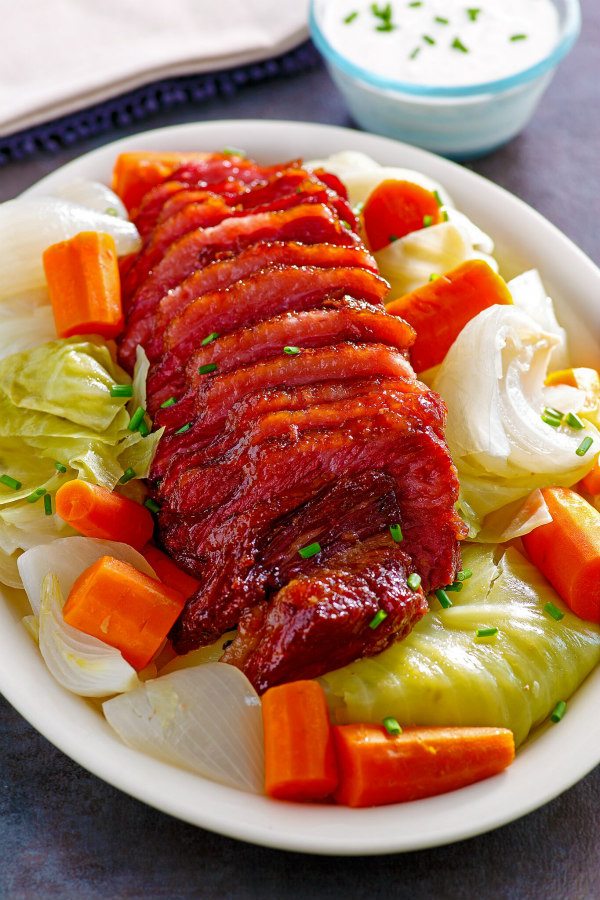 You can see how from the photos how wonderful the corned beef turns out.  That last step of roasting with the glaze gives it a sweet crust.  It's so delicious.
I've seen a lot of Corned Beef and Cabbage recipes where the cabbage and carrots are cooked to death and are soggy and practically inedible.  Not this recipe!  The vegetables are tender and perfect served alongside the corned beef.
Here are a few more St. Patrick's Day recipes you might enjoy:
Irish Corned Beef Cabbage and Carrots
Yield:
6 servings
Prep Time: 35 minutes
Cook Time: 5 hours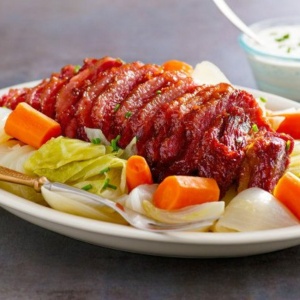 Ingredients:

CORNED BEEF:

5 pounds corned brisket of beef
6 whole peppercorns (or package of spices that comes with the beef)
1 bottle harp or guinness beer
3 large carrots, peeled and quartered
3 medium onions, peeled and quartered
1 medium head of cabbage, quartered or cut in wedges

GLAZE:

1 1/2 cups (packed) brown sugar
3/4 cup apple juice
3 tablespoons mustard
3/4 cup bourbon

HORSERADISH SAUCE:

3/4 cup sour cream
1/4 cup prepared white horseradish
3 tablespoons chopped chives
juice from 1/2 lemon

Instructions:

Prepare corned beef: Place corned beef in a large pot. Pour bottle of beer over beef, and then add enough water to cover the beef; add peppercorns or spice packet. Cover pot, bring to a boil, reduce heat and simmer 4 hours or until tender, skimming occasionally. Remove meat from broth; add carrots, onions to broth and continue to simmer. During last 15 minutes, add the cabbage.
Preheat oven to 400°F. In small saucepan, mix and heat glaze ingredients. Place beef in roasting pan and brush with glaze. Roast for 30 minutes.
Mix together horseradish sauce ingredients; chill until ready to use.
When ready to serve, transfer meat and vegetables to a platter; brush vegetables with the melted butter. Serve with horseradish sauce.

Nutrition:

Serve with boiled parsley potatoes.