Kahlua Espresso Chocolate Chip Cookies
This recipe for Kahlua Espresso Chocolate Chip Cookies is the next best chocolate chip cookie recipe. A chocolate cookie base also incorporates espresso and Kahlua, and plenty of chocolate chips are mixed in too.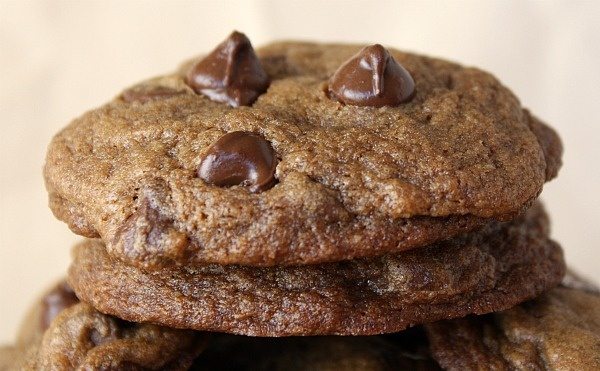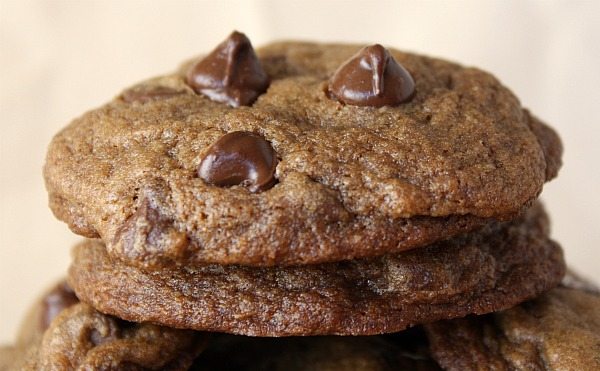 Kahlua Espresso Chocolate Chip Cookies
Sometimes I think us bakers must have tried all of the versions of chocolate chip cookies that are humanly possible. I'm always amazed when I read about someone's fresh, new idea. And then, of course, there are those times that I wake up in the middle of the night and start thinking… about recipes… about ingredients… and about new things to do with chocolate chip cookies.
Ever since I made those delectable Kahlua Brownies, I've been thinking about adding Kahlua to chocolate chip cookies too. After a little googling, I saw that versions of it had already been done but it was still a good idea, and I came up with Kahlua Espresso Chocolate Chip Cookies.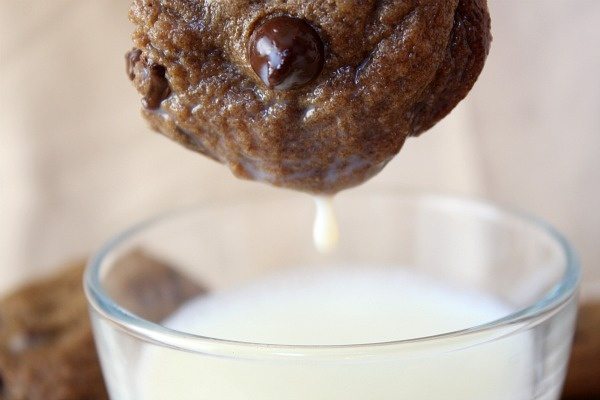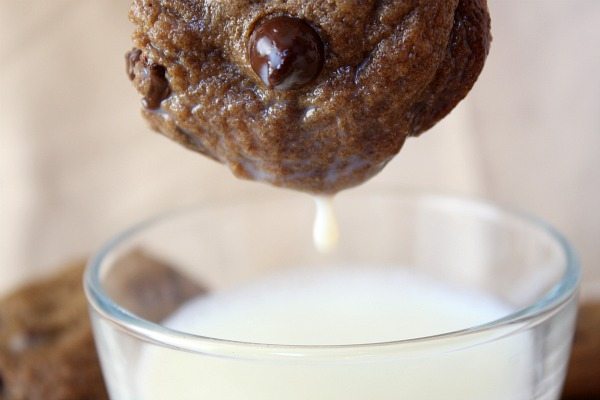 Best Cookies to Dunk in Milk
These chocolate chip cookies have a bit of melted chocolate in the dough, which mixes nicely with the flavors of Kahlua and espresso. The dough is finished off with the addition of a bag of chocolate chips, leaving plenty of room for chocolate chip cookie bites that are chock full of chocolate.  These are the best cookies to dunk in milk!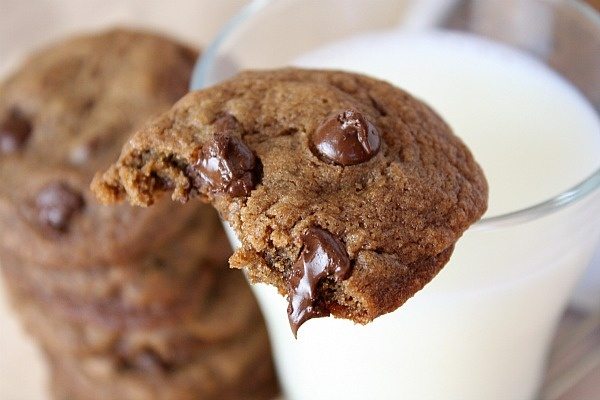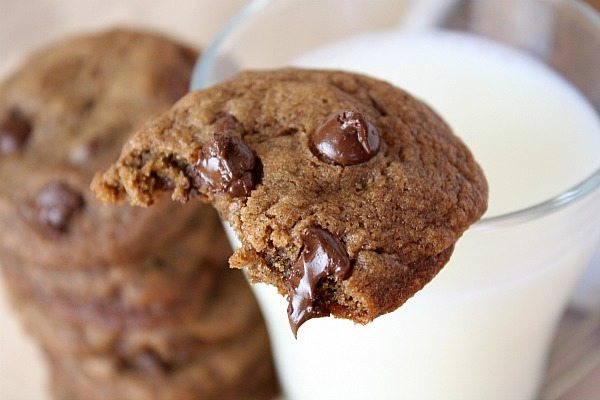 It turns out that Kahlua baked into cookies is a good idea. You can taste it a little bit… it kind of blends in with the espresso to make a coffee-drink flavored sort of chocolate chip cookie. I was tempted to drizzle on a little Kahlua glaze but figured that might be a little too over the top. It's a good thing I left well-enough alone because they are perfect as is.  Those melty chocolate chips kind of put these over the top.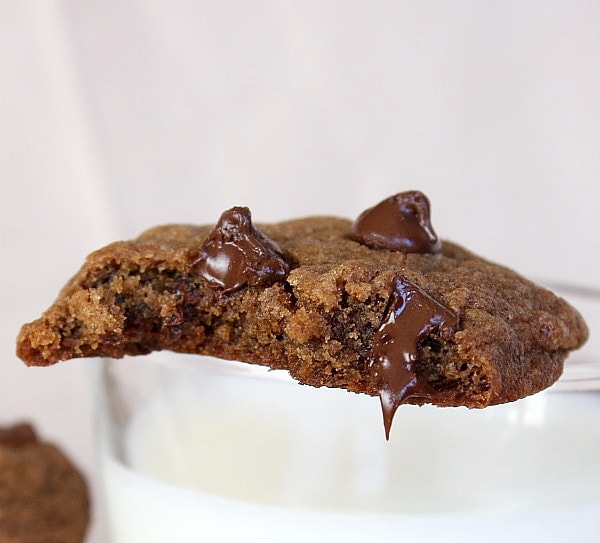 Best Chocolate Chip Cookie Recipes
I think you'll need to try them, don't you?  If you happen to not be into the flavors of espresso and Kahlua, I have plenty of best chocolate chip cookie recipes for you to try.  My Secret Ingredient Chocolate Chip Cookies will have you wondering what makes them so awesome.  New York Times Chocolate Chip Cookies are an old-time classic.  I personally think this one is the best chocolate chip cookie recipe ever.  And my Skillet Chocolate Chip Cookies mean you get to make them in a pan and eat pie-sized pieces!
I'm sure you can imagine that these are wonderful when they're fresh out of the oven... pull apart and bite into those melty chocolate chips. The Kahlua is a nice touch too.
Yield:
About 5 dozen
Prep Time: 25 minutes
Cook Time: 10 minutes
Ingredients:
2 2/3 cups

all-purpose flour

1 teaspoon

baking soda

1 teaspoon

ground cinnamon

1/2 teaspoon

salt

1/2 tablespoon

espresso powder

1 tablespoon

Kahlua

1 cup

 (2 sticks) 

butter

, at room temperature

1 cup

light brown sugar

, packed firmly

1/2 cup

granulated white sugar

2 large

eggs

1 teaspoon

vanilla extract

1/3 cup

semi-sweet chocolate chips

, melted & then cooled a bit

1 (12 ounce) package

semisweet chocolate chips
Directions:
Preheat oven to 375 degrees F. Line cookie sheets with parchment paper or silpat mats.
In a medium bowl, whisk together flour, baking soda, cinnamon and salt; set aside.
In a small dish, dissolve espresso powder in Kahlua; set aside.
In a large bowl, use electric mixer to cream butter and sugars together. Add Kahlua mixture, eggs and vanilla; beat until thoroughly combined. Add cooled, melted chocolate and continue to beat until it's mixed in. Add flour mixture and beat at low speed until all flour is incorporated into the dough, scraping down sides of the bowl as needed. Stir in chocolate chips.
Drop by rounded teaspoonfuls (or use a cookie scoop) 2-inches apart onto prepared cookie sheets. Bake 8 to 10 minutes, or until they are golden brown and no longer look gooey in the middles. Cool completely on wire rack.
SOURCE: RecipeGirl.com