Key Lime Pie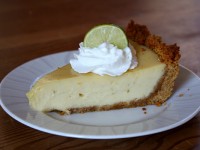 Ingredients:
CRUST:
8 tablespoons salted butter, melted
2 1/4 cups graham cracker crumbs
PIE:
4 egg yolks
1 tablespon finely grated key lime zest
1 cup key lime juice (see Tips below)
Two (14-ounce) cans sweetened condensed milk
whipped cream and thin lime slices, for serving
Directions:
1. Preheat oven to 350 degrees F.
2. Prepare the crust: In a medium bowl, combine butter and crumbs. Press the crust mixture into the bottom and sides of a deep-dish 9-inch pie plate. Bake the crust for 5 minutes. Remove from the oven and let cool while you prepare the filling.
3. Prepare the filling: In a medium bowl, use an electric mixer to beat the egg yolks. Add zest, juice and condensed milk. Blend well, scraping the sides and the bottom, until all of the ingredients are incorporated and smooth.
4. Pour the filling into the crust and bake for 15 minutes. Refrigerate the pie for several hours (or overnight) before serving. It will thicken more as it chills. Serve with whipped cream and lime slices for garnish.