This Kohlrabi and Apple Salad is tossed with a quick and simple, homemade creamy mustard dressing.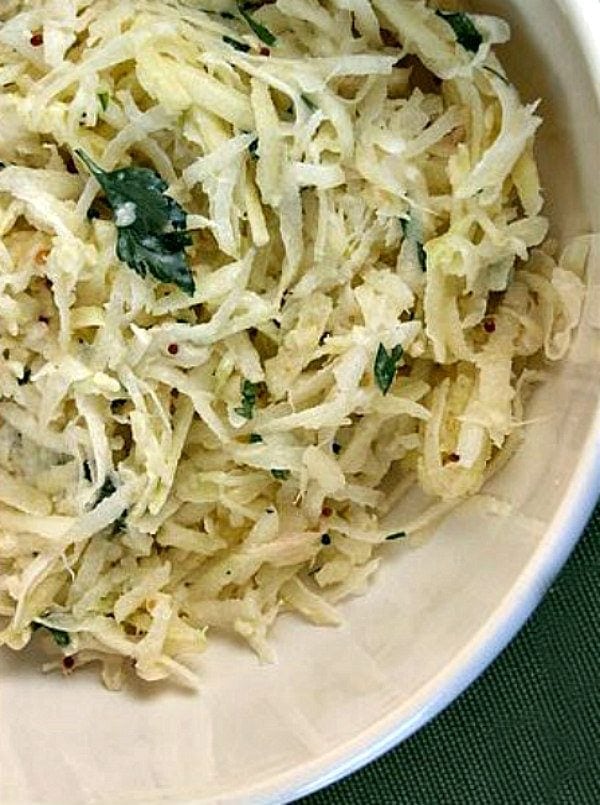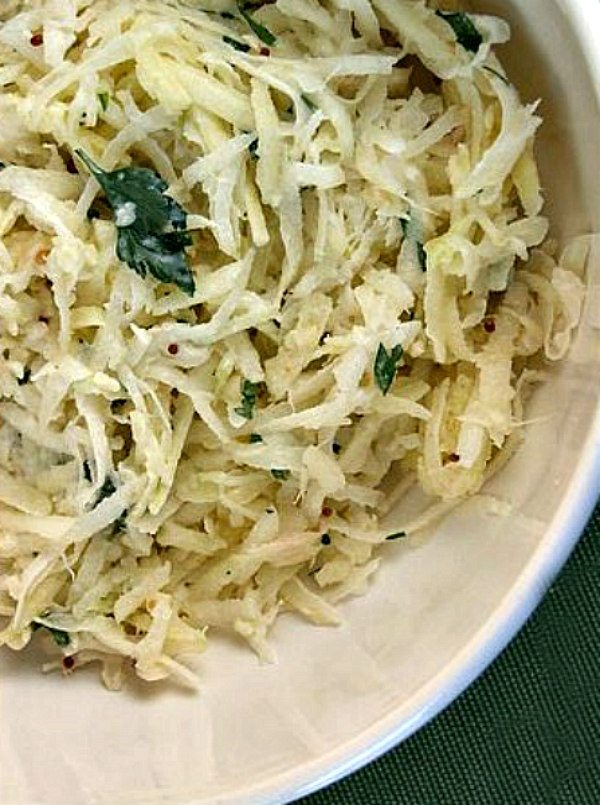 This is a great way to use kohlrabi. Kohlrabi's bitter taste is cut with the sweet apples and a tangy dressing.
Kohlrabi and Apple Salad with Creamy Mustard Dressing
Yield:
8 servings
Prep Time: 20 minutes
Ingredients:

1/2 cup heavy whipping cream
2 tablespoons freshly squeezed lemon juice
1 tablespoon coarse-grained mustard
3 tablespoons finely chopped fresh Italian parsley leaves
1/2 teaspoon granulated white sugar
2 bunches kohlrabi (about 2 pounds), bulbs peeled and shredded- discard leaves
2 large Granny Smith apples, peeled and shredded

Instructions:

Set down two layers of paper towels. Place shredded kohlrabi on top of paper towels. Wrap up and squeeze out moisture. Place squeezed-dry kohlrabi and shredded apple together in a bowl and toss.
In a bowl, whisk cream until it holds soft peaks; whisk in lemon juice, mustard, parsley, sugar, salt and pepper to taste. Pour over shredded mix, and toss to mix well. Serve.

Tips:

Try subbing sour cream or plain yogurt for the heavy whipping cream. You'll get a bit of different flavor, but you'll save on the fat calories.
Add amount of dressing desired, to taste. You may wish to have it very creamy (using it all) or minimally dress it using just a portion of the dressing.
Use box grater or food processor for shredding.
SOURCE:  RecipeGirl.com (adapted from Gourmet)