Lemon Basil Three Bean Salad
You'll enjoy this lighter side salad recipe:  Lemon Basil Three Bean Salad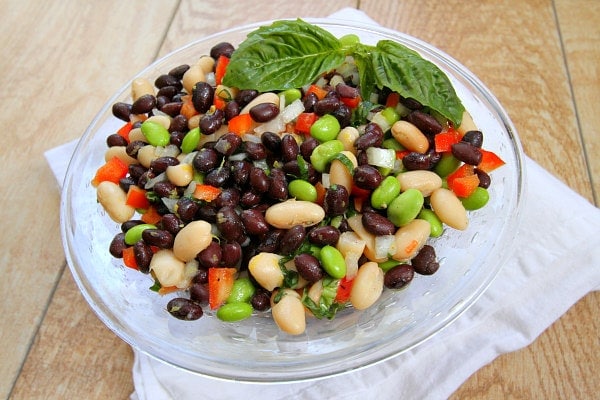 I've just returned from some time in Italy… where I ate loads of well-deserved pizza and pasta.  But my body is done with all of that, and it's begging me to eat a little cleaner for a couple weeks.  This salad is good for that.  Tossed with a light dressing, it's one that will fill you up for sure.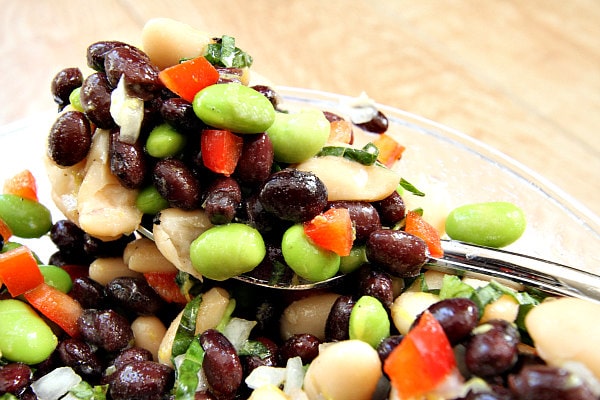 This salad is reminiscent of the three bean salad of yesteryear… which happens to be my favorite bean salad ever.  No sugar in this salad though.  It doesn't need it.
I enjoyed having this as a side to a grilled chicken breast for lunch.  It's definitely not pizza or pasta… but my body is thanking me for it nonetheless.
Lemon Basil Three Bean Salad
Yield:
6 servings
Prep Time: 15 minutes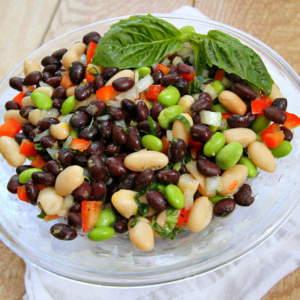 Ingredients:

1 teaspoon grated lemon zest
2 tablespoons freshly squeezed lemon juice
1 tablespoon extra-virgin olive oil
1/2 teaspoon salt
freshly ground black pepper, as much as desired
One 15-ounce can black beans, rinsed and drained
One 15-ounce can white beans, rinsed and drained
2/3 cup cooked shelled edamame
1/3 cup finely chopped sweet white onion
1/3 cup finely chopped red bell pepper
5 large basil leaves, thinly sliced

Instructions:

Whisk together the lemon zest, lemon juice, oil, salt and pepper in a medium bowl.  Add the beans, edamame, onion, bell peppers and basil- toss to coat.  Serve immediately, or cover and refrigerate for up to 2 days.

Nutrition:

Nutritional information per serving (serving size 3/4 cups):  Calories: 160, Fat 3g, Sat Fat 0g, Cholesterol 0mg, Sodium 427mg, Carbohydrates 26g, Fiber 8g, Protein 9g
Weight Watchers Points:  Freestyle SmartPoints: 1, Original SmartPoints: 5, PointsPlus:  4, Old Program:  3
Here are a few more bean salad recipes you might enjoy: