Lemon Chicken Parmesan
This delicious Lemon Chicken Parmesan is easy to make, and it's totally family-friendly.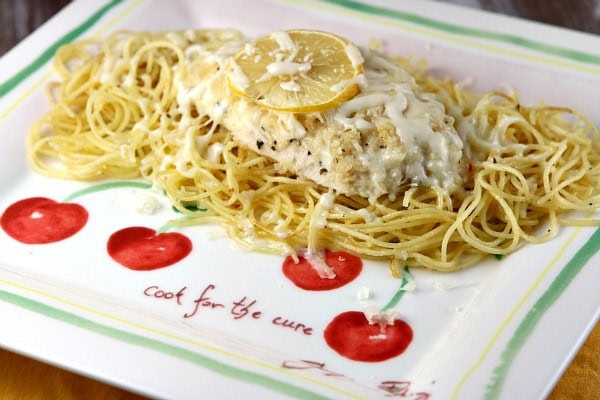 Breast Cancer has found its way into my family and among my friends. People I love have fought it and conquered it. People I love have struggled with ridding their bodies of this awful beast for many years. And along the way, people I love have lost the battle. That being said, I feel that it's important to try and raise money for research so we can work to find a cure for breast cancer… for all cancers.
As you probably are aware, October was Breast Cancer Awareness Month. KitchenAid has been working for the last 10 years to help raise money for breast cancer research through their partnership with Susan G. Komen for the Cure (they've raised more than 9-million to date!).  They're currently working with a community of bloggers to help spread the word through their Cook for the Cure program.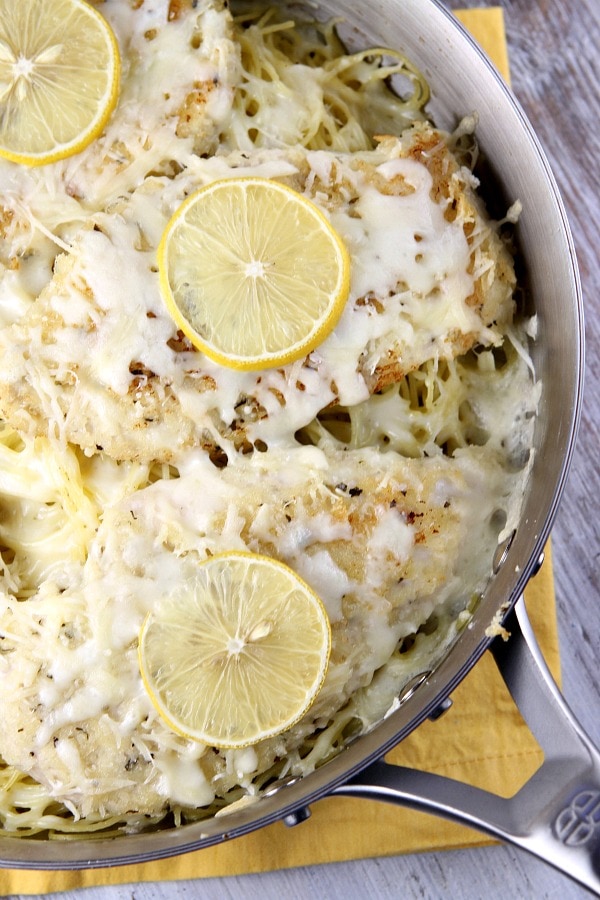 As part of the program, KitchenAid has launched the Pass the Plate Initiative. It starts with a Villeroy and Boch plate custom designed by Jacques Pepin. You buy the plate, register it online, make a dish to serve on the plate and then pass the plate to a friend. Then the friend registers the plate, etc. and passes it on to another friend. Every time someone new registers the plate, KitchenAid donates $5 to Susan G. Komen.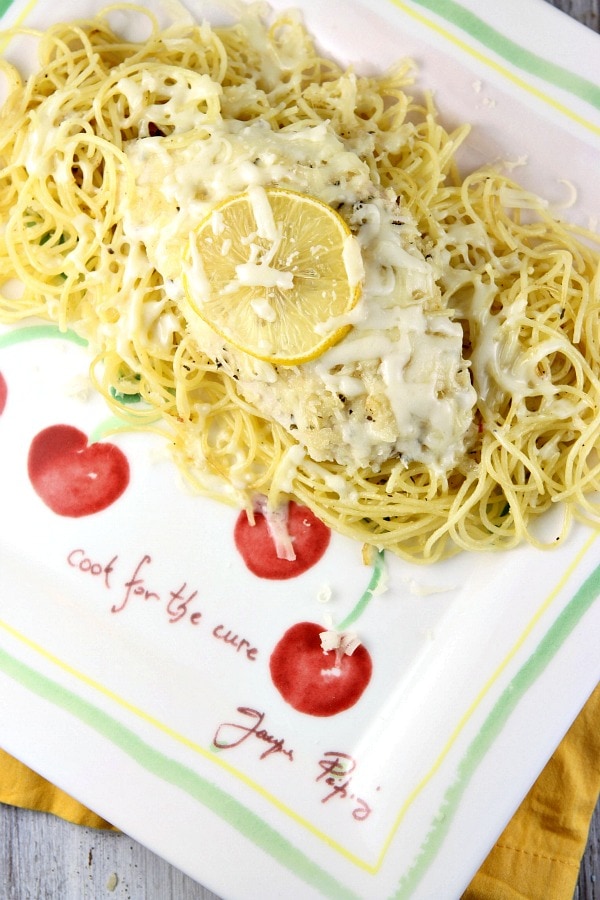 I Cooked for the Cure and created dinner for my family: Lemon Chicken Parmesan, which I served on this plate. The chicken is simply breaded and lightly sauteed. It's served over thin spaghetti noodles that have been tossed with a light and lemony Parmesan- butter sauce. The dish is finished off in the oven with a little bit of melted mozzarella cheese.   My family loved every bite.
I will now register my plate online (earn $5 for breast cancer research) and pass it along to a friend who I will ask to do the same.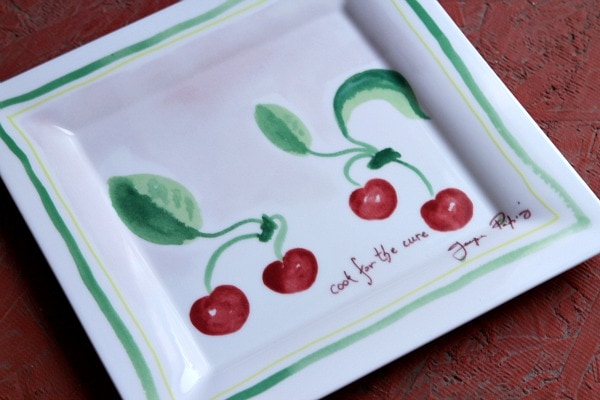 KitchenAid has generously offered to give one RecipeGirl reader a Cook for the Cure plate so that you too can keep the Pass the Plate tradition going.
To enter for your chance to win a KitchenAid Cook for the Cure plate, leave a comment on this post that answers the following question:
**What would you serve on your Cook for the Cure plate?**
One winner will be selected via Random.org and announced on Friday, November 8, 2013. This giveaway closes on Thursday, November 7, 2013 at 11:59pm PST and is open to U.S. participants only. The winner will be contacted via email and will have 48 hours to respond before another winner is chosen.  The randomly selected winner is Vicky Morin.  Thanks to everyone who entered!
Lemon Chicken Parmesan
Yield:
4 servings
Prep Time: 30 min
Cook Time: 30 min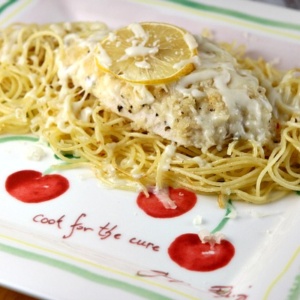 Ingredients:

PASTA:
8 ounces angel hair pasta, cooked and drained
1 tablespoon buter
1 tablespoon finely grated lemon zest
1/4 cup finely grated Parmesan cheese

CHICKEN:
4 thin sliced chicken breasts (4 servings)
1 large egg, beaten
3/4 cup panko bread crumbs
1/4 cup finely grated Parmesan cheese
1 teaspoon dried basil
salt and pepper, generous
2 Tablespoons butter
1/4 cup freshly squeezed lemon juice
1 teaspoon minced garlic

TOP:
thin lemon slices (optional)
3/4 cup grated mozzarella cheese
salt and pepper

Instructions:

1. Prepare the pasta: Mix the cooked pasta with the butter and lemon zest. As soon as the butter is melted and mixed in, stir in the Parmesan and a generous dose of salt and pepper.

2. Preheat the oven to 375 degrees F. Prepare the chicken: Place the egg in a low, wide bowl, and the (mixed) panko/Parmesan, basil/S&P in another low, wide bowl. Heat the butter in a large, oven-safe skillet with the lemon juice and garlic. Dip the chicken in egg, then bread crumb mixture and place in the pan. Cook on both sides until golden brown, about 3 to 4 minutes per side (depending on thickness of chicken). Remove the chicken to a plate.

3. Spoon the mixed pasta into the skillet. Place the cooked chicken breasts on top. Place lemon slices on top, if using, Sprinkle with mozzarella cheese. Sprinkle top with salt and pepper. Bake 15 minutes, or until the chicken is cooked through. Serve chicken on top of the lemon noodles.
Disclosure: I received a Cook for the Cure plate from KitchenAid in conjunction with this giveaway.  I was not compensated for this project.  All opinions shared are my own.