Lobster Bisque
Pretty much my favorite soup in the whole world: Lobster Bisque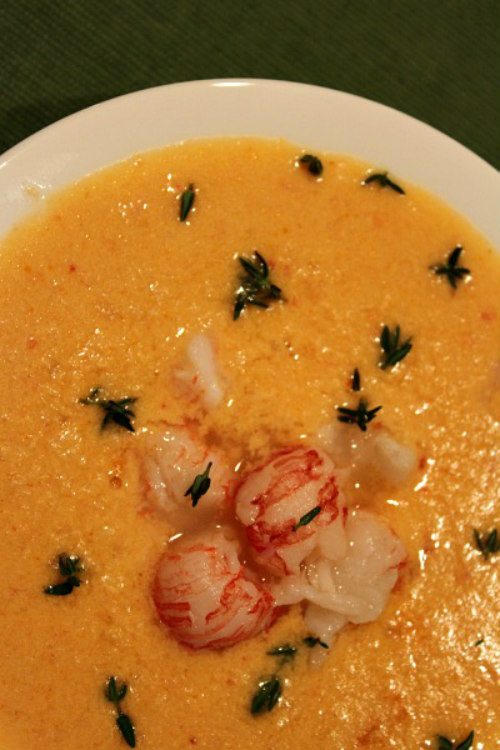 Lobster Bisque
Yield:
6 servings
Prep Time: 20 minutes
Cook Time: 30 minutes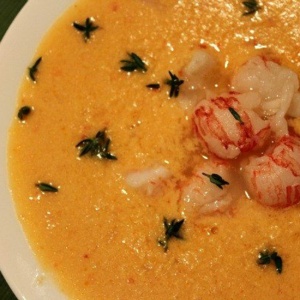 Ingredients:

3 tablespoons salted butter
1/2 cup minced shallots
4 cups low-sodium chicken broth
1 bay leaf
1 teaspoon chopped fresh thyme
3 tablespoons all-purpose flour
2 tablespoons tomato paste
3/4 cup white wine
1 pound cooked lobster meat, chopped
1 1/2 cups half and half cream
1 tablespoon cognac (optional)
additional, larger pieces of lobster meat, for garnish
chopped chives, for garnish (optional)

Instructions:

Melt the butter in large saucepan over low heat, and sauté the shallots until tender.
Meanwhile, bring the broth, bay leaf, and thyme to a boil in another saucepan.
Whisk the flour into the shallot mixture, cook, stirring 1-2 minutes. Stir in the tomato paste; slowly whisk in the boiling broth. Gradually add wine; simmer 10 minutes; stirring occasionally.
Add the lobster meat and soup into a food processor and blend. Return the mixture to the saucepan, stir in half and half, then cognac. Heat through.
Garnish with lobster and serve.
SOURCE: RecipeGirl.com