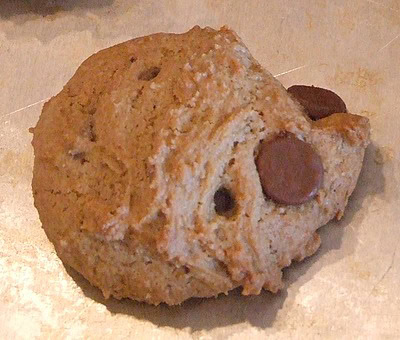 LOW FAT CHEWY CHOCOLATE CHIP COOKIES
www.RecipeGirl.com
1 cup water
4 Tbs finely chopped dried dates
3 Tbs unsalted butter
2 cups all-purpose flour
½ tsp baking soda
½ tsp salt
1¼ cups packed light brown sugar
1 large egg
2 tsp vanilla extract
½ cup semi-sweet chocolate chips
1. Adjust oven rack to middle position and heat preheat oven to 325°F. Line 2 baking sheets with parchment paper.
2. Bring water to boil in a small saucepan over medium-high heat. Add dates and simmer until tender and most of the water has evaporated, about 20 minutes. Using a rubber spatula, press dates through fine-mesh strainer into a medium bowl. Scrape dates remaining in strainer into bowl (you should have ¼ cup puree). Cook butter in small saucepan over medium heat until nutty brown, about 4 minutes. Remove from heat and let cool.
3. Whisk flour, baking soda, and salt in medium bowl. With electric mixer on medium speed, beat melted butter, brown sugar, and date puree in large bowl until blended. Beat in egg and vanilla until combined. Add flour mixture and mix on low until just combined. Reserve 2 Tablespoons chips, and stir remaining chips into batter by hand.
4. To create the craggy tops that are expected in chocolate chip cookies, Cook's Country suggests the following: Roll 2 T. of dough into a ball. Hold the dough ball with the fingertips of both hands and pull it into two equal halves, creating jagged edges. Rotate the cookie halves so that the jagged surfaces are facing up. Press the two halves together at their base so that they form a single ball. Space the balls of dough, jagged side up, 2 inches apart on the prepared baking sheets. You should be able to make about 18 cookies. Press remaining 2 Tbsp. chips evenly over cookies.
5. Bake until edges are light golden brown and centers are soft and puffy, 15 to 18 minutes, rotating baking sheet front to back halfway through baking. Cool cookies completely on baking sheets. Serve.
Servings: 18
Yield: About 18 cookies
Nutrition Facts
Amount Per Serving
Calories 159.87
Calories From Fat (20%) 31.94
Total Fat 3.74g
Saturated Fat 2.15g
Cholesterol 16.84mg
Sodium 110.81mg
Potassium 88.93mg
Carbohydrates 30.36g
Dietary Fiber 0.85g
Sugar 16.38g
Net Carbohydrates 29.52g
Protein 2.06g
WW Points 3.5
Cooking Tips
*Cookies will keep in airtight container at room temperature for up to 3 days.
Recipe Source: Adapted from Cook's Country