Macaroni and Cheese Stuffed Vegetable Boats
A couple of popular recipes on my blog are Macaroni and Cheese- themed: Spinach Macaroni and Cheese… and Macaroni and Cheese with Bacon. They're both rich and wonderful and creamy, but (honestly!) probably not terribly good for you if you eat large portions of it. In our partnership with McCormick for Generation Fresh, RecipeBoy and I have been giving a few of my recipes a Recipe Re-Fresh by taking out a lot of the fat, sugar and sodium and using spices instead to pump up the flavor. Our latest: Macaroni and Cheese Stuffed Vegetable Boats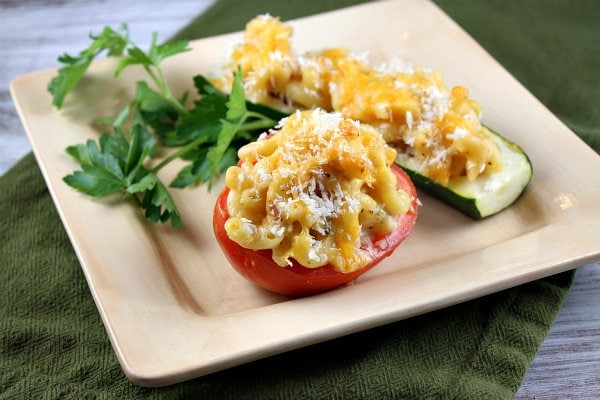 We made a more healthful version of Macaroni and Cheese- using 2% evaporated milk (a little creamier and richer than regular milk) and eliminating butter and cream. We still used regular cheese in the recipe since the low fat cheeses don't tend to melt very well. And finally we added some Italian spices to boost flavor.  Then we scooped them into hollowed out zucchini and plum tomatoes and roasted them in the oven. Here's a short video of me and my 11 year old son RecipeBoy Brooks in the McCormick kitchens in Baltimore… preparing this dish to share with you!
We had so much fun filming together. Let me know what you think of our video!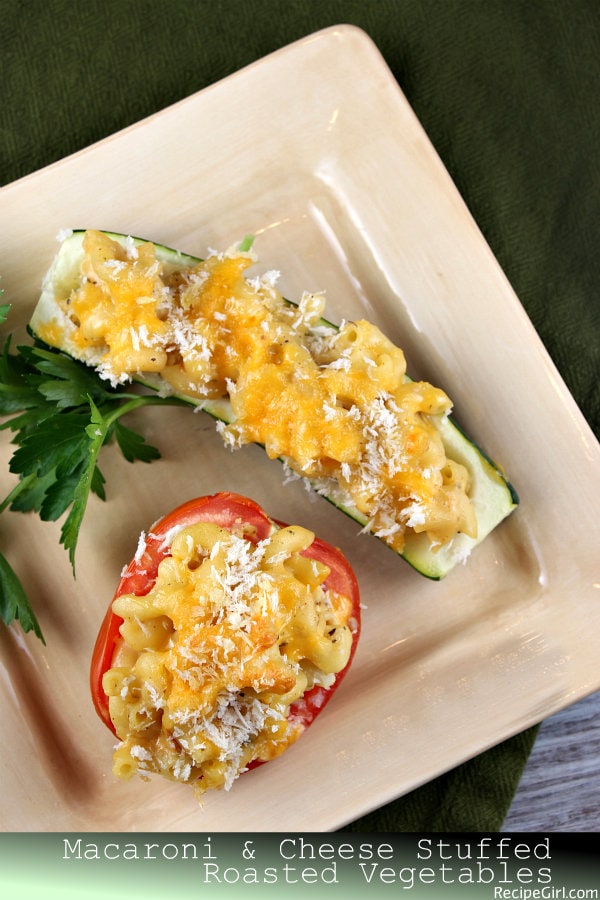 The best thing about this recipe is that it's a WIN for both kids and parents. The kids still get to eat (a more healthful version of) Macaroni and Cheese, and the parents get to sneak some vegetables into dinner. And I love that it's "naturally" portion-controlled, whereas with a normal Mac n' Cheese recipe, you might be tempted to eat a big bowl or two.  Brooks' favorite: the zucchini boats… and my favorite: the tomato boats! We hope you like our recipe!
PIN IT TO WIN IT CONTEST: McCormick is giving away 5 gift packs- each filled with a Le Creuset Dutch Oven, Nested Mixing Bowls, Vegetable Chopper, Utensil Set and McCormick Products. Just repin recipes from the McCormick Spice "Generation Fresh – Pin it to Win It!" board to one of your own Pinterest boards and include the hash tag #GenFresh in the description of the pin for a chance to win. Contest runs through October 31st.

This recipe is a win-win for both kids and parents... the kids are going to get that creamy macaroni and cheese that they love so much, and the parents get the benefit of sneaking a few veggies into dinner.
Yield:
4 servings (2 boats each)
Prep Time: 20 min
Cook Time: 45 min
Ingredients:
1 cup Kitchen Basics® Unsalted Chicken or Vegetable Stock (or broth)
1 1/2 cups tiny uncooked shell pasta (or other small pasta)
4 large Italian plum tomatoes, cut in half lengthwise (or 4 medium zucchini... or mixture of both)
1 cup lowfat 2% canned evaporated milk
1 teaspoon spicy brown mustard
1 tablespoon all-purpose flour
1/2 teaspoon McCormick® basil
1/2 teaspoon McCormick® oregano
1/8 teaspoon McCormick® ground black pepper
1 1/2 cups finely shredded sharp cheddar cheese, divided
1/4 cup panko breadcrumbs
Directions:
1. Preheat the oven to 350 degrees F. Spray a rimmed baking sheet or pan with nonstick spray.
2. Fill a medium saucepan 3/4-full of water. Add the chicken stock/broth. Bring to a boil over medium-high heat. Add the pasta and cook, stirring once in a while, for 8 to 10 minutes, or until the pasta is tender. Drain and rinse the pasta- set it aside and clean out the pan.
3. While the pasta is cooking, use a small spoon to scrape out the insides of each tomato or zucchini half. Don't scrape the vegetable all the way to the skin- just enough to make a deep pocket where you'll be able to put the macaroni stuffing. Place the vegetables skin-side-down in the prepared pan.
4. Warm the milk in the saucepan over medium heat. Whisk in the mustard. Then whisk in the flour, pepper, basil and oregano. Cook and stir for 1 minute, until thickened. Add 1 cup of the cheese and whisk until smooth. Stir in the cooked pasta.
5. Divide the pasta between the hollowed out vegetables, mounding as needed. Top off the mac with the remaining 1/2 cup of cheese. Sprinkle with panko. Bake, uncovered, for 30 minutes.
Nutrition:
Nutritional Information per serving- for the Macaroni and Cheese only:
Serving size: 2 vegetable boats
Calories per serving: 387
Fat per serving: 15g
Sodium per serving: ,span class="sodium">395g
Fiber per serving: 2g
Protein per serving: 20g
Cholesterol per serving: 48mg
Carbohydrates per serving: 43g
WW POINTS per serving:
Points Plus Program: 10 Old Points Program: 9
Disclosure:  I'm working with McCormick Sept/Oct. 2012 to create recipes and represent Generation Fresh.