Maple Walnut Spice Cookies
These Maple Walnut Spice Cookies are such a delicious, lighter cookie recipe.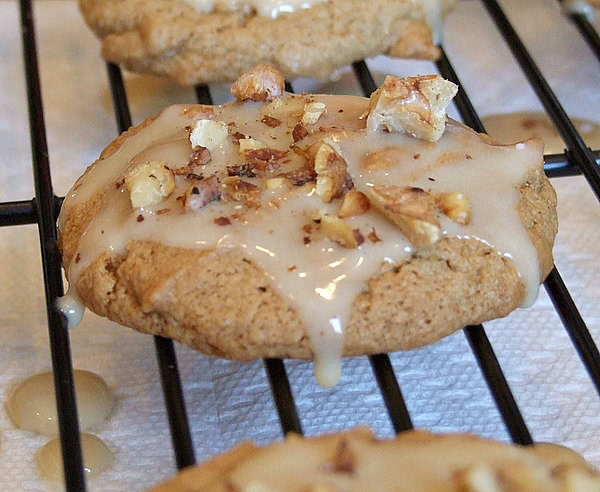 Many flavors evoke the sense of the arrival of fall, but maple is the flavor that most does it for me. At this time of year, I long to visit a region where maple is abundant… where maple farmers are tapping maple trees for sap in order to make fresh maple syrup.
Instead, I must settle for my mail order maple sugar, Trader's Joe's highest grade maple syrup and the occasional home-baked maple treat.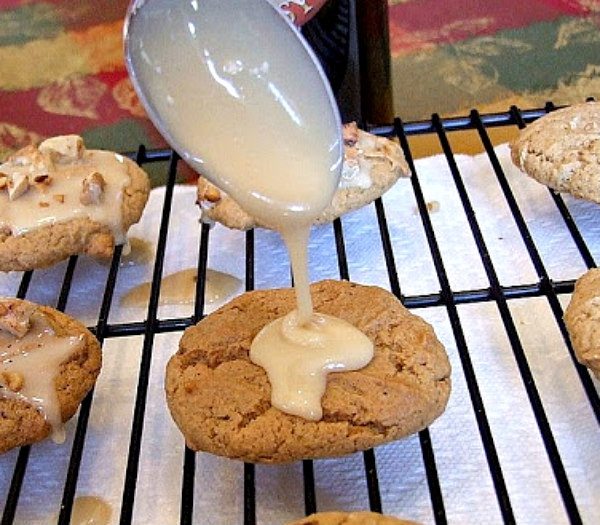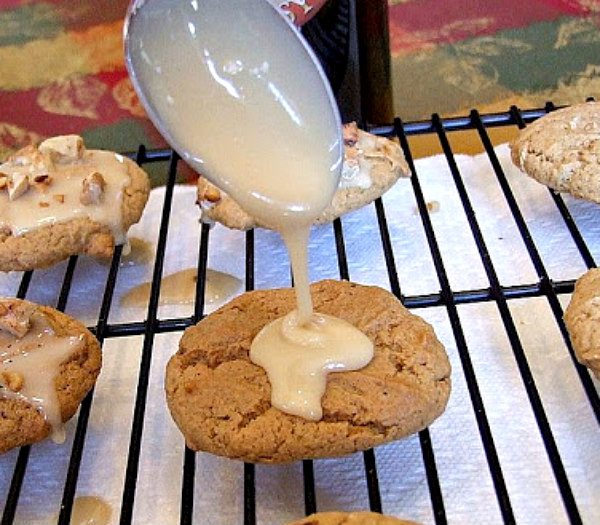 I think these soft, little cookies are spicy and flavorful enough to eat on their own, but a thin layer of glaze drizzled on top adds even more maple flavor and acts as a sweet addition.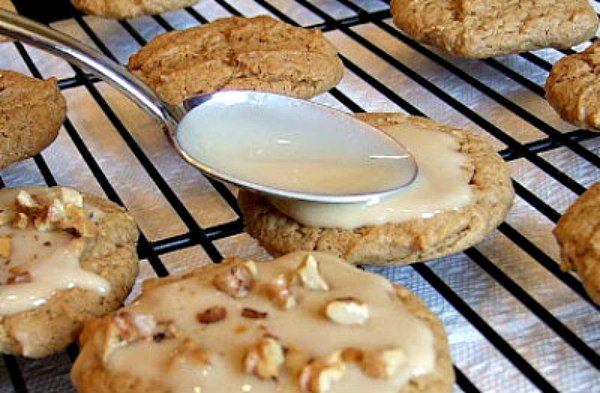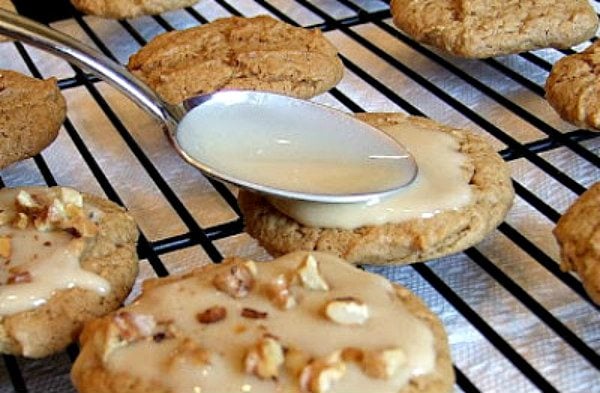 The glaze spreads on fairly thin, and some even drips over the sides a bit, but it dries up quickly and sets enough that you could store them in between layers of waxed paper if you wish. Just place paper towels or waxed paper underneath a rack and drizzle the glaze without worry of messing up your table or counter. Simply throw away the mess when you're finished glazing.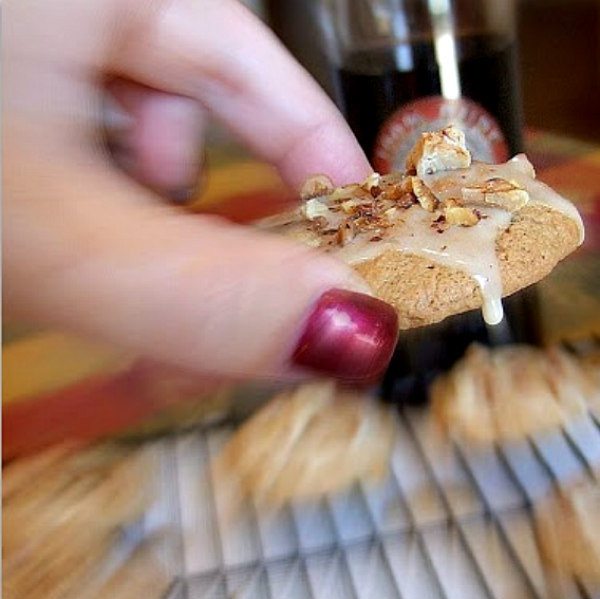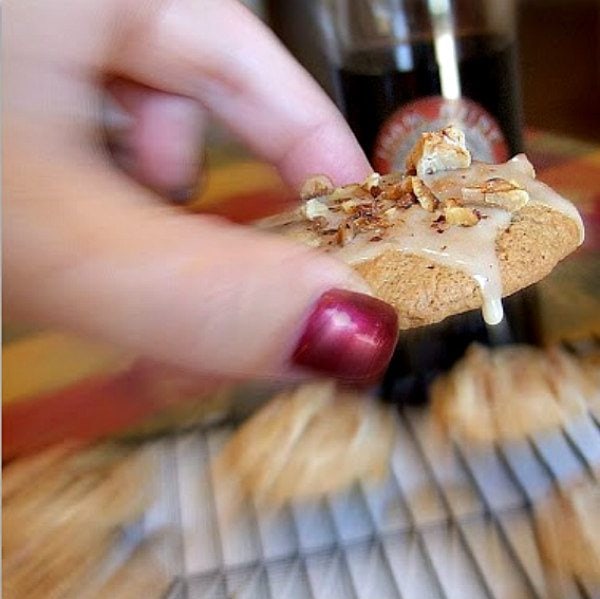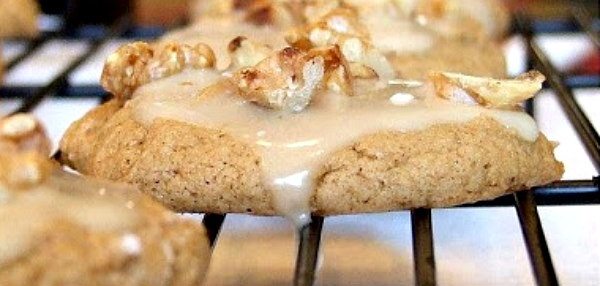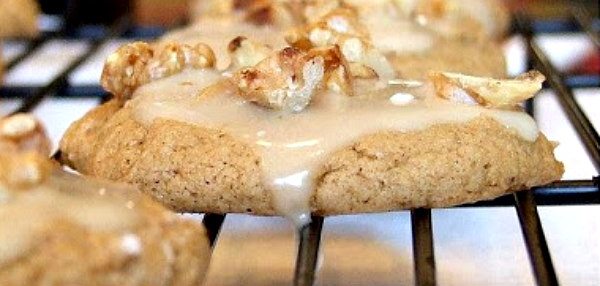 A sprinkle of walnuts, lightly toasted of course, are an appropriate way to top this cookie. If you don't care for walnuts, pecans would be a nice replacement. And if you're not into nuts at all, the maple glaze is delicious enough to hold its own without a topping.
Use pure maple syrup if you can find it. Though expensive, it really makes a difference flavor-wise. Look for Grade B syrup (a darker variety with a more robust flavor) to use for cooking and baking.
*An added bonus- these cookies are only 82 calories. So plan to eat a few… practically guilt free!
Maple Walnut Spice Cookies
Yield:
30 cookies
Prep Time: 30 minutes
Cook Time: 14 minutes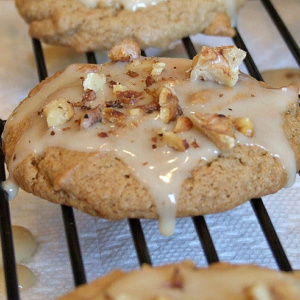 Ingredients:

COOKIES:

1 1/2 cups all-purpose flour
1/2 teaspoon baking soda
1/2 teaspoon ground ginger
1/2 teaspoon ground cinnamon
1/4 teaspoon salt
1/8 teaspoon ground nutmeg
1/8 teaspoon ground cloves
3/4 cup packed dark brown sugar
1/4 cup (1/2 stick) salted butter, softened
2 tablespoons maple syrup
1 large egg

GLAZE:

1 cup powdered sugar
2 tablespoons maple syrup
1/2 teaspoon nonfat milk (or more if you'd like it thinner)
2 teaspoons salted butter, softened

TOPPING:

1/2 cup finely chopped walnuts, toasted

Instructions:

Preheat oven to 350°F.
Prepare the cookies: In a medium bowl, whisk together the flour and next 6 ingredients (through cloves) in a medium bowl.
Use an electric mixer to combine the brown sugar and 1/4 cup butter in a large bowl; beat at high speed until light and fluffy (about 4 minutes). Add 2 tablespoons syrup and egg; beat until well blended. Beating at low speed, gradually add flour mixture; beat just until combined.
Spoon batter evenly into 30 mounds (about 1 tablespoon) 2 inches apart on baking sheets lined with parchment paper or a silpat mat (or lightly grease baking sheets). Bake for 14 minutes or until lightly browned. Cool on pans 5 minutes. Remove from pans; cool completely on wire racks.
Prepare the frosting: Combine powdered sugar, 2 tablespoons syrup, milk, and 2 teaspoons butter, stirring with a whisk until smooth. Add 1/2 tablespoon more milk if a thinner consistency is desired. Spread frosting evenly over cooled cookies. Working quickly, sprinkle cookies with nuts.

Nutrition:

Nutritional Information per serving (Serving size:

1 cookie) 

Calories:

82, 

Fat:

3.3g, 

Saturated Fat:

1.32g, 

Sugar:

7.06g, 

Sodium: 46g, Fiber:

.33g, 

Protein:

1.18g, 

Cholesterol:

11.8mg, 

Carbohydrates:

12.35g

Weight Watchers POINTS per cookie: Freestyle SmartPoints: 4 (3 points if you just eat the cookie with no glaze or walnuts), Points Plus Program: 2, Old Points Program: 2
Here are a few more Weight Watchers cookie recipes you might enjoy: