I tend to overcommit myself. I volunteer for too many things, and when the opportunity comes around to put my amateur baking skills to good use… I volunteer for that too. This was one of those weeks… I overcommitted, and I ended up having to flake-out on a couple of things in order to save my sanity. With Valentine's Day looming ahead, I had promised a few sweet treats for which I was able to deliver:
1. Those chocolate dipped brownies in my last post were brought to a luncheon at the school for the teachers. I also had planned to make Martha Stewart's Creamy Fudge Hearts, and though I've made many a fudge recipe with success, the fudge turned out to be hard as a rock. Plan B: I brought these instead: White Cupcakes with Pink Buttercream Icing.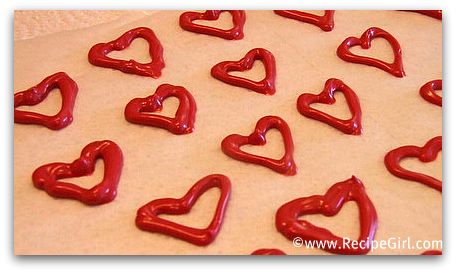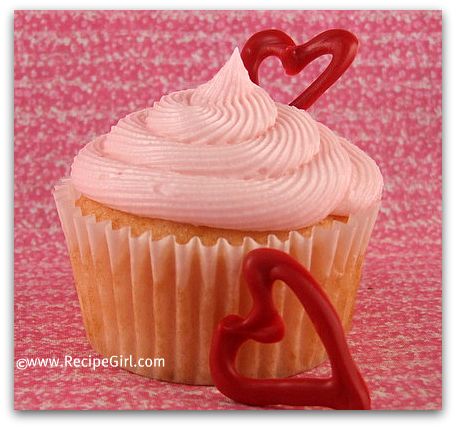 I melted red-colored APeels (chocolate) and drew little hearts on waxed paper- to use as decor for my simple cupcakes. They were quite delicious (or so I heard… since I can't sample anything due to this!)
My son asked if I would make something special for his classmates- something he could include with his valentines. I decided on a heart-shaped chocolate mold. I melted various colors and created chocolate pops with different color combos.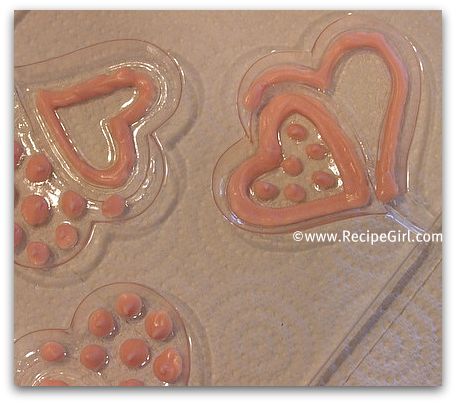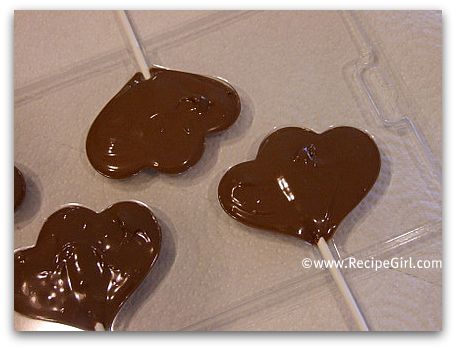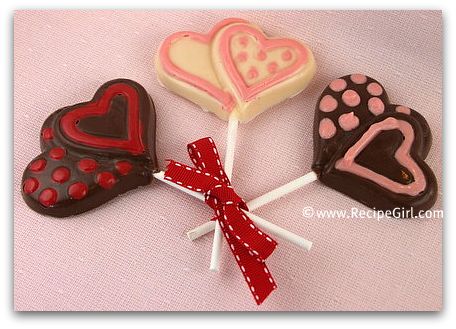 Finally, I volunteered to make some cookies for the classroom Valentine party. I agonized over what kind to make… heart shaped sugar cookies… plain old chocolate chip… and then it came to me. I decided on heart-shaped chocolate chip cookies dunked in chocolate. Since kids can't differentiate one chocolate chip cookie from another, I went with the good 'ol Toll House recipe. Double the batch, and spread the cookie dough into a greased half-sheet pan (baked at 375 degrees F. for about 20 minutes). While still warm, cut into the baked dough with a heart cookie cutter- about 2 1/2 inches (just make the cuts- don't pull the cookies out yet).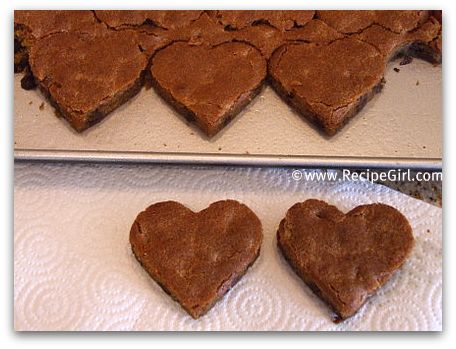 Let the big batch of heart-imprinted cookies set for a while- then place the pan in the refrigerator to speed up the cooling. When cool, they're easy to break apart. Save the hearts (I got 24) and place all of the extra scraps & crumbles aside for nibbling (as well as topping ice cream!) If you plan to dip them in chocolate, place all of the heart shaped cookies in the freezer until they're nice and firm.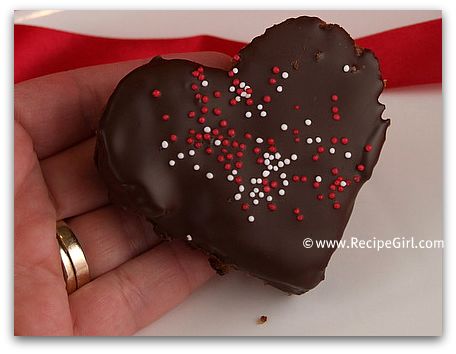 Melt desired chocolate for dipping. I used bittersweet chocolate chips w/ a dollop of shortening (makes it smooth and thin for dipping). Grab the bottom of the cookie and dunk the top into the chocolate. Flip over onto a rack and let sit until chocolate dries completely.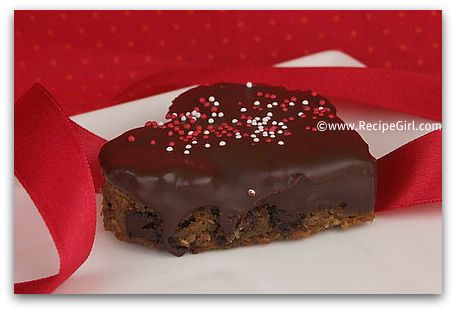 And there they are!
I'm exhausted from putting these all together, and I don't wish to see any more cutesie heart-shaped things for a really long while to come. The kid is happy though, and that's all that matters 🙂
Happy Valentine's Day!
P.S.  No nibbling was had in the making of any of the aforementioned treats!