Quiche makes an easy, delightful dinner if you're home alone and you don't have to feed a meat-and-potatoes-loving husband and kids who scoff at anything out of the ordinary. I pair it with a little green salad and a chilly glass of pinot grigio. I"m happy, I'm full, and I'm not feeling like I slaved all day in the kitchen to prepare dinner.
Quiche is also one of those wonderful dishes that Moms seem to enjoy, which is why we serve it up for brunch on Mother's Day. Here's one I made for dinner this week (that would also be a good choice for Mom this Sunday): Swiss and Cheddar Quiche with Bacon.
I was lazy this week… I used refrigerated pie crust. Surely you can use any pie crust you'd like.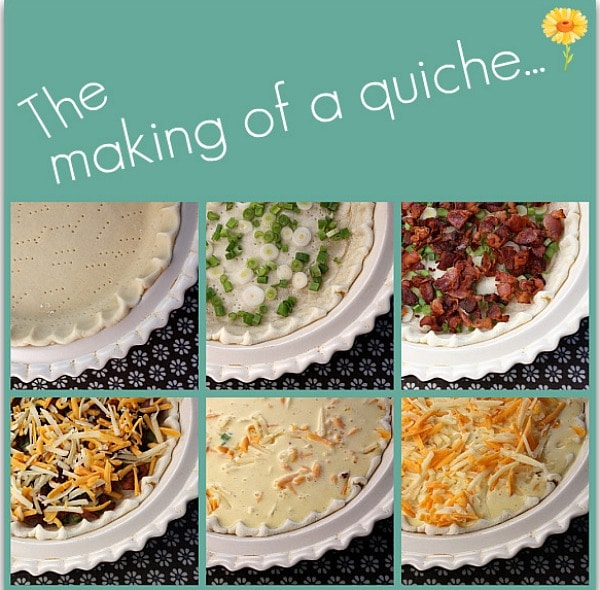 The crust is baked for just a few minutes, then topped with…
green onions
bacon
cheese
eggs, whipping cream, salt, red & white peppers, & nutmeg
more cheese
… and then it's baked again until the egg is set.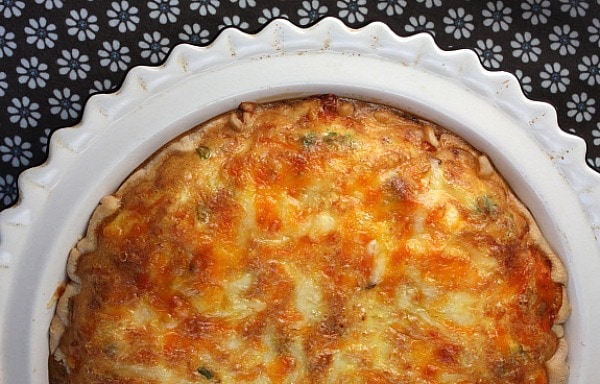 I used Swiss and extra-sharp cheddar for my cheeses.  The extra-sharp part is important… it really adds a deep flavor to the quiche.  And if you can locate Applewood- Smoked Bacon, that's the other key for making this quiche extra-special.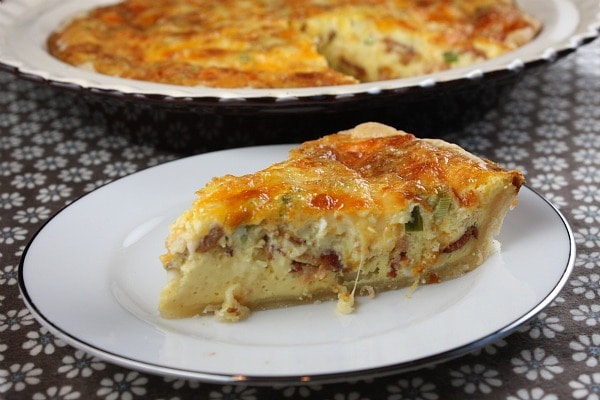 No one ate this quiche but me.  I happily ate a slice of it for dinner each night this week.. with my little green salad and my glass of wine.  It was simple to make, delicious, and filling.  I'd recommend it for Mom.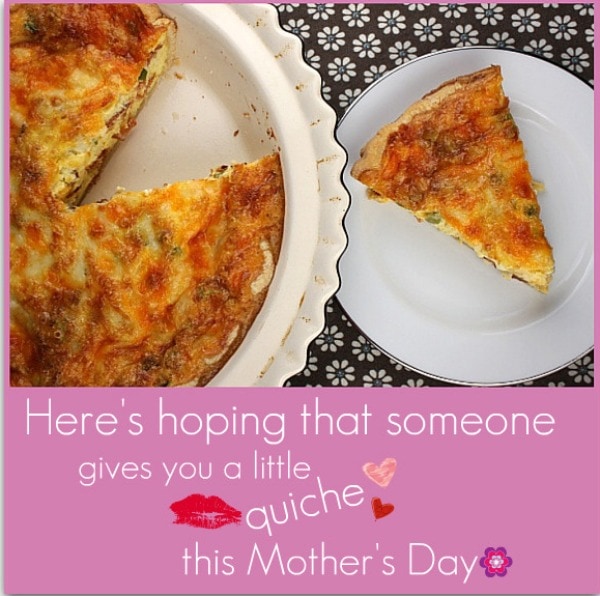 This recipe can be found here:  Swiss & Cheddar Quiche with Bacon
A few more quiche recipes you may be interested in:
Mushroom & Goat Cheese Quiche
Lobster Quiche
Garden Vegetable Quiche
Crustless Spinach & Cheese Quiche
Brie & Canadian Bacon Quiche
Asparagus Quiche
Blue Cheese & Walnut Quiche