Yield: 12 mummies
Prep Time: 40 min + setting time
Cook Time: 6 min
Mummy Heads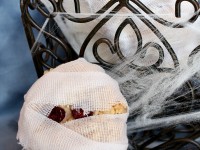 Ingredients:
4 cups mini marshmallows
1/4 cup unsalted butter
1/4 teaspoon ground cinnamon
6 cups Rice Krispies
nonstick cooking spray
waxed paper
24 dried cranberries
2 Tablespoons powdered sugar mixed with a little bit of water (to make a glue)
12 strips of gauze, each about 15-inches long (15 feet total)
Directions:
1. In a large pot, melt marshmallows and butter. Stir until smooth. Remove from heat and add cinnamon and cereal. Stir until completely blended.
2. Lay out a piece of waxed paper on the counter. Spray clean hands with cooking spray. Shape cereal mixture into 12 oval shapes. (Re-spray hands while working with cereal mixture, as needed). Place shapes on waxed paper.
3. Use sugar-glue to attach eyes to each oval. Spoon a little sugar glue onto where you'd like the eyes to be, then place two cranberries on top of the 'glue.' Let set for about an hour.
4. Wrap the mummies. Starting at one end of the gauze, wrap around the mummy head to cover it entirely, leaving peek hole for eyes (as shown in the picture above). Use a small piece of tape to fasten, or press the other end of the gauze gently into the head to stick. Store in an airtight container until ready to serve.
Source: RecipeGirl.com (Adapted from Pillsbury Halloween Crafts)