Mushroom Grilled Cheese with Balsamic Caramelized Onions (giveaway)
We love grilled cheese in our house. I mean, we REALLY LOVE GRILLED CHEESE. We eat it often, and sometimes we try to jazz things up. Here's my gourmet recipe for grilled cheese: Mushroom Grilled Cheese with Balsamic- Caramelized Onions. I made it in honor of the Great Midwest "I Love Grilled Cheese" recipe contest! (for details, read on!) And they're giving one lucky RecipeGirl reader a whole bunch of cheese too. Giveaway details below!
I like ordinary grilled cheese, but this is no ordinary grilled cheese. This one incorporates caramelized onions flavored with balsamic vinegar and mushrooms that have been sauteed in white wine. The cheese: Great Midwest Morel & Leek Jack Cheese. And the bread is brushed and toasted with a Parmesan-Rosemary Butter. Yeah, I went all out for this one.
There's the butter. A couple of spoonfuls of shredded Parmesan and freshly chopped rosemary added in too. This was a very good idea. It turns ordinary bread into something special.
Step one: spread that delicious butter on one side of the bread and place it butter-side-down into a skillet.
Great Midwest Cheeses has this delicious flavor available (and a zillion other flavors too). If you're a mushroom lover, you're going to love this one for sure. This is what I used in this sandwich, and it had great melting ability for grilled cheese! Note: Great Midwest cheeses are available at retailers across the USA and they are at Sam's Club too.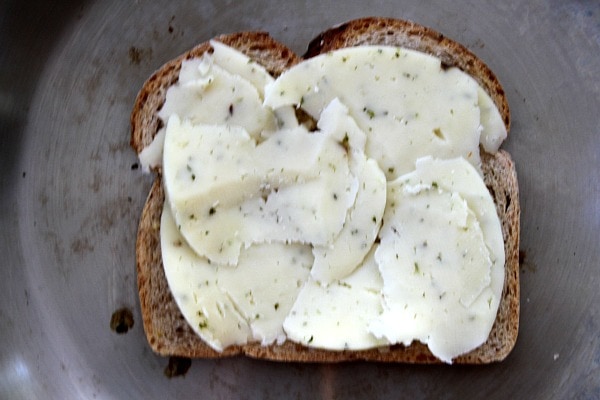 Step 2: Add a generous layer of cheese.
Step 3: Add the balsamic caramelized onions (I explain how to make them in the recipe below, but you're basically going to slow saute sliced onions in a little oil for about 30 minutes, then swoosh in some balsamic vinegar for even more flavor. You'll want to eat them with a spoon (be strong).
Step 4: Add your sauteed mushrooms (again, explained in the recipe below. These are simply sauteed with oil, salt, pepper and a swoosh of white wine).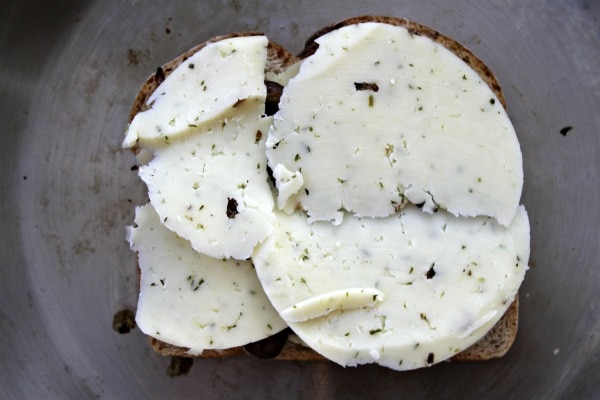 Step 5: Add another generous layer of cheese. Why two layers of cheese? You want the cheese to act as the glue on both sides to hold the goodies together. Plus, you can't really use too much cheese in grilled cheese, can you??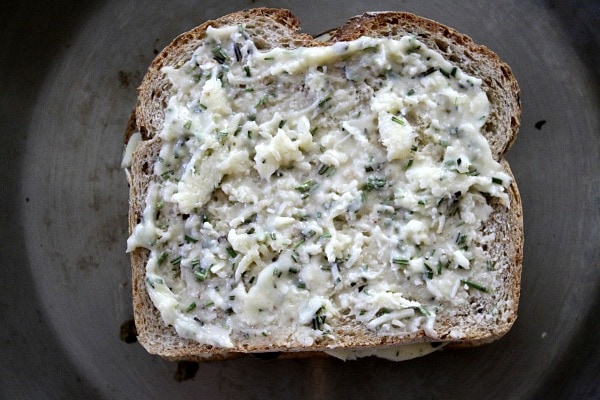 Step 6: Slather another slice of bread with that good butter and place it butter-side-up.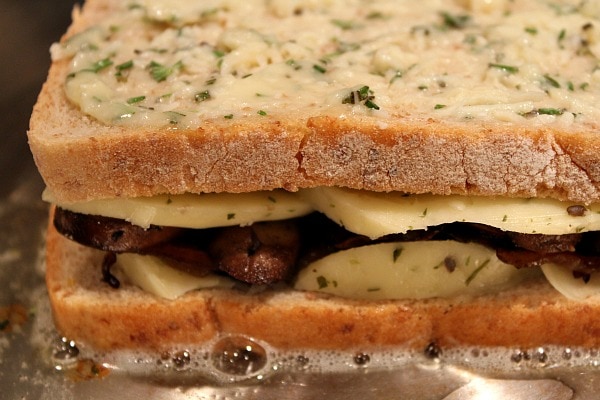 Let the sandwich sizzle away. It's best if you do this one in a nonstick skillet since you don't want the cheese to stick to the pan. I used a stainless steel skillet and it was a little tricky, but it all worked out in the end. A lid placed on top helps the cheese melt.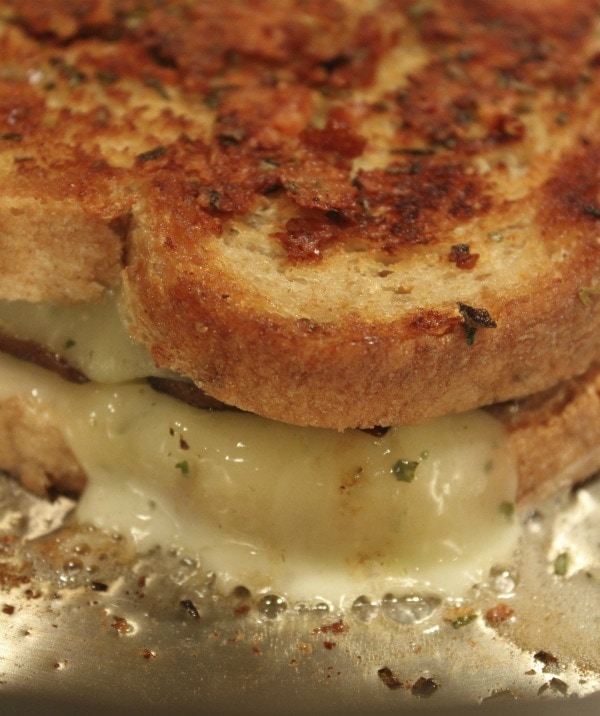 Flip it and watch that fabulous melty cheese do its thing!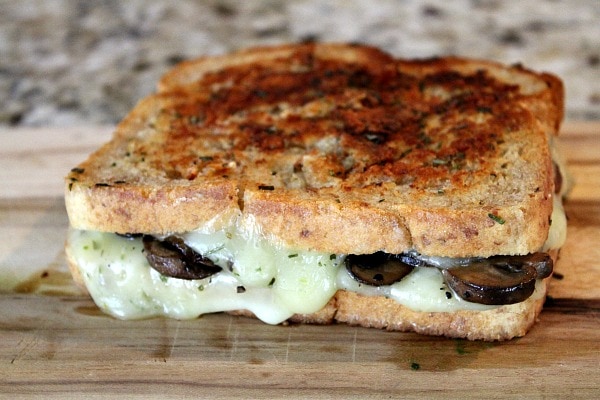 When it's all nice and toasty on both sides, move it to a cutting board, let it rest for a couple of minutes, then slice in half.
Serve it up!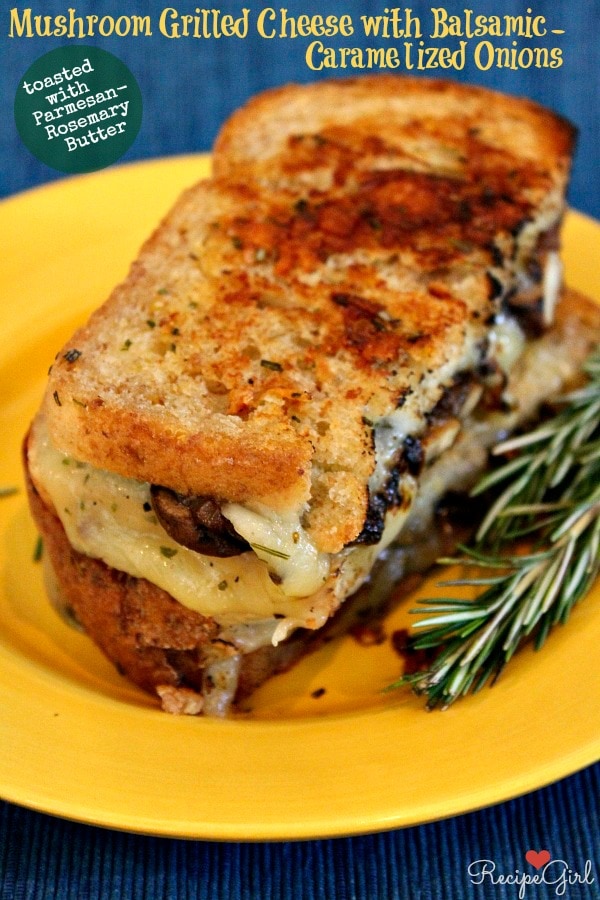 My husband got this for lunch over the weekend, and here's how our conversation went:
Me: do you like it?
H: Mmmm Hmmm
Me: Is there anything you would change?
H: No
Me: I need some more feedback, please.
H: It's SO good. If I were at a restaurant, I'd go back and order this again.
Me: My job is done then 🙂
Mushroom Grilled Cheese with Balsamic Caramelized Onions
This might be the best grilled cheese you've ever had!
Recipe Details
BALSAMIC CARAMELIZED ONIONS
1

tablespoon

olive oil

1

medium

onion,

sliced thinly

1

pinch

kosher salt

2

tablespoons

balsamic vinegar
BUTTER
¼

cup (½ stick)

salted butter,

softened

2

tablespoons

grated Parmesan cheese

2

teaspoons

chopped fresh rosemary
Prepare the onions: Heat a nonstick skillet to medium; add oil, onions and salt. Sauté the onions over medium to medium-low heat for about 30 minutes, stirring often, until the onions become soft and browned. Add the vinegar and swirl into the onions. Sauté until the liquid is absorbed/evaporated. Let cool.

Prepare the mushrooms: Heat a nonstick skillet to medium; add oil, mushrooms, salt and pepper. Sauté the mushrooms over medium heat for about 10 minutes, stirring often, until they are softened. Add the wine and sauté until the liquid is absorbed/evaporated. Let cool.

Prepare the butter: Mix butter ingredients in a small dish.

Assemble and grill the sandwich: (These are instructions for one sandwich, then repeat to make another): Spread butter on 2 slices of bread. Place the bread, butter-side-down, on a nonstick skillet. Top with a layer of cheese, then ½ of the onions, then ½ of the mushrooms. Add a second layer of cheese on top of the mushrooms. Add the 2nd slice of bread, butter-side-up, and set the pan over medium heat. Place a lid on top. Watch it closely. You want it just toasted and cheese beginning to melt before you flip it. Use a spatula to peek underneath, and adjust heat as needed. Flip and toast the other side. When properly toasted on both sides, remove to a plate, slice and eat. Repeat to make a second sandwich.
Serving:
1
sandwich
,
Calories:
808
kcal
,
Carbohydrates:
40
g
,
Protein:
26
g
,
Fat:
60
g
,
Saturated Fat:
29
g
,
Polyunsaturated Fat:
4
g
,
Monounsaturated Fat:
22
g
,
Trans Fat:
1
g
,
Cholesterol:
118
mg
,
Sodium:
1206
mg
,
Potassium:
626
mg
,
Fiber:
4
g
,
Sugar:
11
g
,
Vitamin A:
1225
IU
,
Vitamin C:
7
mg
,
Calcium:
569
mg
,
Iron:
3
mg
Great Midwest "I Love Grilled Cheese" recipe contest details! >You have a chance to win one of eight prizes including a vacation, Panini presses and cookbooks. They're asking home chefs to contribute their very best, most creative grilled cheese sandwich recipe using one or more of Great Midwest's cheeses. They make a ton of different flavors. I sampled all 12 of them! Check out this link for Where To Buy Midwest Cheeses near you.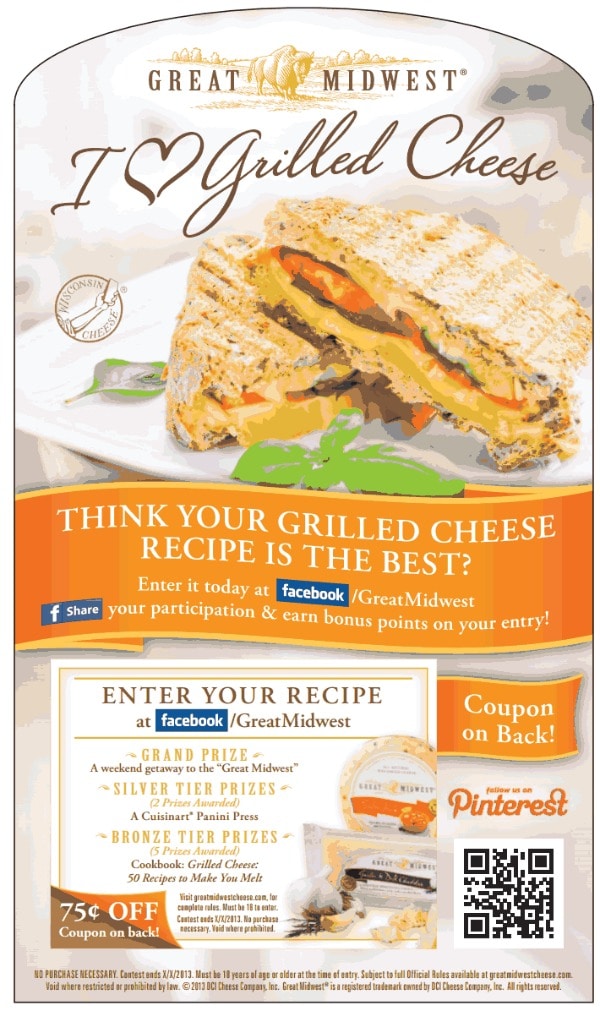 Key judging areas are #1 the use of Great Midwest cheeses, #2 taste and #3 creativity/originality of the recipe (creativity is a big component in the scores so really off-the-wall ideas are invited!) Anyone who posts anything on the Great Midwest Facebook page – whether it be a photo of your sandwich, your recipe, you in the kitchen cooking, etc. – will get bonus points on their contest entry. Enter the contest here > I Love Grilled Cheese Recipe Contest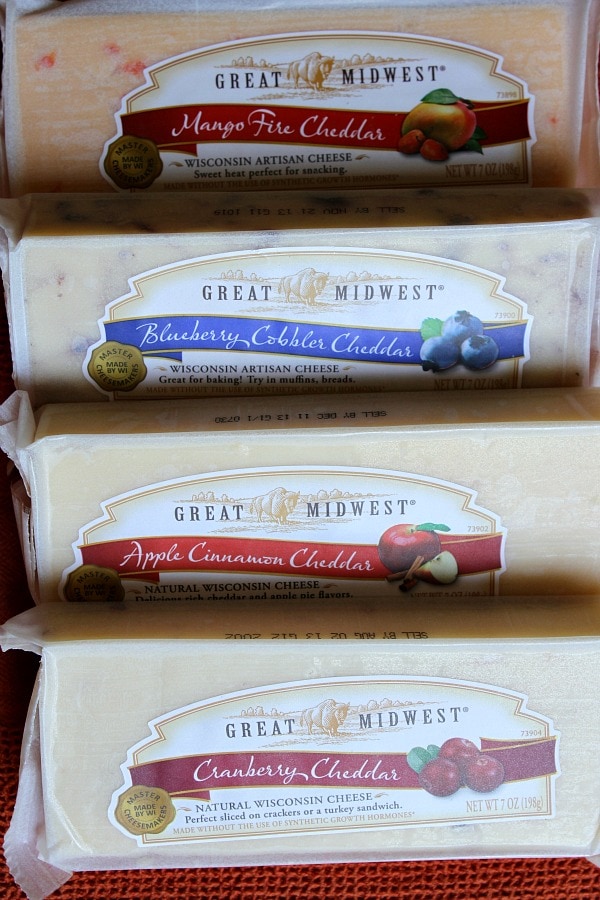 They even have fruit-infused flavors! I'm thinking you could come up with some really interesting grilled cheese with one of these! All of their cheeses are perfect for grilled cheese – they're great melters – but they're also incredibly versatile. Hot casseroles, mac & cheese, cubed for snacking, shredded over salads, added to omelets…the possibilities are endless.
AND NOW FOR THE GIVEAWAY! All of these cheeses- 12 varieties!!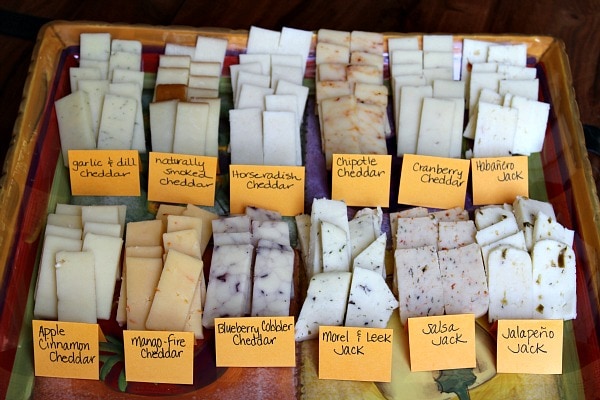 Like I mentioned before, I sampled ALL of these flavors. My top 3 favorite are the Morel & Leek Jack, Horseradish Cheddar, and Naturally Smoked Cheddar. There are certainly enough unique options to satisfy everyone – flavors range from sweet, to savory, to spicy. Some of them are REALLY spicy, indeed!
GIVEAWAY DETAILS:
One RecipeGirl reader will win all of of these Great Midwest Cheeses (ALL 12 varieties)
Rules: PLEASE USE THE WIDGET BELOW TO ENTER TO WIN (YOU HAVE MULTIPLE CHANCES TO ENTER):
Open to those with a USA mailing address only.
Contest ends Monday, August 12, 2013 at the end of the day.
Winner will be chosen by Random.Org
GREAT MIDWEST CHEESES GIVEAWAY
Disclosure: I'm working with Great Midwest Cheeses to help promote their grilled cheese contest, and I'm happy to share their variety of cheeses with my readers. I only choose to write about products that I already enjoy in my own kitchen. All opinions shared about this product are my own.